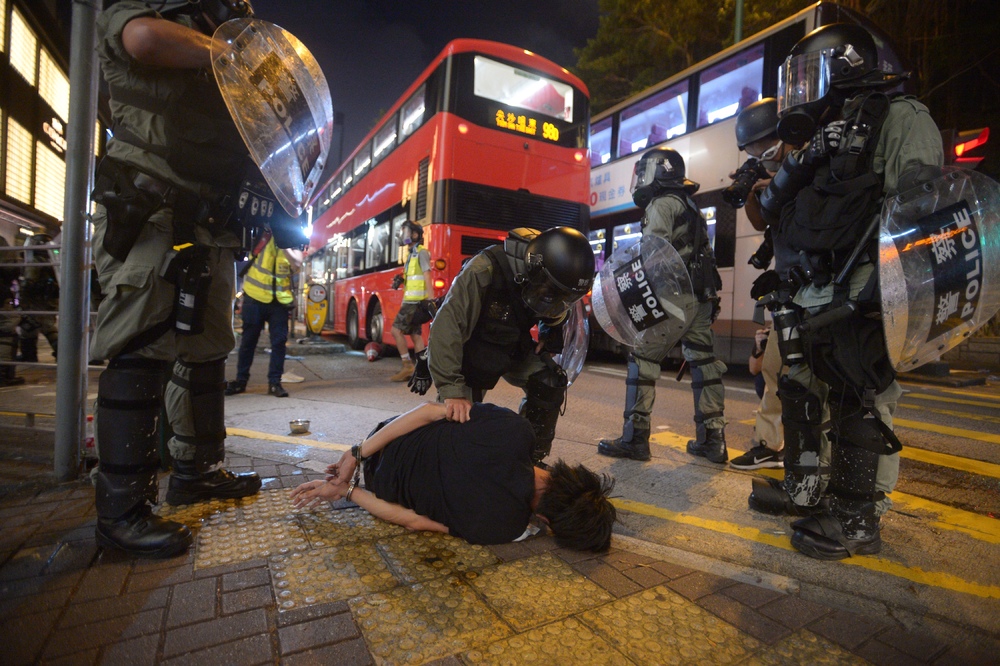 Seven found guilty of rioting in 2019 Tsim Sha Tsui protest
Seven people were on Friday convicted of taking part in a Tsim Sha Tsui riot in August 2019, while a social worker walked free as the judge ruled he was probably doing his job at the scene and convincing protesters to leave.
The seven were 17-year-old boy "X," logistic worker Liu Wai-ming, 28, student Chong Ka-ho, 27, student Wong Chin-po, 24, Lo Hau-shing, 21, Poon Koon-hung, 28, and student Law hon-ming, 25.

They were convicted of participating in a riot at a section of Nathan Road between Austin Road and Humphreys Avenue in Tsim Sha Tsui on August 11, 2019. On the other hand, Law was also convicted of possessing a firearm or ammunition without a license after police found nine fired tear gas canisters in his backpack.

In District Court this morning, judge Lily Wong Sze-lai adjourned the case to August 6 to proceed with mitigation and will hand down their sentences on August 19. All seven have been remanded in custody.

When announcing her judgment, Wong mentioned that the seven defendants must have heard or seen police warning and known there was a riot before they were intercepted and subdued by officers. Wong added that the defendants placed themselves in the riot and didn't seize their opportunities to leave.

The judge went on to say that the defendants were dressed in black, wearing helmets, respirators, and masks. Liu and Chong wore armor like they were about to enter the battlefield. Given their equipment and the location where they were arrested, Wong ruled that their only intent was to participate in the riot and disrupt social order.

As for the 25-year-old social worker Siu Ching-hei who was acquitted of the riot charge, Wong referred to his boss' testimony that Siu was distributed goggles and a respirator and assigned to the scene to provide emotional support.

Siu's social worker registration was hanging around his neck, and he was wearing a blue T-shirt and green shorts to help him stand out from black-clad protesters, Wong said. The judge also noted that Siu explained to police he was convincing the youngsters to leave, and his testimony was supported by a female colleague also at the scene.

Although Siu's behaviors may have exceeded his job duties, and he may have intended to participate in the riot, the benefit of the doubt was given to Siu, and he walked free at last.