Lu Xinning, of central government's liaison office, tells teachers she hopes they will pass on love of country in classroom.
A senior Chinese mainland official has appealed to Hong Kong to create an education system in line with the "one country, two systems" principle as a major institute designed to promote patriotism was set up with national support.

Lu Xinning, a deputy director of the central government's liaison office in Hong Kong, on Saturday said she hoped the city's Beijing-loyalist teachers would pass on their "glorious tradition of loving the country and the city to the next generation".

Lu was speaking at a gathering of more than 1,100 teachers at the opening ceremony of the Hong Kong Huaxia Education Institute, formed by six major Beijing-loyalist educational organisations that manage 15 schools across the city.

She said in a video message that Chinese President Xi Jinping said earlier this month Hong Kong should continue the promotion of patriotism in all walks of life.

Lu said the city had to strengthen young people's sense of national identity and improve its education system to fulfil expectations.

"After Hong Kong returned to Chinese rule … ties between Hong Kong and the country became severed for a period of time, resulting in some young students lacking national belonging and identity and that led to serious consequences," she said.

"In recent years, the city's government has vigorously carried out educational reforms, focusing on improving the national awareness and patriotism of young students, and many gratifying changes have occurred."

The ceremony was attended by Chief Executive John Lee Ka-chiu and education chief Christine Choi Yuk-lin.

Lu said Lee's first policy address, delivered this month, had underlined that the city would work to create a new generation that loved the country and Hong Kong.

"It is believed that in the future, Hong Kong will … gradually establish and improve Hong Kong's education system to make it compatible with one country, two systems." she said.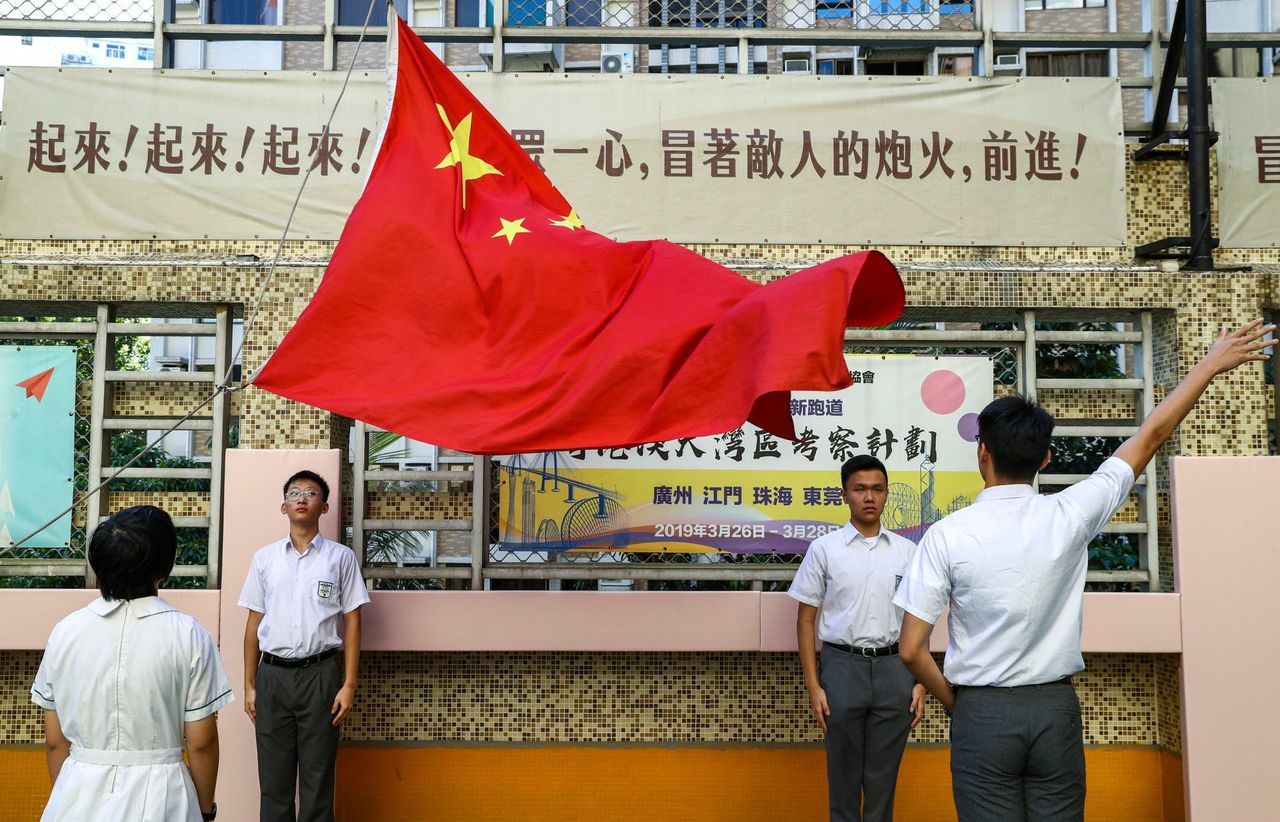 Pupils at Pui Kiu Middle School in North Point take part in a national flag-raising ceremony.

The Hong Kong Federation of Education Workers president Wong Kwan-yu, a school manager, said young people's sense of national identity was a good indicator of whether the education system was attuned to one country, two systems.

"Lu was suggesting that in the past, many people had all kinds of misconceptions about one country, two systems, and thought that the principle could exist without mentioning the country's unity … That partly explained why young people took part in the 2019 social unrest," he said.

"Our education system also rarely explains what the socialist system on the mainland is … so in the future we will need to guide Hong Kong's students to understand more, and in a more coordinated way."

Former school principal Ho Hon-kuen, the chairman of pressure group Education Convergence, said an education system compatible with the one country, two systems principle would also produce young people with a national and global vision.

"Hong Kong, the nation and the world are interconnected, but in the past 20 years, our education system was insufficient in fostering students' understanding and sentiment about China," he said. "In the future, this needs to be improved from our kindergarten to the universities."

Lu added Xi had emphasised the key role of Hong Kong as he mapped out the country's direction at the Chinese Communist Party's 20th congress earlier this month.

In a longer, 72-page version of Xi's report, the president also highlighted the need to safeguard national security in the city and ensure that political power was held by the "patriotic".

Tian Xuejun, the Chinese vice-minister of education, said in a video message that he hoped the new institute would become an important base for "promoting morality among students and teachers, fostering patriotism in schools and nurturing the next generation in society".

Lee said in the policy address that the Education Bureau would encourage schools to implement national education and that new teachers in public schools would have to pass a test in the Basic Law before they could be employed.

"This requirement will be extended to direct-subsidy schools and kindergartens from the next school year, and the test will cover both the Basic Law and national security law," he said.

The new institute is headed by Jasper Tsang Yok-sing, a former Legislative Council president, and vice-chairman of the Pui Kiu Education Foundation, one of the institute's six founding groups.

Tsang said the institute's objective was to promote education and ensure that a sense of patriotism was integrated into all types and levels of schools.