Election expense accounts candidates filed to electoral authorities show the biggest spender running in the constituency shelled out HK$204,240 but failed to win a seat.
Election candidates splashed out money for private security guards, hotpot meals and image-building, among other items, as they campaigned to win seats in a new constituency of Hong Kong's Legislative Council last December.

The Election Committee constituency in the restructured legislature was part of the Beijing-led electoral overhaul that sought to ensure only "patriots" could run for seats, a move critics said was aimed at barring the opposition camp. The constituency drew 51 candidates vying for 40 seats in the December 19 election.

Election expense accounts that the candidates filed to electoral authorities showed the top five big spenders were Tseng Chin-I, Gary Wong Chi-him, Tang Fei, Chan Yuet-ming and Kevin Sun Wei-yung.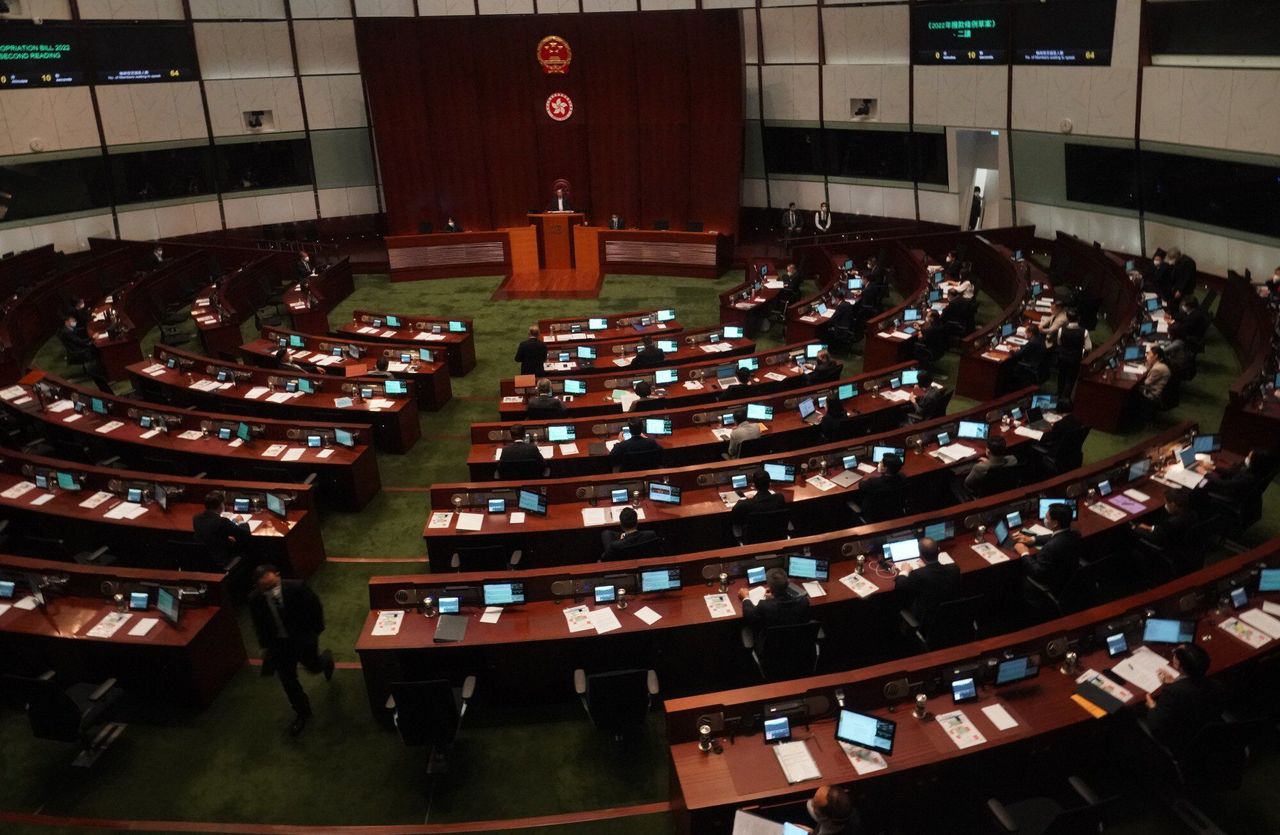 Legco has been expanded to 90 members under Beijing's electoral overhaul.

Tseng, Wong and Sun respectively spent HK$204,240, HK$199,626 and HK$190,007 on their campaigns. All three were, however, defeated.

Tang and Chan, who were both elected, reportedly spent HK$195,173 and HK$190,128 respectively.

Chan said of her costly election campaign: "I spent much money on putting up banners in various locations across Hong Kong Island, Kowloon and the New Territories.

"Although my constituency is the Election Committee, when I get elected as a legislator, I do not only serve those electors on the committee. I serve all Hong Kong people.

"So, I think it is necessary to let ordinary people know me and understand what I stand for although those people have no vote."

She did not like to disclose the proportion of her expenses spent on banners.

"I am also an independent. There was no funding or support from a political party. I do not think my campaign costs are too high," said Chan, the chairwoman of Ta Kwu Ling rural committee and an executive committee member of the rural body Heung Yee Kuk.

"I spent money on where it was needed and I think it was good value for money."

The city's electoral laws set limits on campaign expenses to avoid candidates with ample financial resources having an unfair advantage.

For the Legco election, constituencies have different limits on expenses. In the Election Committee constituency, the limit is HK$213,000. It is illegal to spend more than the limit.

The five pro-establishment candidates who had reported the least expenses in the constituency were Choy Wing-keung, Michael Luk Chung-hung, Kingsley Wong Kwok, Alice Mak Mei-kuen and Chan Hoi-wing.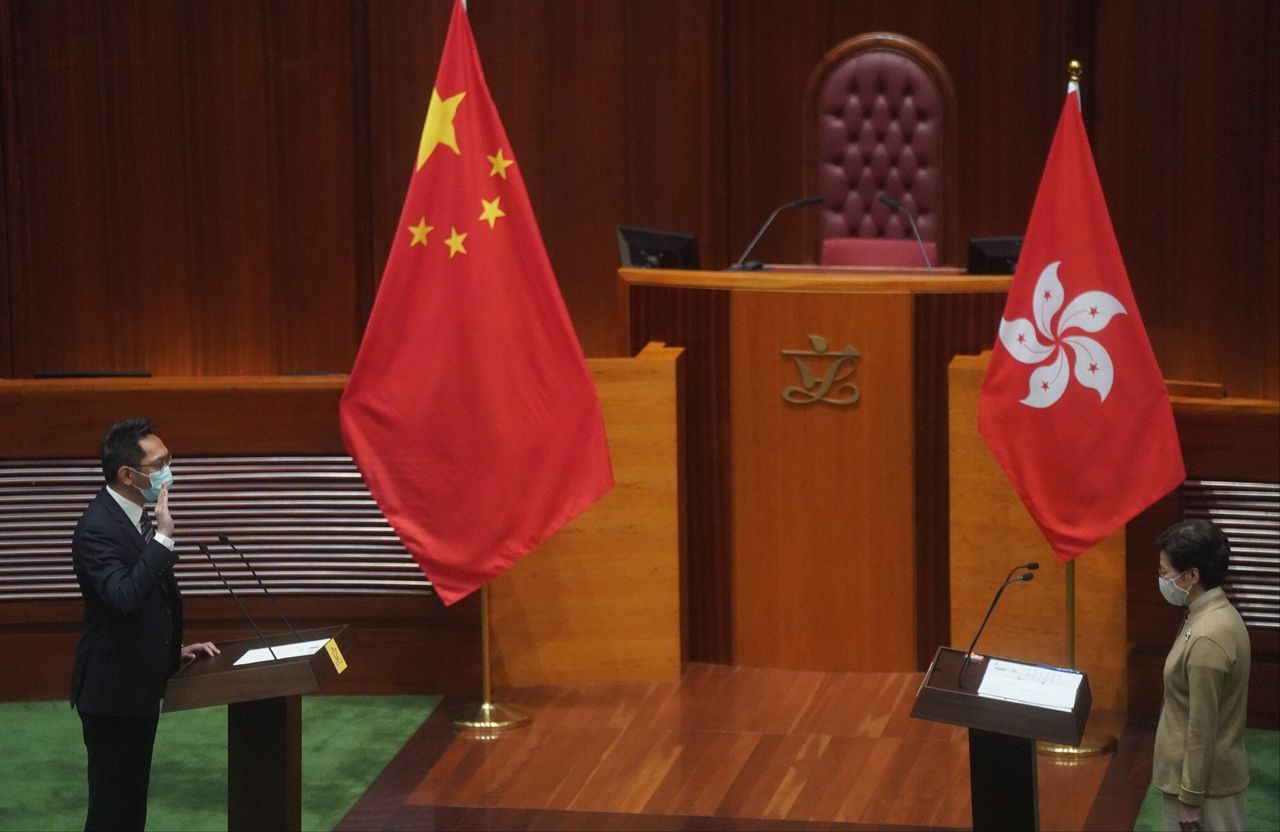 Michael Luk takes his oath in front of Hong Kong leader Carrie Lam in the Legco chamber.

Choy and Chan were defeated and they were reported to have spent HK$24,364 and HK$59,659 respectively on their campaigns.

Luk, Wong and Mak, all from the Federation of Trade Unions, spent HK$29,072, HK$30,421 and HK$46,715 respectively.

As unionists, Luk said, they wanted the campaign to be more down-to-earth, not too fancy or extravagant.

"After all, our campaign targeted mainly the about 1,500 members on the Election Committee," he said. "There is no need to rent outdoor space to put up banners. We contacted the electors over the phone to explain our platforms, or paid visits to them if needed. We had not expected it to be too costly."

In comparison, Nixie Lam Lam, of the Democratic Alliance for the Betterment and Progress of Hong Kong spent one-fourth, or HK$22,000, of her election expenses on photo-taking, video-shooting, and doing hair and make-up.

"I guess the cost makes sense. I took one but it did not really go well so I took a second one. It was indoor and outdoor shooting with make-up and hair. I am a newbie. A newbie needs a positive image. First impressions are important," said Lam, who successfully won a seat.

She did not want to discuss others' election costs, saying candidates would adopt different strategies in their campaigns.

Junius Ho Kwan-yiu, meanwhile, reportedly spent about HK$60,000 of his around HK$132,000 election expenses on hiring bodyguards. Charles Ng Wang-wei spent HK$8,700 on a hotpot meal for 19 people.

Successful candidates or those who received at least 5 per cent of valid votes and were not disqualified are eligible for financial help from the government.

Whichever is the lowest, the amount of subsidies can be HK$15 per valid vote the candidate received, half of the election expense limit, or the declared election expenses of the candidate.

Under the Beijing-led overhaul, the legislature has been expanded to 90 seats, up from 70. But the number of directly elected geographical seats has been reduced from 30 to 20. The trade-based functional and new Election Committee constituencies take up 30 and 40 seats respectively.

There are roughly 1,500 voters in the Election Committee constituency, with some elected from various trade-based or political sectors and some directly appointed.