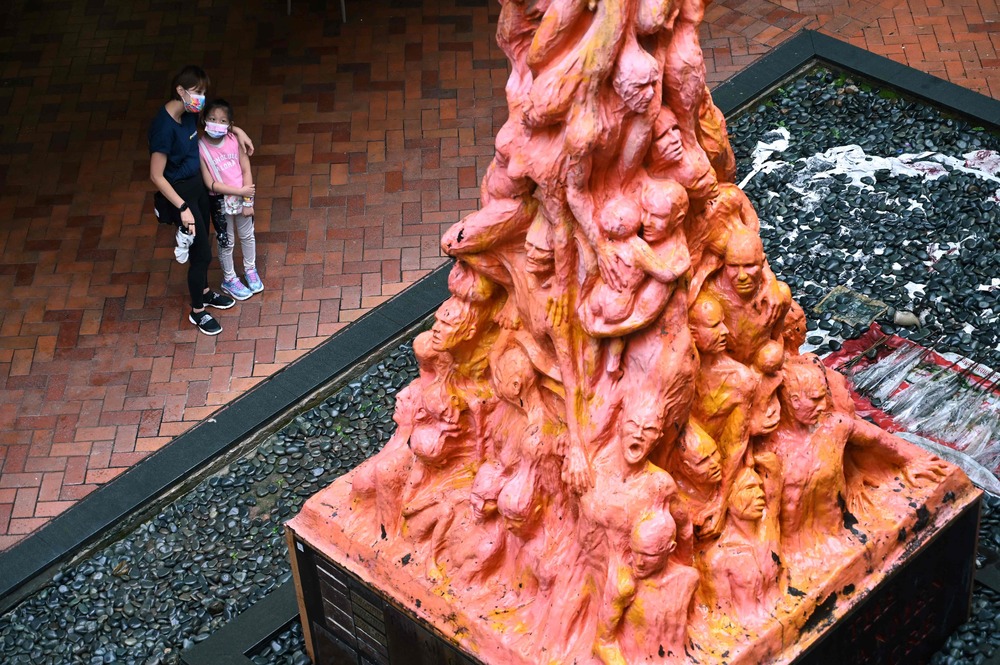 Sculptor behind "Pillar of Shame" warns HKU against damages
Danish sculptor Jens Galschiot warned the University of Hong Kong on compensation over possible damages to his Pillar of Shame statue, which commemorates the Tiananmen crackdown and is displayed in the campus.
This came after the university ordered the now-defunct Hong Kong Alliance in Support of Patriotic Democratic Movements of China to remove the seven-meter statue from the campus by Wednesday (Oct 13).

In a statement last Friday (Oct 8), Galschiot said the statue was fragile and could suffer 'irreparable damage' if it was not handled by experts.

He said he had been in the dark about the university's order, and only learned about it when media contacted him.

The artist branded the order as a new means to obscure the crackdown's memories, as authorities had only banned books and outlawed outspoken dissidents before. Galschiot hoped international art institutions could do something about the statue's removal.

He emphasized that he was the rightful owner of the statue, even though he had allowed the university andthe alliance to co-manage the statue.

Last Thursday (Oct 7), the university issued a letter to the alliance, asking it to remove the statue by 5pm Wednesday the latest.

It warned that if the alliance failed to comply with the order, the statue would be deemed abandoned.

"The university will not consider any future request from you in respect of the sculpture," the letter reads, "and the university will deal with the sculpture at such time and in such manner as it thinks fit without further notice."

The alliance's liquidator Richard Tsoi Yiu-cheong said it was unreasonable for the university to order the alliance to remove the statue within such a short time frame.

He said as a space for freedom of speech and academia, the university had the social responsibility and mission to preserve the statue.

On the statue's ownership, Tsoi said he respected the fact that it belonged to Galschiot.

The statue was first erected in the HKU campus in June, 1997, a week before the handover. It was then permanently relocated to the HKU campus next year.