Desperate to move stocks of potted plants, some florists have rented high street shops or taken their businesses online, but neighbourhood markets still the most lucrative.
Hong Kong florists are heading into the Year of the Ox adding up the costs of a chaotic rush to keep up with the government's U-turns over holiday flower markets.

First they scrambled to make alternative plans when authorities announced on January 8 that the Lunar New Year markets, which draw crowds by the thousands, would be cancelled because of Covid-19 concerns.

Worried about their stocks of potted orchids, kumquat trees and other decorative plants popular during the holiday, they looked frantically for alternative ways to sell, turning to online platforms or even renting empty shops for a few weeks.

Then, on January 19, the authorities announced the flower markets could go ahead after all in 15 districts from February 6 to 11, though on a smaller scale. That sparked another frenzy to set up their stalls ahead of the holiday, which begins on Friday.

"It was so chaotic and we were rushing to get everything prepared for the fair," said Gary Ye, owner of orchid distributor Chuen Lan Kui, which obtained stalls in two markets. "We scrambled to get all our staff tested for Covid-19 in time so we could start preparing our stalls in Cheung Sha Wan and Kwai Chung."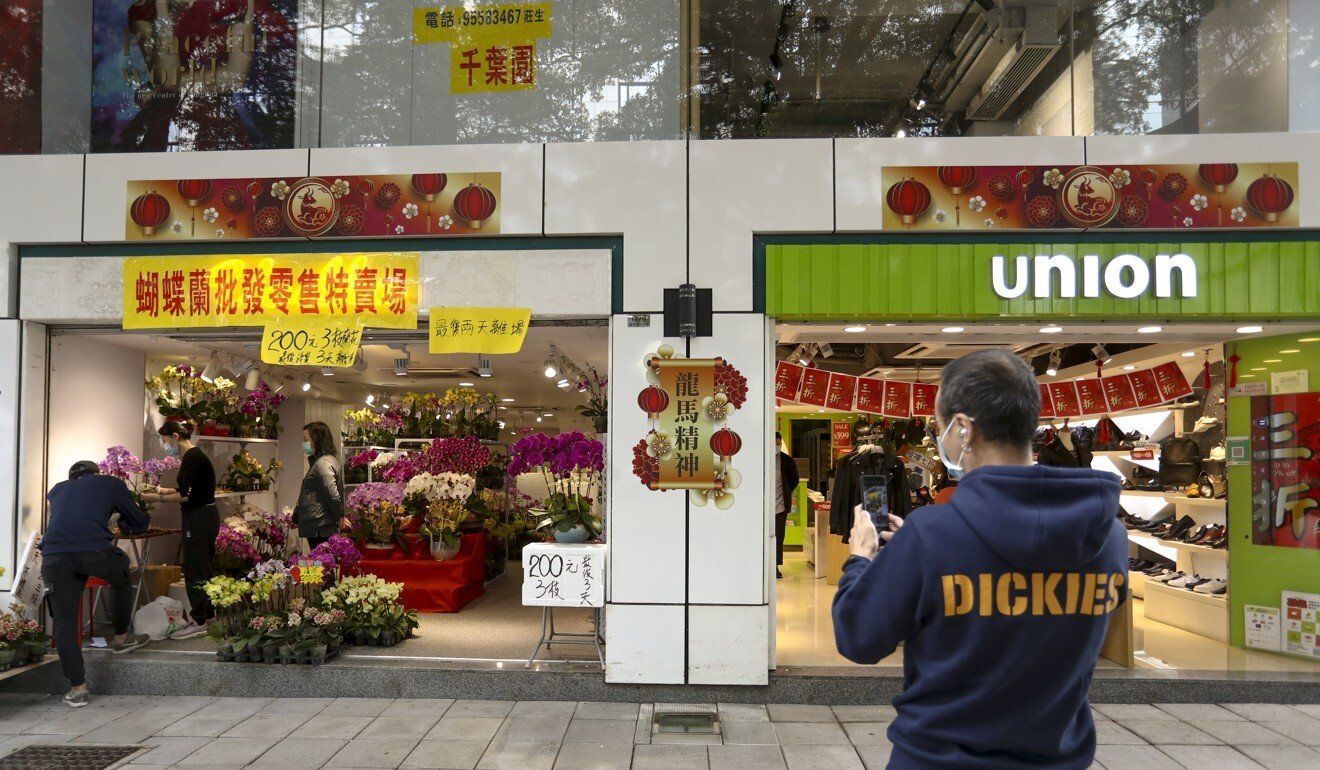 Across the city, retail spaces left empty amid the Covid-19 pandemic have been claimed as short-term rentals for flower shops.

Ye said that after the initial cancellation of the flower markets, his company had opened a pop-up shop at Tsim Sha Tsui's high-end The One shopping centre.

"We had to find a way to sell our products, and we happened to find this spot, so we just took the chance," said Ye, who declined to reveal what it cost to rent the space from February 1 to 11.

The business also signed up for an online flower market before the government made its U-turn and announced the areas could open with limited business hours and stringent anti-pandemic measures in place.

"Although we have only about half our usual number of stalls in the Lunar New Year markets, I still think most of our sales will come from there, because it's a tradition for people to visit the flower market in their neighbourhood," Ye said.

A florist surnamed Ng, who manages a stall at Victoria Park fair, said he expected sales to be cut by at least half compared to last year, with fewer people visiting this time.

Ng said his company had halved stock to about 500 peach blossom flowers and cut the price from HK$280 (US$36) to HK$200 each. He said he was confident they could sell them all by the time the market ended on Thursday night.

"Of course we have been affected by the government's U-turn," Ng said. "We originally got a refund [following the cancellation], but after the U-turn we had to apply for a stall again."

Some visitors said they spent a similar amount of money on buying flowers compared to previous years. One family of four said they spent more than HK$100 on buying gladioli, lilies and other flowers.

"Even though the flower market seems more deserted this year, it's better than if it's not happening at all," the father said.

Elsewhere, other florists also say sales this year pale in comparison with their earnings in previous years.

A shopkeeper at Ye's Tsim Sha Tsui outlet said that as of Monday, the company had sold about 600 orchid plants altogether, far fewer than the roughly 1,000 sold by the same time last year.

Similar pop-up flower shops have sprung up elsewhere, moving into empty high-street venues, including in the prime shopping district of Causeway Bay.

A former optical shop on Percival Street, near Times Square, began selling kumquat trees. A former games shop on Cannon Street, behind the Sogo Department Store, turned into an orchid store, where a potted plant with six flowering stalks sells for as much as HK$1,800.

Hong Kong's retail sector took a massive hit during the pandemic, as international travel came to a halt and visitors stopped coming. Many retailers catering to tourists shut down.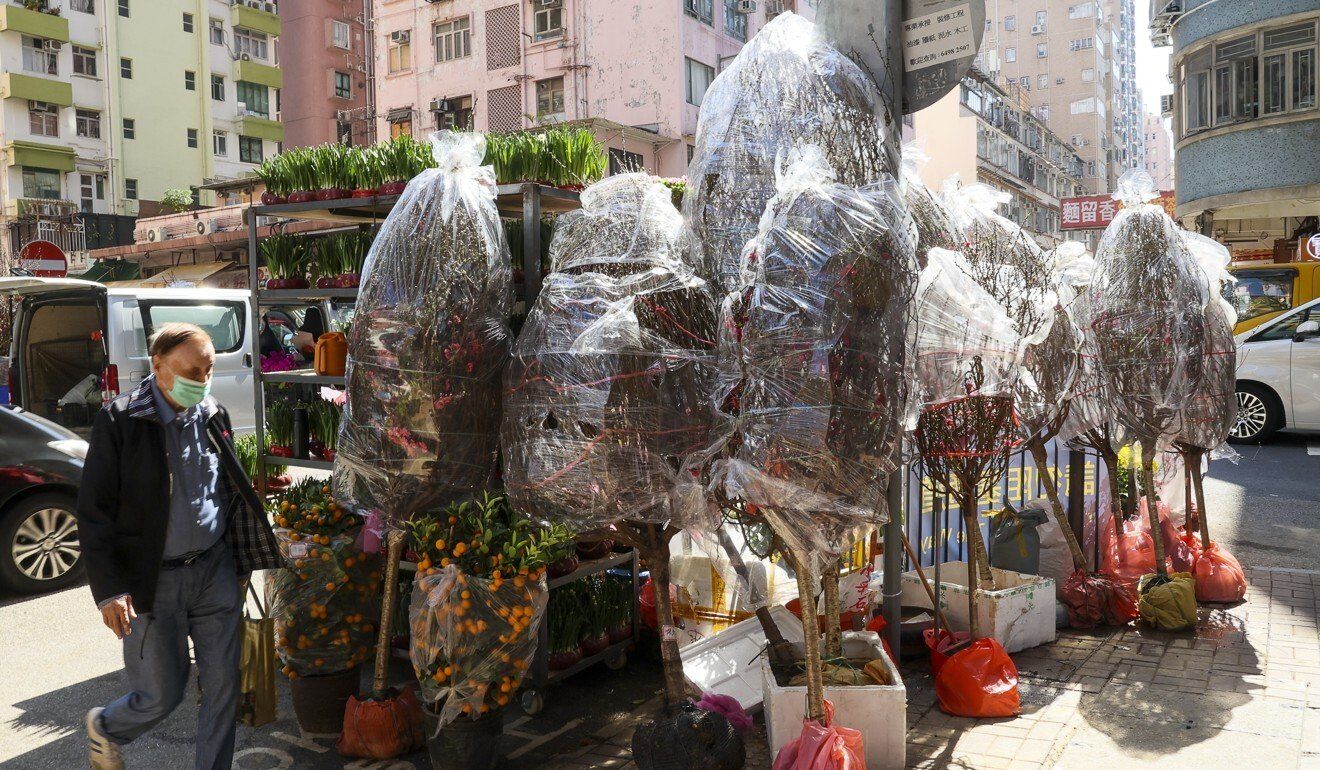 People select flowers for Lunar New Year at the Flower Market in Prince Edward.

It is estimated that about three in every 10 empty shops in shopping districts such as Tsim Sha Tsui, Mong Kok and Causeway Bay have been rented out on short leases to vendors selling Lunar New Year products, according to Dennis Cheng Tak-ming, a senior sales director at Ricacorp (CIR) Properties.

"But those contracts are very short term, ranging from two weeks to just one month," he said.

Among them was a street-level shop at Cannon Street in Causeway Bay that was rented out for HK$50,000 on a three-week contract, about 75 per cent below its original asking price.

Over at Park Lane Shopper's Boulevard in Tsim Sha Tsui, where an exodus of international luxury brands has taken place over the past year, a space of 1,800 sq ft was rented out for HK$100,000 for one month to flower wholesale company Chiba Garden.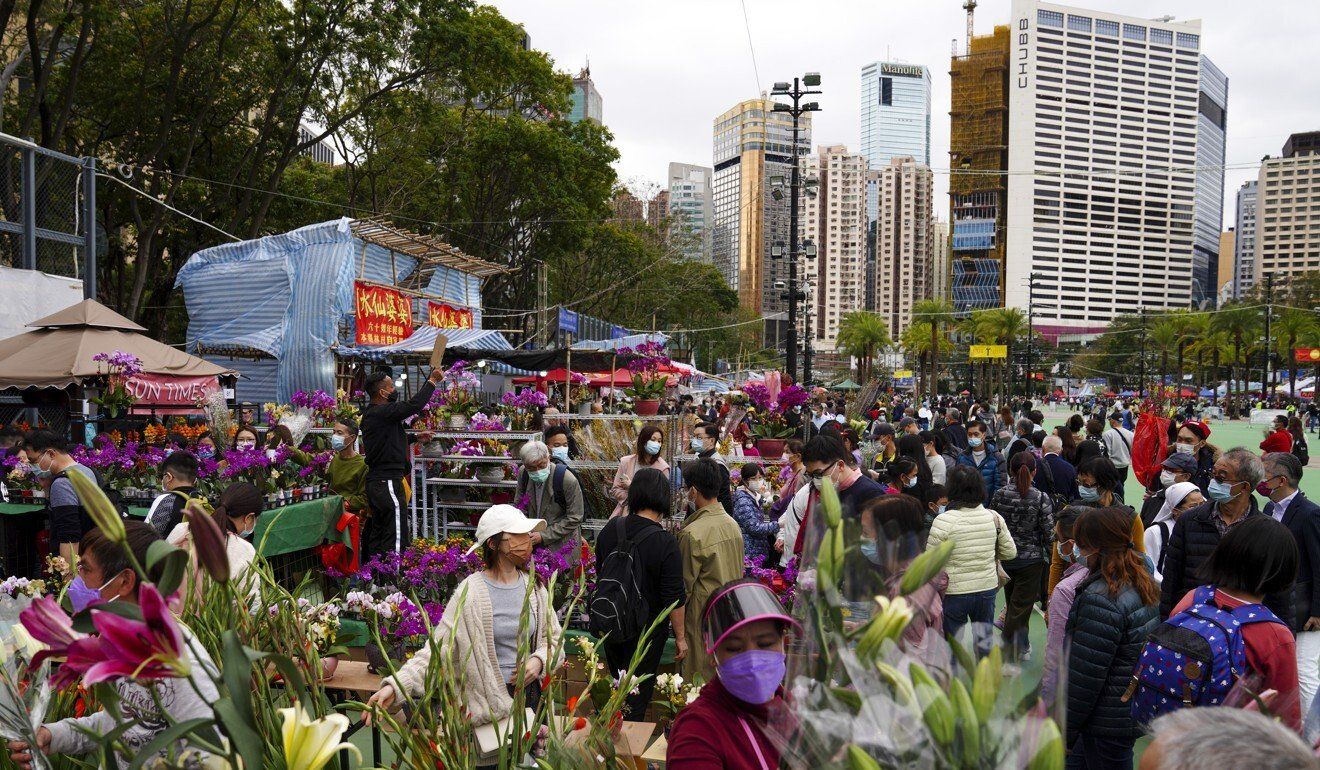 People at the Lunar New Year flower market at Victoria Park in Causeway Bay.

Cheng said some of the short-term tenants had complained that sales had not been brisk enough to cover the cost of rents.

"Most said they regret renting a street-level shop, because the upfront costs are high," he said.

After the government's initial decision to cancel the flower markets, e-commerce giant HKTVmall announced it would organise an online flower market to help florists desperate to move their stocks.

About 25 local flower vendors listed their products on HKTVmall and more than 15,000 shoppers tuned in to eight live-stream sales events held over the past two weeks, a company spokesman said.

"We only had about two weeks for the vendors to sign up, to join webinars to learn how to use our system, how to upload product pictures and descriptions, and how to take and process orders," he said.