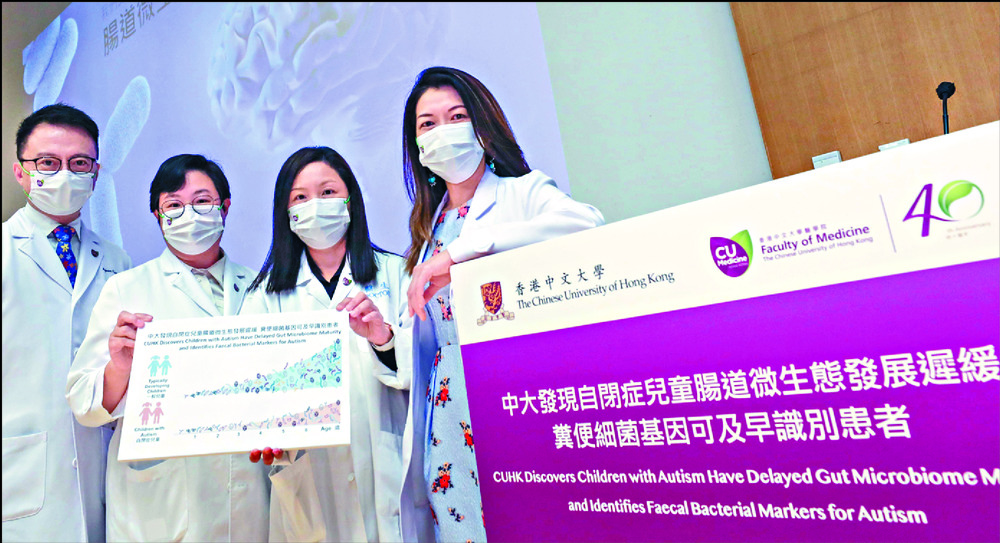 Scientists go with gut for early autism diagnosis
Examining gut microbiomes in children could help with the early diagnosis of autism, a study by Chinese University's medical school has found.
The presence of five types of bacteria can be used as a marker for a diagnosis of autism, with over 80 percent sensitivity, according to researchers.

There are around 70,000 autistic children in Hong Kong, with symptoms including difficulties in communication and repetitive behavior.

The study, which ran from 2018 to 2020, involved examining the stools of 128 local children aged between three and six years old, 64 of whom have autism and 64 who don't.

The results, which have been published in Gut, an international medical journal, showed that children with autism have underdeveloped gut bacteria, and the maturity of their gut microbiome is delayed compared with typically developed children. The study also showed that the feces of children with autism contained five types of bacteria that have not been found in children without the condition.

"One of the five types of bacteria, Clostridiun, releases neurotoxins. The toxins will be transmitted to the brain and affect the child's emotions and social interactions," said Ng Siew-chien, the associate director of CU's Centre for Gut Microbiota Research.

The study also revealed that the underdevelopment of gut microbiome in children with autism is not related to diet.

"We collected the diet history of all the children who participated in this study, and found that there is little difference between the diets of children with autism and those without. This shows that diet is not an important factor," Ng said.

She said the relationship between gut bacteria and autism has been hinted at in research in the past, as mice that were injected with gut microbes from children with autism displayed behavioral symptoms of the disorder.

Ng said the five special types of bacteria could be used as a marker for the diagnosis of autism, with over 80 percent sensitivity. She also believed that the modulation of gut bacteria could be explored as an effective treatment of autism.

Dorothy Chan Fung-ying, a clinical associate professor of pediatrics at CU, said that a non-invasive tool to predict the risk of autism is needed, as it is difficult to diagnose autism simply through spotting symptoms due to the difference in severity among patients.

She believed that this discovery would be beneficial in tackling the disorder. "Studies showed that early diagnosis and intervention is a game changer when it comes to treating autism, because it will better help children reach their full potential, leading to a better functional outcome," Chan said.