Carrie Lam calls for principals to harness the power of sport to encourage stronger feelings of national pride in pupils.
Hong Kong's leader has urged schools to promote sport as a way of bolstering young people's sense of national identity, one of the civic values that must be instilled into pupils under a recently revised curriculum.

Chief Executive Carrie Lam Cheng Yuet-ngor on Thursday said that such feelings could be found in all elite athletes as she officiated the naming of a Lam Tai Fai College classroom after Tokyo Olympics hero Edgar Cheung Ka-long, who left the school in 2014.

The Education Bureau this week updated its "Values Education Curriculum Framework", adding three new values – law-abidingness, empathy and diligence – to the seven that schools were already required to foster in pupils. The existing ones are perseverance, respect for others, responsibility, national identity, commitment, integrity and care for others.

"When the national anthem is played and the regional flag raised, those standing on the podium in the Olympic, Asian and international games will naturally feel a sense of national identity," Lam said.

She added that during their training athletes would need to cultivate many of the values highlighted in the latest education framework, such as perseverance and commitment.

Lam said a raft of measures aimed at boosting sports development would be rolled out in the wake of the city's Olympics success.

Hong Kong athletes marked a historic showing at this summer's Games by bringing home six medals – one gold, two silvers and three bronzes.

One of the initiatives is the construction of a new 9,000 square metre (97,000 sq ft) building at the Hong Kong Sports Institute in Sha Tin, which Lam has targeted for completion before Paris 2024.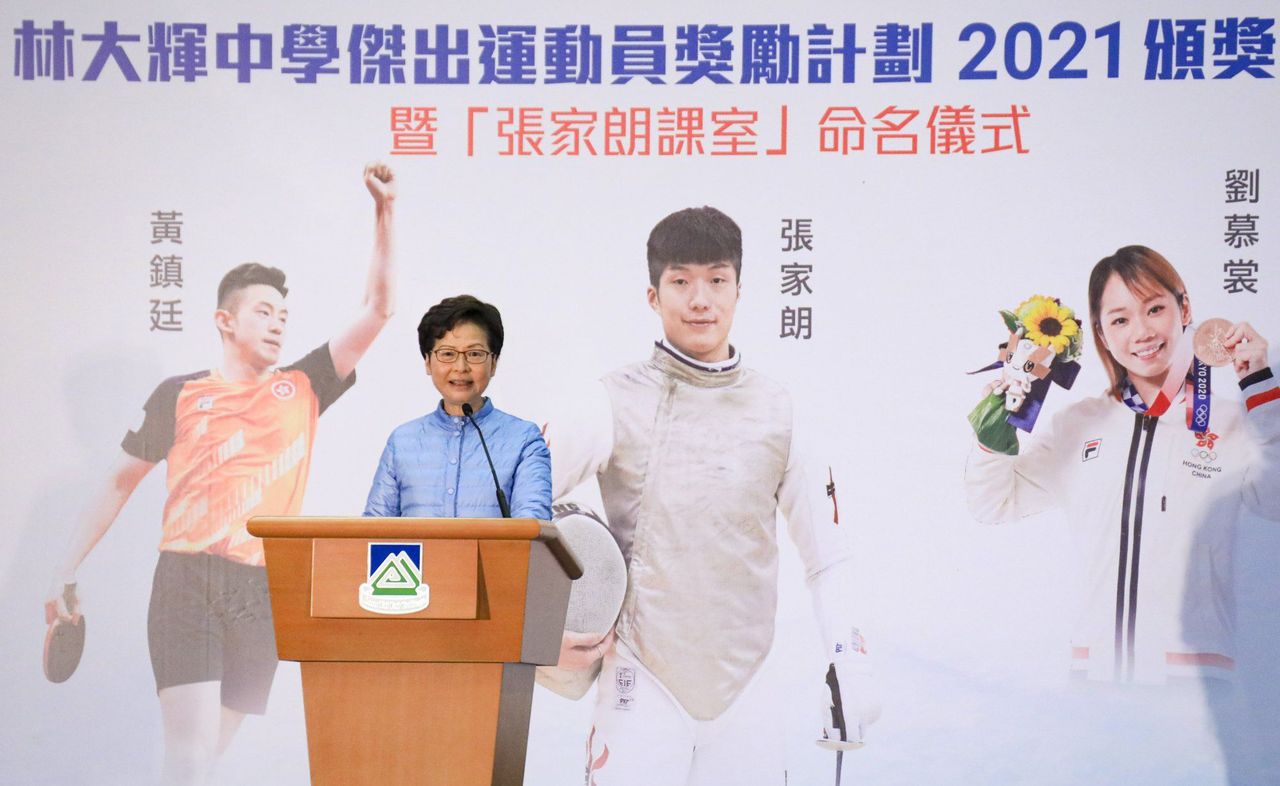 Carrie Lam says the government is rolling out a raft of measures to build on Hong Kong's sporting success this year.

She also said the government would subsidise in the next academic year two bachelor programmes in sports and recreational management provided by the Metropolitan University and the Technological and Higher Education Institute of Hong Kong, both of which are self-financing postsecondary institutions.

It is hoped the courses, together providing 70 places, will help more talented athletes achieve sporting success.

Lam Tai Fai, supervisor of Lam Tai Fai College in Sha Tin, urged the government to keep supporting the development of sport to ensure Hong Kong's achievements would "not be short-lived" and to enable the city to "soar higher".

The naming ceremony was held alongside the presentation of incentive awards to outstanding athletes from the school.

Cheung and five other school alumni involved in this year's Olympics and National Games of China were awarded HK$3.6 million in total.

The top prize went to

Cheung, who received nearly HK$2.58 million for his Olympic gold in the men's individual foil and coming 7th in the men's team event. Karateka Grace Lau Mo-sheung secured HK$625,000 from her alma mater.

"I will save the money to help me prepare for future international contests," Cheung said after the ceremony.

He added the scholarships would drive him to pursue his dreams as he reminded students never to give up on striving for success.