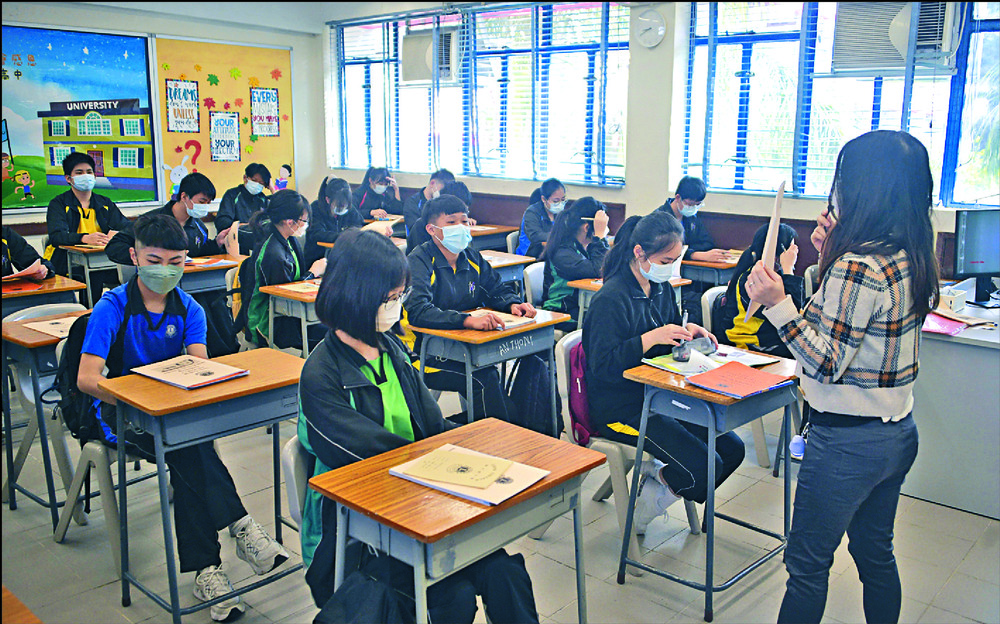 Schools get cram time for triple-jabs ruling
A requirement for 90 percent of students be triple-jabbed against Covid-19 for secondary schools to resume full-day in-person classes has been postponed for three months to February 1.
This gives schools enough time to meet the threshold, the Education Bureau said yesterday.

It was supposed to start on November 1.

For the coming three months, schools will still be allowed to have full-day in-person classes as long as 90 percent of their students have been double-jabbed.

A spokesman said the bureau had been in close communication with the education sector and listened to the opinions of health experts to review anti-epidemic measures and class arrangements.

"The general direction of the government's anti-epidemic work is to create the greatest room for people's livelihood and economic activities, and to allow schools to maintain a stable teaching and learning environment to achieve a balance between anti-epidemic work and learning," the spokesman said.

Currently, schools in general still maintain half-day in-person classes, he said.

"Considering that secondary school classes which are already having full-day school may need more time to boost the vaccination rate, while schools also hope the full-day class arrangement can be continued until they have reached the new vaccination requirements, we will suspend such new vaccination rate requirements for secondary schools," the spokesman said.

Primary schools that have 70 percent or more students vaccinated with two jabs for more than 14 days can apply for full-day in-person classes.

Lawmaker and secondary school principal Tang Fei, who is also the vice-chairman of the Hong Kong Federation of Education Workers, welcomed the bureau's decision as he said about 74 percent of children aged three to 11 have taken two doses, and only about 72 percent of teens aged 12 to 19 have taken three jabs.

Meanwhile, the Secretary for Education, Christine Choi Yuk-lin, said teachers breaking the national security law will be stripped of their registration and banned from registering as a teacher again,

Speaking on a radio program yesterday, Choi said the authorities have completed the first draft of a new guideline for teachers and will release it by the end of the year.

The guideline will clearly set out the professional abilities and ethics required of teachers, she said.

Teachers violating the guideline by making minor mistakes may receive oral or written warnings, but those committing serious offenses may face being struck off the register, Choi said.

The government will set up a task force to decide whether teachers who have been de-registered can be allowed to return to the profession.