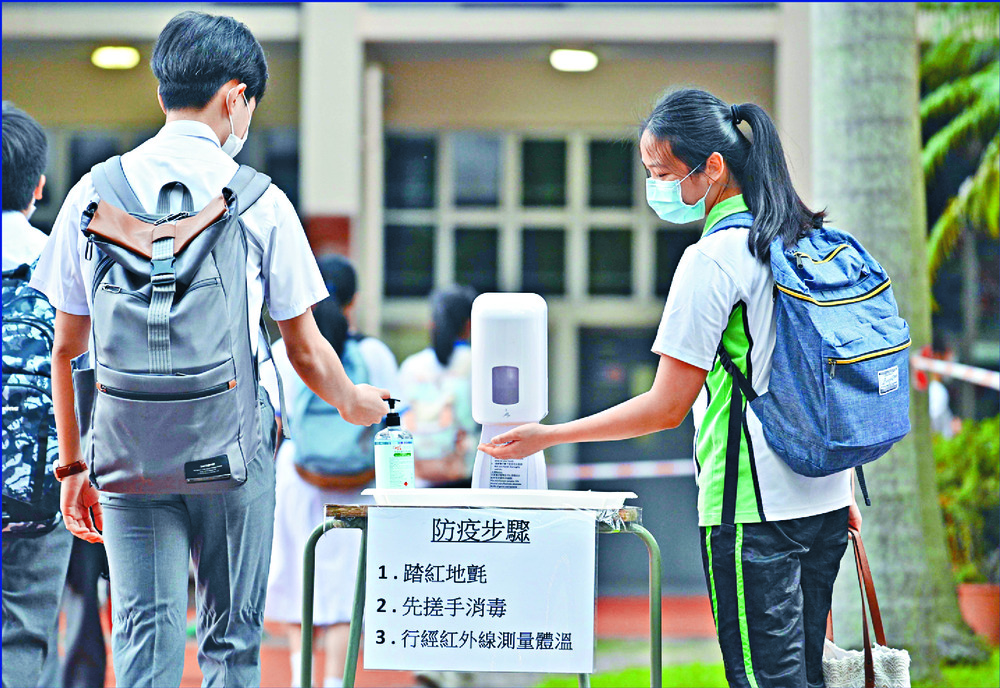 School nears goal
Scientia Secondary School could reach the vaccination goal in the middle of the month at the earliest and resume full-day classes, its principal says.
With the new school year starting today, the Education Bureau requires a 70 percent vaccination rate for teachers and students to resume full-day face-to-face classes.

Principal Wong Ching-yung said on a radio program yesterday that his school has yet to reach the required vaccination rate.

"About half of our junior secondary school students have received at least one jab, and it is about 60 percent for senior secondary students. Secondary Six students have the highest vaccination rate of 68 percent but still below 70 percent," he said.

While students will still only have half-day face-to-face classes, Wong said those who have passed 14 days after their second jabs can stay in school for lunch and take part in activities in the afternoon after classes, such as special lectures, movie screenings or field trips.

He said giving priority to the vaccinated may encourage more students to get the jab and help normal studies resume, predicting that his school may meet the vaccination target in mid-September at the earliest.

The Secretary for Education, Kevin Yeung Yun-hung, thanked the teachers, students and parents who have been vaccinated.

Meanwhile, the Education University of Hong Kong and Baptist Oi Kwan Social Service interviewed 711 primary one to three pupils, 562 parents and 97 teachers via online questionnaires between May 26 and July 10 this year.

It was found that 65 percent of primary students want to have face-to-face classes in school, and more than 40 percent of students said they were irritable and lonely attending classes at home during the pandemic, which made them incapable of finishing their homework on time.

Schoolchildren are reminded to attend school early on the first school day as traffic is expected to be busier than normal, says a notice from the Transport Department.

While primary and secondary school students are starting school today, freshmen of the University of Hong Kong were welcomed yesterday with an inauguration ceremony.

They were greeted by HKU president and vice chancellor Zhang Xiang.