Academics warn government-backed 'Strive and Rise' scheme will not tackle problems of intergenerational poverty on its own.
A programme designed to help lift struggling Hong Kong secondary school pupils out of poverty is "half-baked", experts have said.

Academics and social workers insisted that the government-organised scheme, the first from John Lee Ka-chiu's administration to target intergenerational poverty, was not enough on its own and other major problems such as the housing crisis and low incomes had to be tackled as well.

"There must be elements of continuity in the scheme," said Amy Chan Kung Wai-ying, the chairwoman of the Child Development Matching Fund, a charity that has worked with the government to deliver similar programmes since 2009.

"The government should provide a ladder for them and also keep helping them move up along the way."

She was speaking after details of the programme were revealed on Monday by a high-level government task force set up to tackle intergenerational poverty.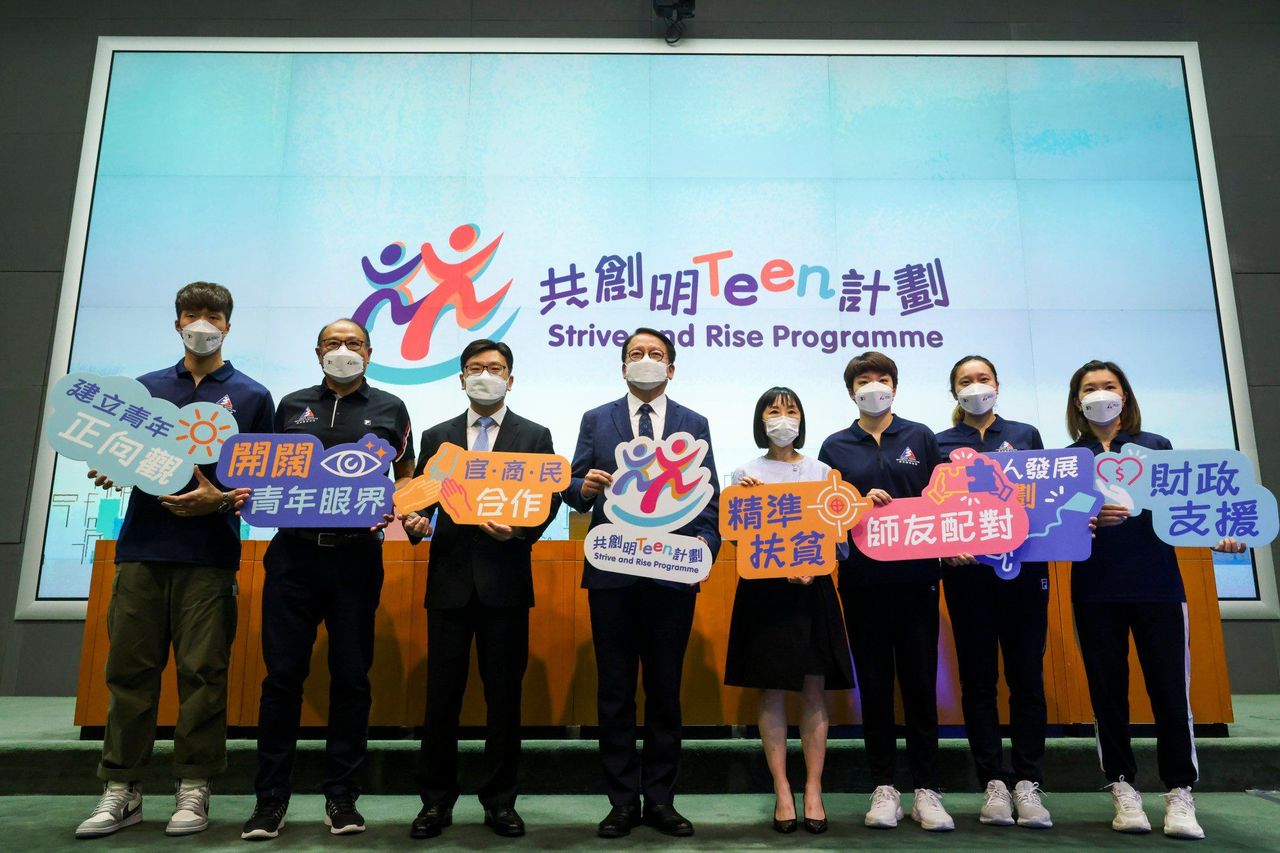 (Left to right) Olympic fencing gold medallist Edgar Cheung; the chairman of Hong Kong Sports Institute Lam Tai-fai; welfare minister Chris Sun; Chief Secretary for Administration Chan Kwok-ki; Director of Social Welfare Charmaine Lee and Olympic table tennis bronze medal winners Lee Ho-ching; Doo Hoi-kam and Minnie Soo Wai-yam launch the Strive and Rise Programme.

But Ma Miaoyi, a single parent who shares a tiny subdivided flat with her 13-year-old son, said the programme, although not perfect, could still give her child a boost and hope for the future.

The government-coordinated mentorship "Strive and Rise Programme" will be launched in October and target 2,000 children in its first phase, expected to last a year.

Officials said 2,000 Form One to Three pupils who lived in subdivided units would be paired with a mentor and given HK$5,000 (US$637) at the start of the scheme and again at the end.

The scheme was set up to boost youngsters' financial and career planning, communication skills and to help widen their social network and will include Olympic medal winners as mentors.

But Chan, a veteran of charity work, said the scheme was too career-focused for such young children and that the programme would not achieve its aims without follow-up measures.

She appealed to the authorities to allocate resources to fund continued support to the junior secondary schoolchildren involved, who would need guidance for several years.

Chan highlighted that the matching fund she headed also ran a mentorship scheme for young people aged from 10 to 19 and that there were separate programmes to follow up on their progress until they reached 21.

She said the charity, a strategic partner of the government's Child Development Fund, had already benefited more than 10,000 youngsters.

"There have been many similar schemes which are readily available in the city. It would be better for the government to justify how its new programme is different from others," Chan explained.

Experts have blamed the city's widening income gap, the soaring cost of living and the government's limited help programmes for the worsening of intergenerational poverty, which caused those born poor to face multiple disadvantages, from life in cramped subdivided flats to a lack of resources for educational and leisure activities.

The government launched the Child Development Fund in 2008 and supports projects operated by NGOs and schools to assist children with planning for personal development, setting savings targets and mentorship.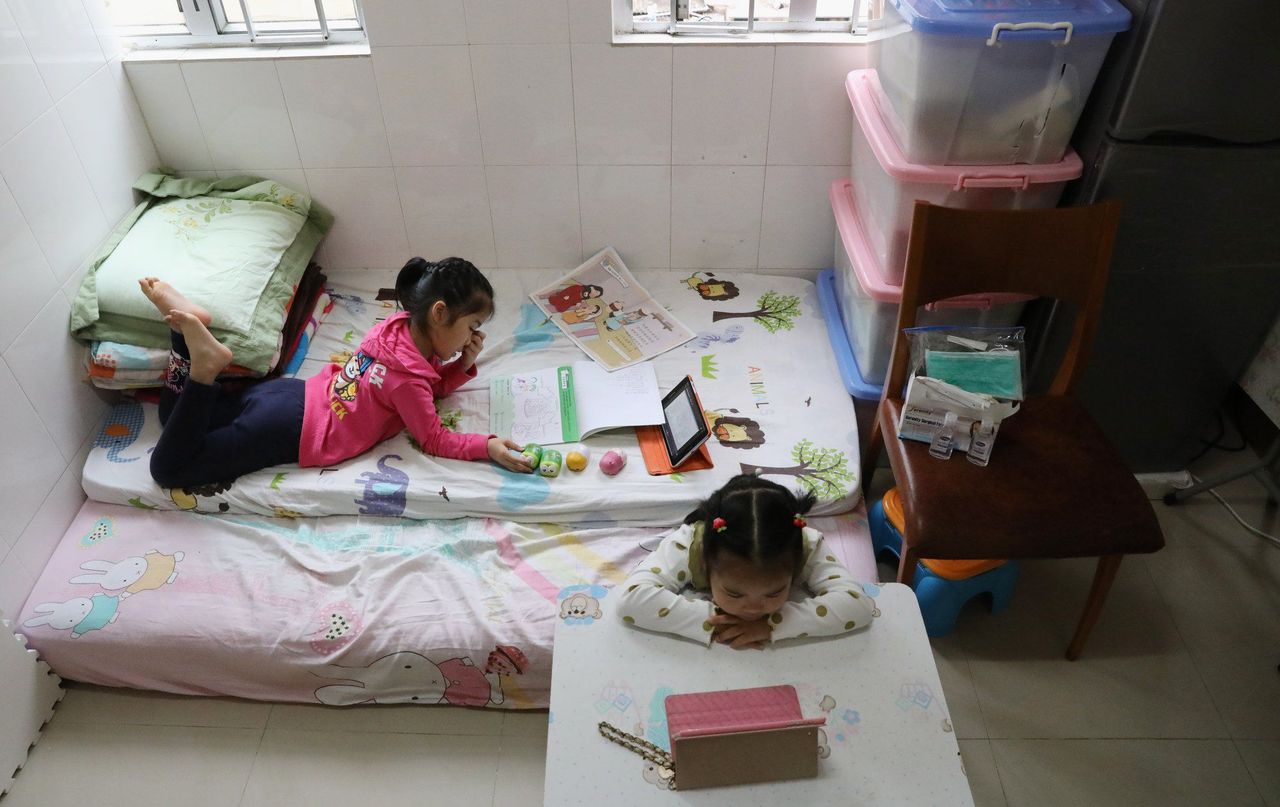 Children doing homework in the cramped conditions of a subdivided flat in Tsuen Wan.

Lee Chun-wing, a social sciences lecturer at Polytechnic University, also accused the government of a lack of new ideas and follow-up measures.

"It's a half-baked plan as the government delivered no new ideas and no solid plans on tracking the progress of students," he said.

Lee said the authorities tended to attribute intergenerational poverty to youngsters' lack of social skills and limited opportunities, but he insisted the causes of the problems were more complex.

He explained there was a critical need to review the city's employment structure to close the poverty gap and boost the incomes of low-paid workers.

Lee also appealed for more immediate measures to be taken to improve living conditions for poorer schoolchildren so they had a suitable home environment to concentrate on their studies.

"The scheme is a part of an image project for John Lee, rather than a practical solution to the poverty problem," said Lee, who has carried out extensive research on social stratification.

But Ma, 51, a divorced mother of teenager Patrick, said she was keen to get her son, who will go into Form Two next month, enrolled into the scheme.

Ma agreed with the experts that the one-year programme would be too short to have a long-term effect on her son.

But she explained poor living conditions and a lack of educational resources had affected his school performance and left him depressed and demoralised.

"I hope this programme can provide him a direction for his life, boost his self-confidence, and bring him hope," said Ma, who came to Hong Kong from mainland China in 2017 with her son, who was born in the city and has permanent residence.

Ma, who has a visa to stay in the city to look after Patrick but is not allowed to work, pays HK$3,600 a month for a 100 sq ft subdivided flat in To Kwa Wan.

She said she survived on about HK$3,000 a month from her ex-husband and also borrowed cash from friends.

Ma added cockroaches and bedbugs were rampant in the flat and that there was no room for a desk, so Patrick had to do his homework in bed.

She explained that she could not afford additional private lessons or extracurricular activities for him.

Ma said she hoped that the mentorship element of the programme would help her son with guidance on his studies and career advice.

But she admitted she was worried that the limited numbers available on the programme could mean he might miss out.

She also appealed to the government to help improve the family's living conditions, which would provide a better home environment for Patrick's studies.

"My son once said that he didn't need a very big and beautiful flat, but just a place where he could study well," Ma said.