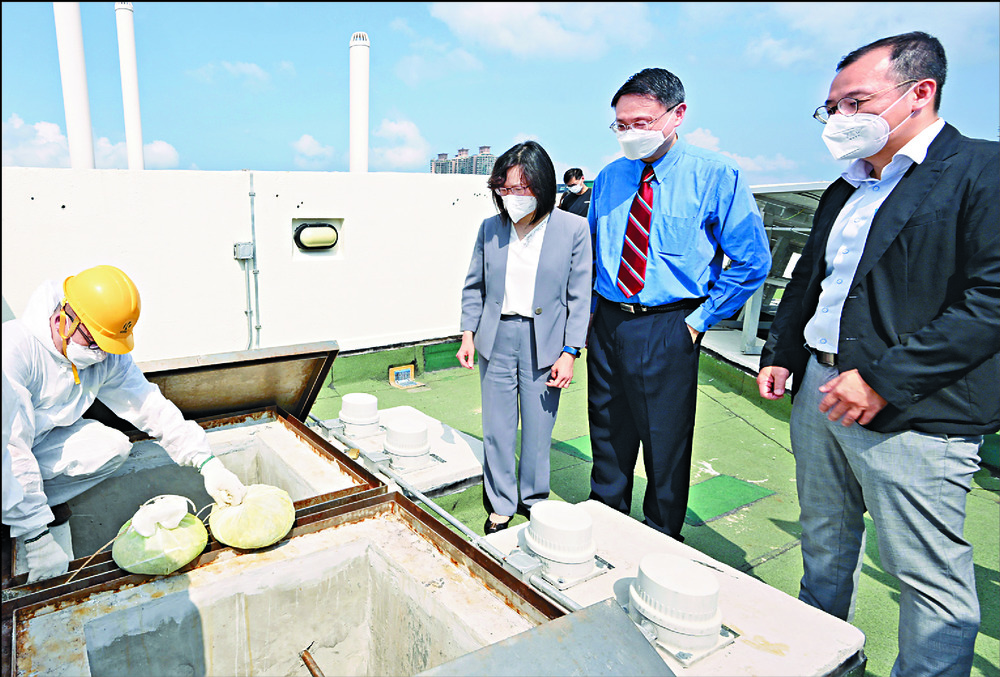 Scent of success in virus killer
A gel formula that can kill odor-causing bacteria and viruses like the highly infectious Omicron variant in toilet flushing systems has been developed by a university team and tested in three buildings in Chai Wan.
The Hong Kong University of Science and Technology researchers said 10 kilograms of the AM Gel can last for 60 days in central water tanks, usually located on roofs, sterilizing flushing water and pipes for the entire building.

The gel, costing HK$300 to HK$400 per kilogram, has been used in a pilot scheme in three public estate buildings in Yue Wan and Hing Wah, covering 2,880

According to the study result, the MalOdor-Control hydrogel proved effective in treating odor problems at drainage locations, including manholes, nullah intercepts, water channels and rivers.

It is effective at killing odor-causing microbes and preventing emissions of odorous gasses.

In addition, AMGel can kill 95 percent of drug-resistant bacteria in flushing water and over 99 percent Omicron virus particles, laboratory tests showed.

Research team leader Yeung King-lun said AMGel contains disinfectant, which is used to target the spinous process protein part of Omicron, making the virus lose the ability to infect cells.

Apart from killing odor-causing microorganisms and inhibiting their ability to generate foul gases, Yeung said the gel can reduce corrosion in pipes and antibiotic-resistant bacteria found in drainage.

And the newly developed hydrogel won't worsen water quality and can effectively sterilize the flushing system of the whole building. It is more environmentally friendly, safe and economical than the traditional method of putting bleach pellets into the water tank every week.

"Moreover, the hydrogel will decompose into sand upon release of disinfectants so it will not cause any harm to the environment," Yeung said.

The technology, he said, has enormous potential and can be utilized not only in drainage and flushing systems, but also other smelly places such as waste treatment and handling facilities, landfills or wet markets.

The hydrogel won a silver medal at the 2022 Special Edition of the Geneva International Exhibition of Inventions.

With support from HKUST's industrial partner Chiaphua Industries, the AMGel is also set to be applied to the flush water systems in primary and secondary schools as well as subdivided flats in Sham Shui Po.

Hamilton Hung See-chung, the chief marketing officer of Chiaphua Industries, said the company has reached out to seven to 10 schools and welcomes wider participation by more schools. The hope is to eventually expand the use of AMGel to about 50 schools and even apply it to grassroots communities through community organization associations.

David Chung Wai-keung, the undersecretary for innovation and technology, said "the government will continue to play the role of promoter and facilitator, to assist institutions to commercialize scientific research results through different policies and funding schemes."