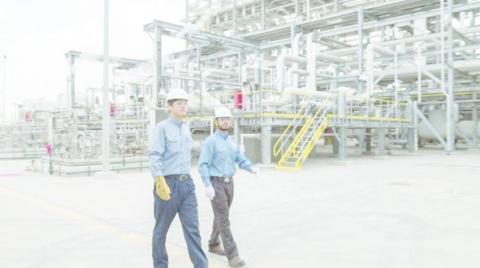 Saudi Arabia, China to Implement Refining and Petrochemical Projects
Saudi Arabia and China intend to explore cooperation opportunities in refining and petrochemical projects after the significant energy companies signed memorandums of understanding (MoU) to implement several projects.
Saudi Aramco, Chinese Petroleum and Chemical Corporation (Sinopec), and SABIC are exploring cooperation opportunities in refining and petrochemical projects in China and Saudi Arabia.

Aramco and Sinopec, one of the world's largest energy and petrochemical corporations, signed an agreement for a greenfield project in Gulei, Fujian Province, which plans to include a 320,000 barrels-per-day refinery and 1.5 million tons-per-year petrochemical cracker complex.

It is expected to commence operations by the end of 2025.

Aramco, SABIC, and Sinopec signed an MoU to study the economic and technical feasibility of developing a new petrochemical complex to be integrated with an existing refinery in Yanbu, west of Saudi Arabia.

Aramco Senior Vice President of Downstream Mohammed al-Qahtani said the projects represent an opportunity to contribute to a modern, efficient, and integrated downstream sector in China and Saudi Arabia.

He noted that they underpin our long-term commitment to remain a reliable supplier of energy and chemicals to Asia's largest economy.

The announcements support Aramco's role as a reliable energy supplier to China as the company seeks to expand its liquids to chemicals capacity to up to four million barrels per day by 2030.

The collaboration also aligns with Sinopec's vision to become a world-leading energy and petrochemical corporation, providing quality products and reliable power to benefit people worldwide.

Last week, Aramco and Total Energies made the final investment decision to construct a world-scale petrochemical facility in Saudi Arabia.

The Amiral complex will be owned, operated, and integrated with the existing SATORP refinery in Jubail on Saudi Arabia's eastern coast.

The investment decision is subject to customary closing conditions and approvals.

The petrochemical facility would enable SATORP to convert internally produced refinery off-gases and naphtha, as well as ethane and natural gasoline supplied by Aramco, into higher value chemicals, helping to advance Aramco's liquids to chemicals strategy.

The complex would comprise a mixed feed cracker capable of producing 1.65 million tons per annum of ethylene, the first in the region to be integrated with a refinery.

It would also include two state-of-the-art polyethylene units using Advanced Dual Loop technology, a butadiene extraction unit, and other derivatives units.

The project alone represents an investment of around $11 billion, of which $4 billion will be funded through equity by Aramco at 62.5 percent and TotalEnergies at 37.5 percent.

Its construction is scheduled to begin during the first quarter of 2023, with commercial operation targeted to start in 2027.

Aramco President and CEO Amin Nasser noted that the long-standing relationship with TotalEnergies has been further strengthened by this important project, which represents an opportunity to showcase the potential for cutting-edge liquids to chemicals technologies that support the circular economy.