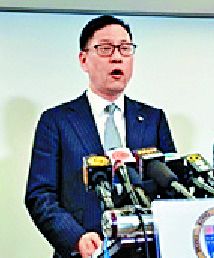 SAR rule of law a 'signboard plated in gold'
Hong Kong and Macau Affairs Office said the rule of law is the "signboard plated in gold" of the SAR, Hong Kong Bar Association chairman Victor Dawes said as an 18-strong delegation continued its trip around Beijing yesterday.
Speaking to media in the capital, Dawes said the delegation met HKMAO law department officers and exchanged opinions on legal issues in Hong Kong, including the national security law.

"[We discussed] a wide range of issues including the importance of the independent operation of the judiciary in Hong Kong and the impact of that to Hong Kong as an international finance center and dispute resolution center," he said.

The office representatives said the rule of law is the "signboard plated in gold" of the SAR and urged Hong Kong barristers to have a deep understanding of the national policies and situation.

"Hong Kong is the only common law jurisdiction in the country and the only English-Chinese bilingual common law jurisdiction in the world, which plays an indispensable role in enhancing the country's exchanges with overseas countries," Dawes said.

"It is crucial for both Hong Kong and the mainland to maintain the independence of barristers and let them play to their professional strengths."

Dawes added that he had met HKMAO director Xia Baolong in Shenzhen in February, where Xia stressed the significance of the common law system in Hong Kong.

"This is the second time we managed to meet [the office] in the past three months, and I believe this demonstrated the importance they have placed in communicating with the legal community in Hong Kong," he said, adding that the delegation visited the Peking University Law School and Supreme People's Court in the afternoon.

"The association runs a common law course with the university, but it was suspended for years due to the pandemic. We will resume the course this year and we also discussed some details with the university today," he explained.

The delegation will visit the Supreme People's Procuratorate, Ministry of Justice and All China Lawyers Association today before returning to Hong Kong tomorrow.