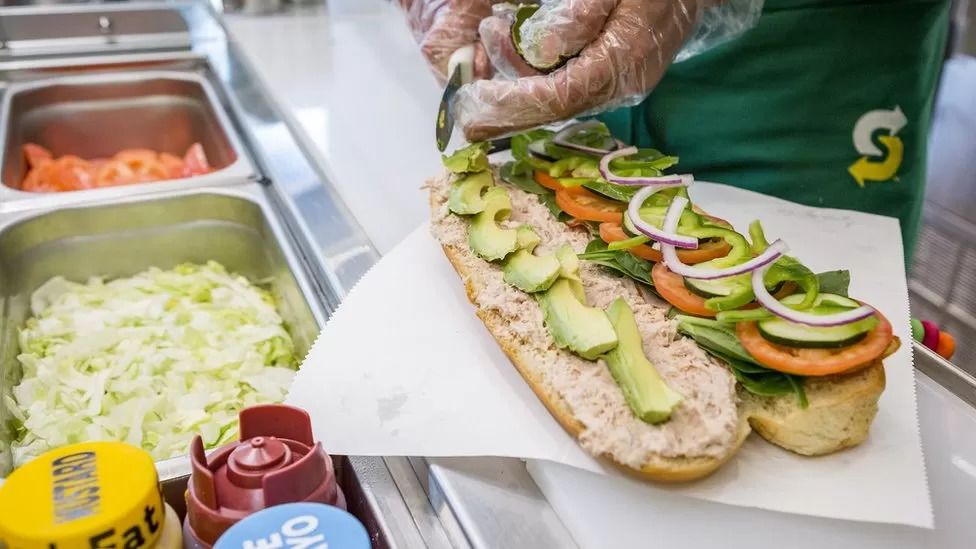 Sandwich chain Subway explores sale of business
Global sandwich chain Subway says it is exploring a possible sale of the business after almost six decades of family ownership.
The firm has been growing rapidly for years but is now facing soaring costs and increased competition.

A sale of the company could value it at more than $10bn (£8.2bn), according to the Wall Street Journal, which first reported the story.

Investment banking giant JP Morgan is advising Subway on the potential sale.

Subway said that it does not plan to give any further updates on the process until it is completed and has not said how long it could take.

Earlier this month, the company announced its second year in a row of record sales. Subway said same-store sales rose 9.2% last year, compared to 2021.

It added that it would "continue to execute against its multiyear transformation journey", that includes new menu items and modernising its restaurants.

Subway was founded in 1965 as Pete's Super Submarines in Bridgeport, Connecticut, by 17-year-old Fred DeLuca and family friend Peter Buck.

It went through several name changes before finally being renamed Subway in 1972.

Within two years they had opened 16 sandwich shops in their home state and then started to franchise the brand. It now has nearly 37,000 outlets in more than 100 countries.

Subway restaurants are owned and operated by franchisees, including thousands of entrepreneurs and small business owners.

In recent months, companies around the world have faced rising costs of everything from food to fuel.

In July, one of Subway's fast food rivals McDonald's raised the price of its cheeseburger in the UK for the first time in more than 14 years.

The company said its UK restaurants would be adding between 10p and 20p to a number of items.

In an email to customers, the chief executive of McDonald's UK and Ireland said it was facing "tough choices" about its prices.