One question asks students how they would dispel concerns over national security law, while another asks them to discuss advantages presented by Greater Bay Area.
Hong Kong pupils have been offered a glimpse of how they will be tested in the revamped liberal studies subject, with a new sample question asking them to explain how they might ease concerns over the impact of the national security law on the city's business environment.

Another sample question from the exam on the newly rechristened "citizenship and social development" subject asks high school pupils to discuss the advantages and opportunities presented by Beijing's Greater Bay Area development plan.

The questions were among a set of sample testing materials released by the city's exams authority on Friday.

The overhauled course will be taught to pupils from this September, and the first Diploma of Secondary Education exam in the subject is expected to take place in 2024.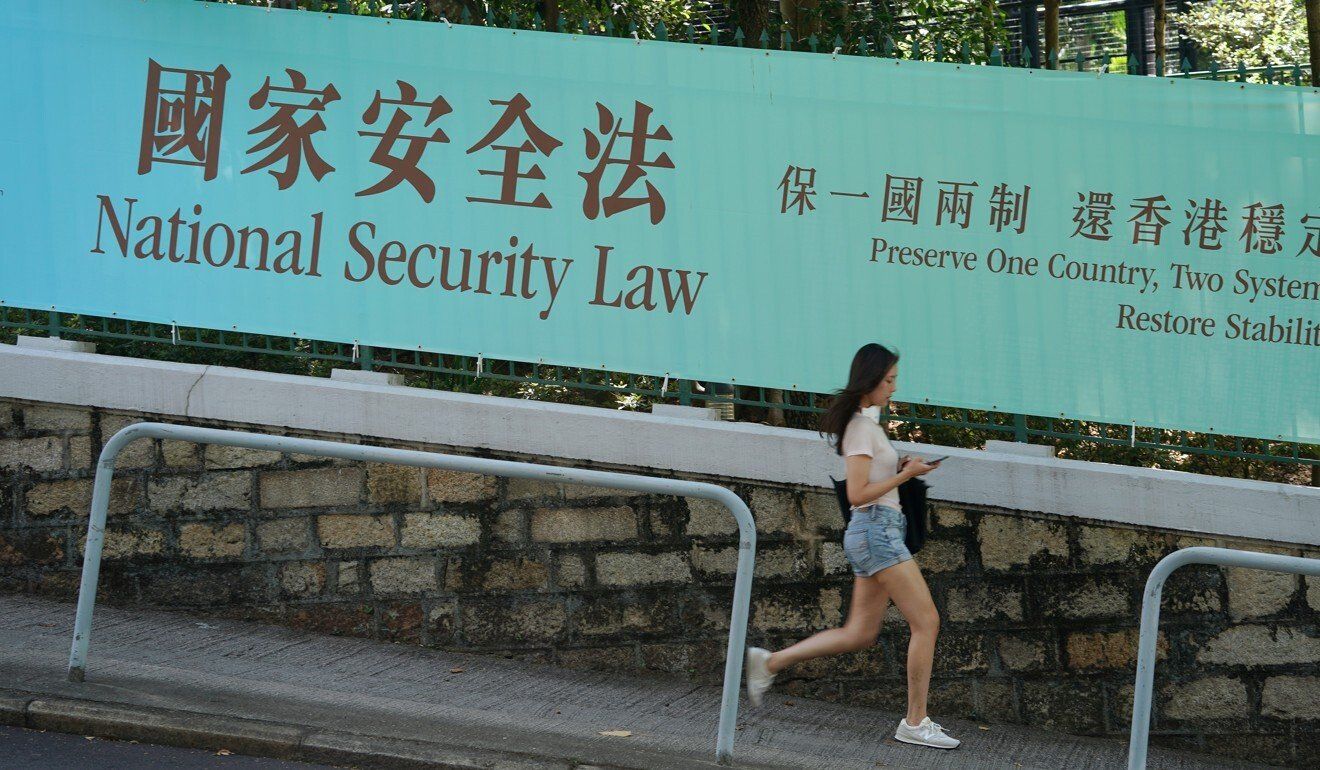 One new sample question for the revamped liberal studies test asks students to explain how they would dispel concerns over the national security law.

Details of the changes were unveiled earlier this year after pro-Beijing figures blamed the subject for radicalising youth during the 2019 anti-government protests, and insisted some teaching materials were biased.

First introduced in 2009 as one of four core subjects for senior secondary school students in a major curriculum revamp, liberal studies aimed to enhance pupils' social awareness and develop their critical thinking skills.

Under the new changes, teaching hours for the subject will be cut by half, while the assessment criteria will shift to a simple pass or fail, rather than a traditional grade. The subject will also have a new focus on national development and patriotism, which accounts for more than a third of the adjusted syllabus.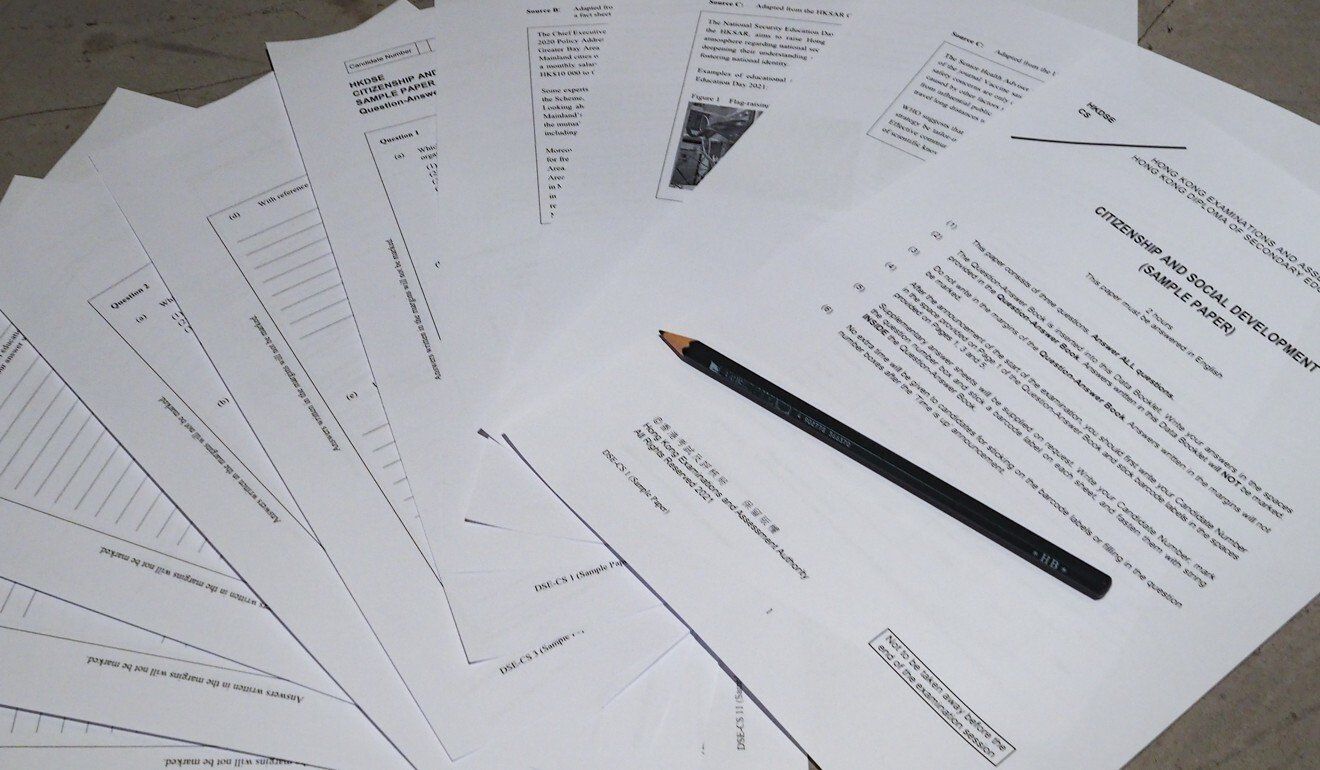 Some of the sample materials released by the exams authority on Friday.

The sample exam paper dealt with three themes: vaccine hesitancy and its relation to infectious diseases, the Beijing-imposed national security law, and China's Greater Bay Area scheme – a plan to integrate Hong Kong, Macau and nine Guangdong cities into a financial and innovation powerhouse.

One question asked students to identify "one possible concern people may have over the business environment after the implementation of the national security law", and to use the materials provided to explain how such a concern could be eased.

Pupils were provided with excerpts from the financial secretary's blog and a speech in which he mentioned the city's financial market "remaining stable and continuing to operate smoothly" after the security law came into effect in June last year.

They were also given Article 1 of the legislation, which states that one of its purposes is to "protect the lawful rights and interests of [Hong Kong] residents", along with a photo of a flag-raising ceremony at a school during the government's National Security Education Day on April 15 this year.

Students were also asked to explain "how important is school education in nurturing young people with a sense of belonging towards the country" based on the same set of materials.

Another question asked pupils to cite evidence that supported the view that "Hong Kong young people pursuing their careers in the mainland cities of the Greater Bay Area are met with both opportunities and challenges", while another told them to make suggestions to a foreign smartphone maker on how to "make full use of the advantages" of the scheme.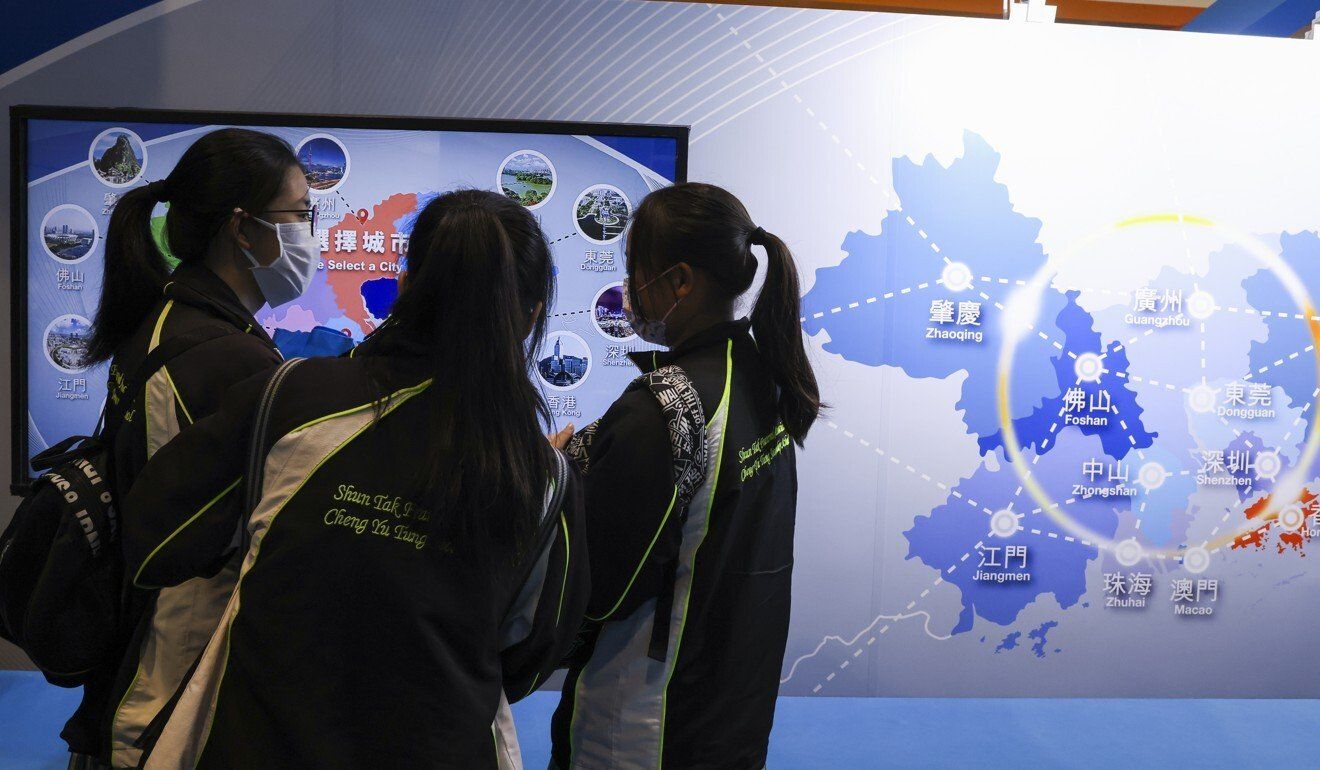 Students visit a booth set up by the Greater Bay Area Development Office at an education and career expo earlier this month.

Tin Fong-chak, who has taught liberal studies for more than 10 years, said the sample questions appeared to do little to hone pupils' critical thinking skills and were instead more of a straightforward way for them to score a passing mark.

"When the materials provided are mostly on a positive note, pupils lack the skills to think from multiple perspectives and come up with their own judgments," said Tin, who belongs to the opposition-leaning Professional Teachers' Union.

He also characterised the exam body's release of the samples in July as relatively late, given the new syllabus would go into effect in September and there was still a lack of guidance and references for teachers.

But Wong Wai-shing, vice-chairman of the pro-establishment Federation of Education Workers and a deputy principal at a secondary school, said he believed some issues – such as national security – should not be dealt with in terms of negative and positive sides.

"For some values, it is not necessary to discuss the negative side of them," he said. "For instance, it is a natural thing for each resident of every country to safeguard national security, just like every child should be good to their parents."