In latest incident concrete fell from ceiling in consultation room on Wednesday at Kwai Chung Hospital.
Safety inspections will be carried out on all mounted medical devices and building structures of Hong Kong's 43 public hospitals after five incidents of fallen items in healthcare facilities were revealed within a month, including one on Wednesday in a paediatric unit.

The Hospital Authority said priority would be given to areas with spalling concrete or reported water leakages, often populated by staff and patients and subject to frequent vibration by heavy machines.

Safety in public hospitals has been under the spotlight following a spate of fallen items, with the most recent one happening in the paediatric and adolescent psychiatric unit at Kwai Chung Hospital. Several pieces of concrete fell from the ceiling in a consultation room around 3.30am on Wednesday. No one was injured.

"The Hospital Authority is very concerned about these incidents," said the organisation's chief executive Dr Tony Ko Pat-sing. "We would like to apologise to patients and colleagues whose safety has possibly been affected by the recent incidents."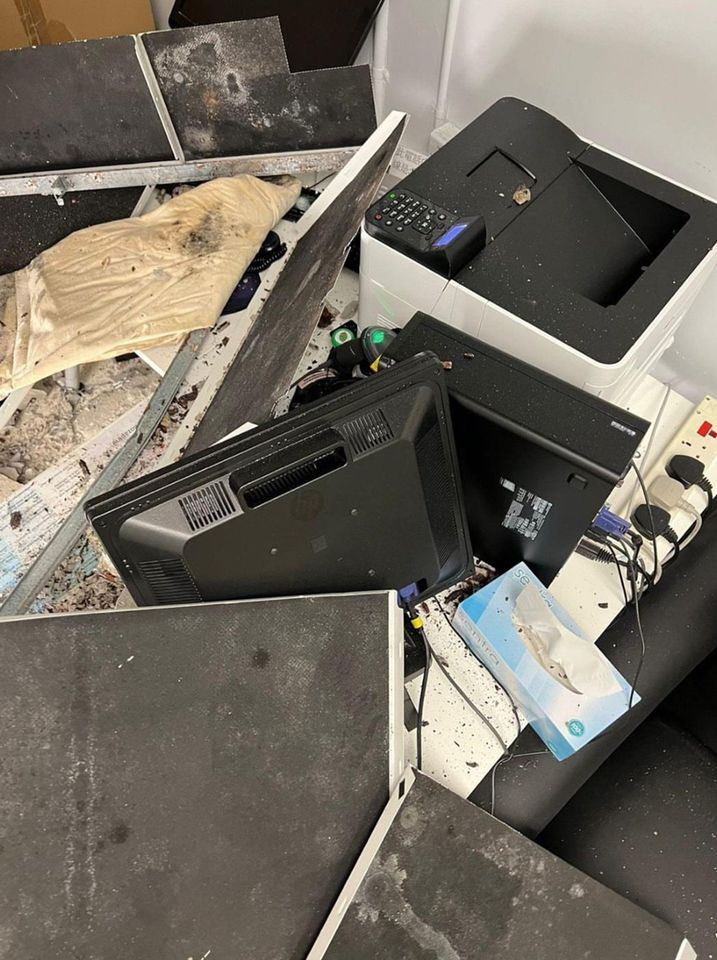 The mess caused by concrete falling from the ceiling of a consultation room in the paediatric and adolescent unit at Kwai Chung Hospital.

A six-strong expert committee, comprising specialists in engineering, construction and corporate communications, has been formed to review the maintenance of medical equipment and communication between hospitals, the authority's head office and the public. They are expected to submit recommendations in three months.

Dr Desmond Nguyen Gia-hung, hospital chief executive of the Kwai Chung facility, said that the largest piece of concrete that fell on Wednesday morning was around 30cm (11 inches) by 30cm. The chunks covered an area of 1.5 metres (4.9 feet) by 1.5 metres.

The consultation room, as well as the nearby rooms, are now closed for inspection. Unstable concrete was also identified in a room next to the one where the incident happened, he said.

"The hospital is very concerned about this incident. We will look into the issue from all directions, whether it is related to any water leakage in the past. We would not rule out any possibilities," Nguyen said. "I would like to say sorry to staff, patients or parents who might have been frightened by the incident."

He said that the hospital last underwent a building safety check in 2021 by Fujitac Construction and Engineering Consultants. The unit where the concrete fell was built in 1981 when the hospital was opened.

Dr Ching Wai-kuen, the authority's director in strategy and planning, said Fujitac was responsible for the building safety work in public hospitals, including Castle Peak, where a piece of concrete fell onto an empty bed. The incident happened in November, but the authority only told the public on Sunday.

He said that remedial action had already been taken, such as stepping up supervision of the contractor by the authority's facilities management staff and other building surveyors. The company's two-year contract will end in December.

"We will continue to monitor their performance, and if the outcome is not up to standard or violates any rules, we will not rule out referring them to regulatory agencies," Ching said, noting that they were not satisfied with Fujitac's performance over the Castle Peak incident.
Attending a press conference are (from left to right) Dr Desmond Nguyen, chief executive of Kwai Chung Hospital, Dr Tony Ko, Hospital Authority chief executive, and Dr Ching Wai Kuen, a director at the authority.

Apart from specific building structures based on their risk level, facilities management staff of the hospitals would also conduct inspections on all devices suspended at a height of two metres or more, such as surgical lights, in the next four weeks.

The Post has contacted Fujitac for comment.

The Hospital Authority on Wednesday also confirmed that part of the false ceiling in a male washroom in Tuen Mun Hospital fell in May last year. Repairs were arranged immediately, and the issue did not involve building structural safety.

In mid-February, a surgical light in United Christian Hospital fell and injured an anaesthesia assistant's shoulder. Last week, the health authorities also ordered the inspection of ceiling hoists used to lift patients after a cover fell off the track of one device at Tuen Mun Hospital.

The Department of Health confirmed on Tuesday that four pieces of concrete were found inside the false ceiling of a workroom in the Centre for Health Protection building in Mong Kok during a routine maintenance inspection last Friday. The biggest piece was 0.65 metres by 0.45 metres.

No concrete had fallen into the room, and no one was injured.

Hospital Authority board member Wan Man-yee, who led the expert review committee, said he was disappointed about the repeated safety incidents.

"We haven't done our best to ensure the safety of patients and staff. This is worth our reflection, and we would need to improve the system," Wan told the Post.

He said the committee would conduct a comprehensive review, looking into contractors' work and how public hospitals approve it, among other areas.

Concern group Hong Kong Patients' Voices chairman Alex Lam Chi-yau said he was "furious" over the cases and found them "unacceptable".

"There are so many hidden threats in hospitals where patients receive treatments ... harm from those incidents could be fatal," Lam said.

He called for representatives of hospital staff and patients to be included in the review committee.