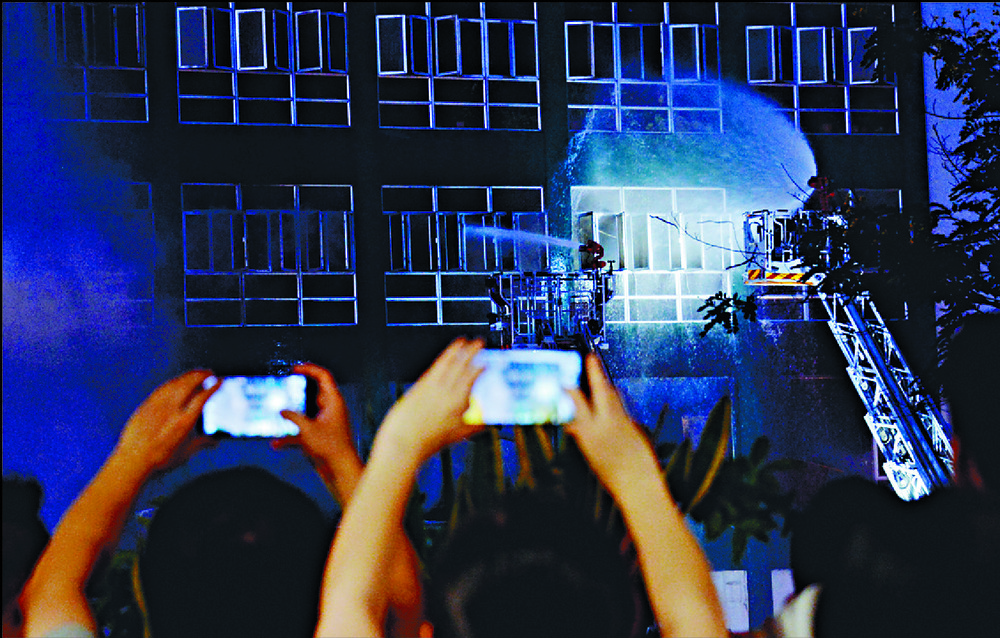 'Safety first' amid fire misadventure ruling
The licensing of mini-storage units should be better regulated while the fire department should review its internal-messaging mechanism, a coroner recommended yesterday after ruling two firefighters died by misadventure in a 2016 fire.
The fire at SC Storage's Amoycan Industrial Centre branch in Ngau Tau Kok was eventually put out after raging for more than 108 hours, in which time senior station officer Thomas Cheung Yiu-sing, 30, and senior fireman Samuel Hui Chi-kit, 37, lost their lives.

After a 65-day inquest with no jury, deputy coroner Philip Wong Wai-kuen handed down a death by misadventure ruling.

He urged the Buildings Department to revisit the licensing regulations of mini-storage units, adding the Labour Department should require staff members in such units to complete a fire-prevention course.

Wong echoed the recommendations made by Assistant Director of Fire Services Cheng Sui-On regarding front-line firefighters, including setting up a positioning system, equipping firefighters with retractable ropes and stricter adherence to the entrance-command system.

The autopsy report found that both Cheung and Hui suffered from partial clogs in their cardiac vessels, prompting Wong to advise offering firefighters cardiovascular screenings - especially for those aged 30 and above.

The Fire Services Department yesterday said it had strengthened safety policies by, among other measures, forming a breathing-apparatus team to provide operational support as well as adjusting officers' work and rest schedules such that weather conditions are taken into account.

Further, since the 2016 fire, it had inspected 1,222 mini-storage units. As a result of these inspections, over 220 operators have been prosecuted.

Mini-storage operators must also take responsibility, Wong said, adding their staff need to prioritize protecting tenants' lives and property in case of a blaze.

He said customers should avoid storing flammable items and suggested operators conduct regular inspections.

In passing down the ruling, Wong also praised firefighters for their bravery during the 2016 fire.

Cheung had taken the initiative and asked his superior to let him enter the warehouse when he heard another say they needed help inside.

"Despite knowing the area was dangerous, he did not run away," Wong said.

He also commended Hui, who - while inside the warehouse - stepped forward to help his partner break down a door when he saw the latter was struggling.