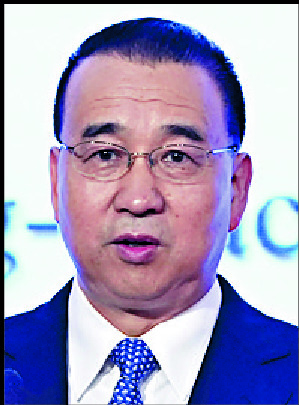 'Safeguarding rule of law key to maintaining order'
The constitutional order must be protected in order to maintain the rule of law in the SAR, says the commissioner of the Ministry of Foreign Affairs in Hong Kong, Liu Guangyuan.
Speaking at a forum hosted by the SAR administration yesterday, Liu said to uphold the rule of law in Hong Kong - which he said is vital for its stability - the constitutional order based on the constitution and the basic law must be first be safeguarded.

Liu said "anti-China riots" have been rampant in Hong Kong and have brought hardship to people's livelihoods, social disorder and the rule of law into disrepute.

"Society needs to promote the spirit of the rule of law, safeguard the rule of law and order and ensure that 'laws must be observed and those who violate them must be prosecuted,'" said Liu.

Liu said in accordance with the constitution and the basic law, the central government implemented the national security law in Hong Kong and improved the electoral system, plugging major legal loopholes and transforming conditions in the city from chaotic to one seeing good governance.

He also criticized some countries, without naming them, for hiding behind the guise of democracy to engage in anti-democratic activities.

At the same forum, Chief Executive Carrie Lam Cheng Yuet-ngor said Hong Kong is internationally recognized as a city underpinned by the rule of law, citing international indices. In 2021, she said, Hong Kong ranked 19th in the Rule of Law Index and fifth in east Asia and the Pacific.

Lam added that this year marks the 25th anniversary of Hong Kong's return to China and the SAR will continue to firmly follow the rule of law as a guiding principle.