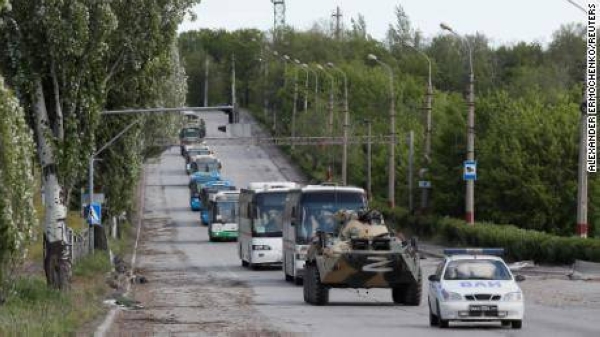 Russia says nearly 700 more Mariupol fighters surrender
Russia said Wednesday that nearly 1,000 Ukrainian soldiers have surrendered at the Azovstal steel plant in Mariupol since Monday.
It comes the day after Ukrainian President Volodymyr Zelensky said that evacuations at the plant -- a powerful symbol of Ukrainian resistance in the otherwise Russian-occupied city -- were still ongoing.

More than a day after Kyiv announced it had ordered its garrison in Mariupol to stand down, Ukrainian officials halted all public discussion of the fate of remaining fighters who had made their last stand there.

Russia's ministry of defense said 694 more fighters had surrendered overnight, bringing the total number of people who had laid down arms to 959. Ukraine's defence ministry did not respond to requests for comment.

The leader of pro-Russian separatists in control of the area was quoted by a local news agency as saying the main commanders inside the plant had yet to surrender: "They have not left", DAN news agency quoted Denis Pushilin as saying.

Ukrainian officials had confirmed the surrender of more than 250 fighters on Tuesday. But they did not say how many more were inside or what would become of them, and made clear on Wednesday that there would be no further comment for now.

"Unfortunately, the subject is very sensitive and there is a very fragile set of talks going on today, therefore I cannot say anything more," said Mariupol Mayor Vadym Boichenko. He said President Zelensky, the Red Cross and the United Nations were involved in talks, but gave no further details.

"The main thing is that our boys saved our country, gave us a chance to get ready for this destructive war."

The negotiations over the surrender of Mariupol came as Finland and Sweden formally applied to join NATO, bringing about the very expansion that Russian President Vladimir Putin has long cited as one of his main reasons for launching the "special military operation" in February. read more

The final surrender of Mariupol would bring a close to a near three month siege of the once prosperous city of more than 400,000 people, where Ukraine says tens of thousands of civilians died under Russian siege and bombardment, many buried in mass graves.

Ukrainian officials have spoken of hopes to arrange a prisoner swap for Mariupol defenders they describe as national heroes. Moscow says no such deal was made for fighters it calls Nazis.

Russia says more than 50 wounded fighters have been brought for treatment to a hospital, and others have been taken to a newly re-opened prison, both in towns held by pro-Russian separatists. Reuters journalists have filmed buses bringing captured fighters to both locations.

The Kremlin says Putin has personally guaranteed the humane treatment of those who surrender, but high-profile Russian politicians have publicly called for them never to be exchanged, or even for their execution.