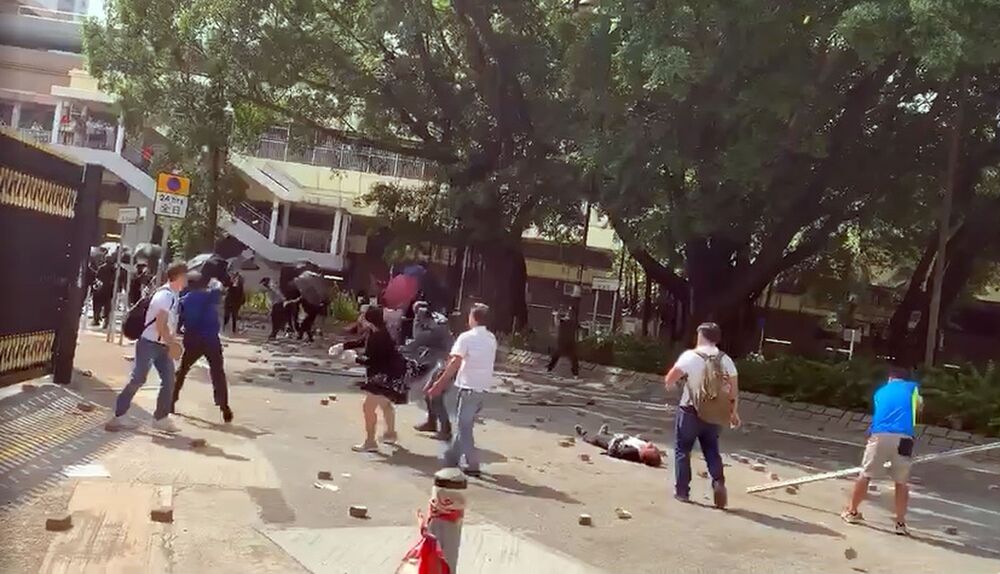 Rioting teens acquitted of manslaughter in brick-throwing death of cleaner
After a seven-hour deliberation, a jury of five women and two men on Tuesday ruled two teenagers not guilty of manslaughter over the death of a 70-year-old janitor, who died after he was hit in the head by a brick thrown at a Sheung Shui protest in 2019.
All seven jurors acquitted unemployed Kelvin Lau Tsz-lung, 19, and student Chan Yin-ting, 18, of the manslaughter of Luo Chang-qing in the High Court this afternoon.

Lau was also acquitted of assaulting a man, "X," now aged 63, with intent on November 13, 2019, by a 6-1 jury decision, as was Chan by a 5-2 decision.

Yet, both Lau and Chan were convicted of rioting outside North District Town Hall on Lung Wan Street that day -- by a 5-2 and 6-1 decision, respectively. Judge Esther Toh Lye-ping will hand down the sentences for the duo's rioting charge Friday next week (Jul 22).

The pair remained calm as they awaited the final ruling of the jury.

Lau nodded as he heard the jury acquitted him of the assault charge. Chan, on the other hand, heaved a sigh of relief and looked upwards after learning that he was acquitted of the manslaughter and assault charges.

As the jury announced that Chan was guilty of rioting, he kept nodding his head and pulled out a tissue from his pocket to wipe his tears.

A clash occurred in Sheung Shui between black-clad protesters and citizens who were cleaning up debris and roadblocks that day as the two sides quarreled and threw bricks and other debris at each other.

Luo, who was at the scene trying to film what was happening, collapsed after a brick thrown by the protesters hit him in his head.

Luo was rushed to the hospital, where a doctor confirmed that he was suffering from hemorrhaging of the brainstem. Luo died the next day.

The duo was originally charged with murder but the court changed the charge to manslaughter due to the lack of evidence.

Earlier in court, the prosecution admitted that the brick that killed Luo was neither thrown by Lau nor Chan.

Before the jury retired from the court for deliberation, judge Toh told jurors they should convict the two defendants of the manslaughter charge if they believe the defendants participated in illegal activities intentionally, which anyone with a clear mind know will expose Luo in danger and lead to his death.