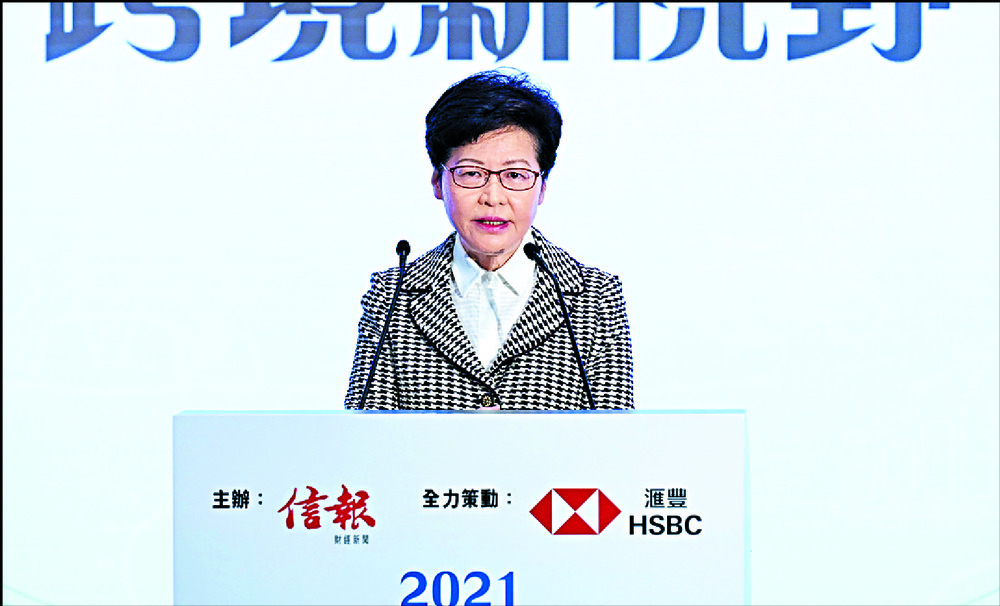 Right mindset key to collaboration
Chief Executive Carrie Lam Cheng Yuet-ngor has called on civil servants, especially high-ranking officials, to maintain a collaborative mindset when working with mainland counterparts.
Speaking in a forum yesterday, she said civil servants and citizens should broaden their perspective to cover the Greater Bay area.

She noted that they should not treat the mainland only as a place for making money.

The SAR should push forward "four new spirits" to blend into Greater Bay development, Lam added.

One of these new spirits is to "ditch outdated mindsets," as she cited examples of previous Hong Kong-Shenzhen collaborations in order to drive home her point.

"I'm afraid I've seen friends, including some from inside the government, who bear specific mindsets, with some adopting the 'big Hong Kong' attitude that Hong Kong has a lot of advantages and we're bringing our advantages to [Shenzhen]," she said.

"Some envied Shenzhen's rapid development in the past 40 years and belittled themselves, as they appeared to have the 'small Hong Kong' attitude, worrying [Hong Kong] could not catch up with our counterpart's speed."

Lam said both mindsets were undesirable, and that the two cities should take on a collaborative attitude.

"We should renew our concepts and adopt an attitude to complement one another to achieve a win-win situation," she said.

Based on her interaction with Shenzhen for more than 10 years as the Secretary for Development, Chief Secretary and Chief Executive, Lam said she could guarantee that the city on the other side of the border has never looked down on Hong Kong.

"[Shenzhen] has never wanted us to work alone. It has always hoped to develop with Hong Kong," she said.

Hong Kong, Macau and nine other Greater Bay cities in Guangdong should step up exchanges of manpower, logistics and funding, and to ensure their policies are consistent with each other, she said.

The SAR still has an irreplaceable role, and there will be robust growth and ample opportunities for companies and youngsters in the future, she added.

Lam said the other "new spirits" are to make innovative use of land across Shenzhen and the SAR, and design new policies and reform systems.

She cited Qianhai in Shenzhen as an example as the region is only across the Shenzhen Bay from the New Territories.

"You can imagine residents in New Territories North, especially those living in Hung Shui Kiu and Ha Tsuen. If we stick to old practices, they could be working in Central and the city area.

"But if we use new concepts, they can think about job opportunities in Qianhai cause it's just across the bay," Lam said.

She said authorities will build another small border port in the new Lok Ma Chau Loop science park, preferably with smart immigration facilities, for IT workers to easily cross the border.

Lam also clarified media reports on resuming wetlands for the Northern Metropolis mega development plan, saying that authorities will only take several hundred hectares of such lands to form three wetland parks covering a total area of 2,000 hectares.