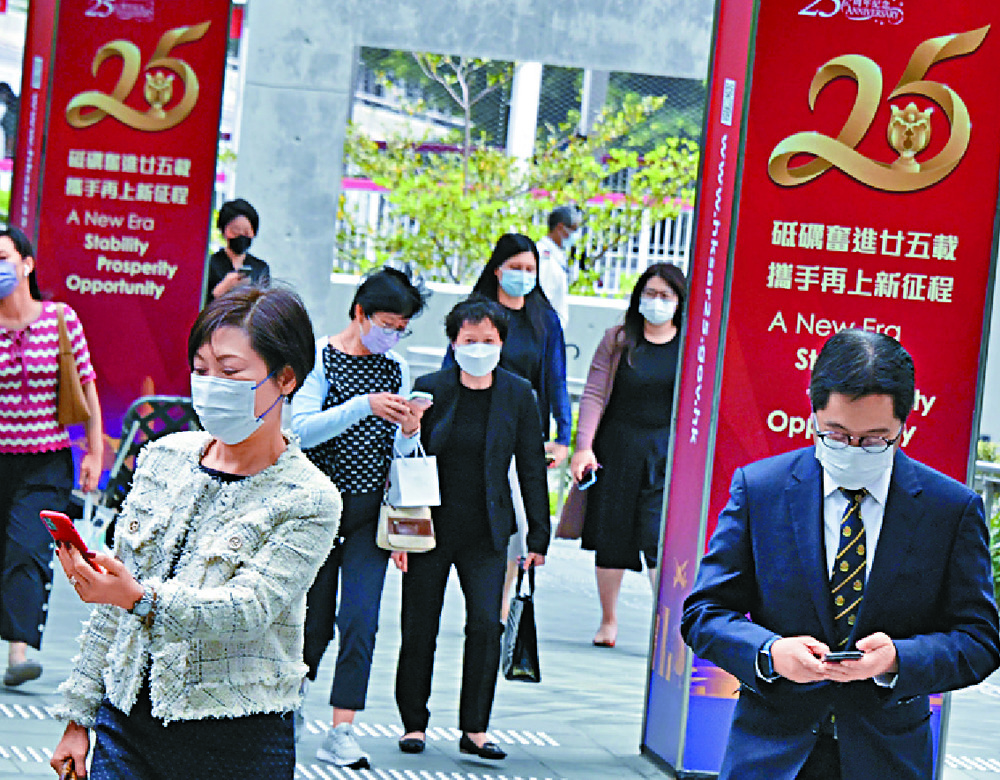 Rewards - and punishments - for civil servants strengthened
The reward and punishment system for civil servants will be strengthened with the "Chief Executive's Award for Exemplary Performance" next year to recognize good work.
But officers who are unable to perform up to standard, despite supervision and assistance, may see their appointments terminated.

Civil servants will be required to have a strong awareness of safeguarding national sovereignty, security and development interests and must put the principle of "patriots administering Hong Kong" into practice.

The Civil Service Code will be updated to ensure that civil servants clearly spell out the core values and standards of conduct that present-day civil servants should uphold.

A "red team" will be set up to play the roles of "critics and opponents" to evaluate the effectiveness of policies and plug loopholes. John Lee has also set 110 indicators, including key performance, for monitoring progress and effectiveness.

Lee's list of indicators covers rodent infestation, housing, duration of medical consultations and industrial accidents.

But some doubt that the new measures will result in positive change.

The chairman of the Hong Kong Federation of Civil Service Unions, Leung Chau-ting, hoped that civil servants would not be doing their jobs simply to win the chief executive's favor, emphasizing that they should focus on whether policies are executed effectively.

Leung said he was concerned about whether policymakers or civil servants would bear responsibility if a policy turns out to be ineffective.

"The officials are the ones coming up with the policies, while civil servants are only responsible for executing them. If we can't reach those targets, who will be held accountable?" he asked, adding that the changes would place further stress on civil servants.

By the end of the year, Lee will set up the Chief Executive's Policy Unit, a research body that will conduct studies and analyses on mainland and international developments and policies, and report to him.

The unit, which should "possess strategic and global perspectives and stay in tune with the local and public pulse," will also hold internal deliberations to assist the government in policy forming.

On national security, the government will introduce amendments to the Regional Flag and Regional Emblem Ordinance, bringing it in line with the National Anthem Ordinance and the National Flag and National Emblem Ordinance, which outlaws the desecration of the national flag.

Authorities will also press on with preparatory work for the enactment of Article 23, Hong Kong's own national security legislation. That came as the administration last week removed a draft bill for Article 23 from the city's legislature for the second half of this year.

Lee also announced that the government will pass legislation on enhancing cyber security of critical infrastructure, and will complete a consultancy study on combating fake news and disinformation. The government will also impose laws regulating crowdfunding activities, tightening restrictions on fundraising efforts both online and offline.

Last month the High Court granted a confiscation order allowing authorities to seize about HK$70 million of proceeds from a crowdfunding platform that had once provided financial aid to Hong Kong protesters during the 2019 protests.

Lee also said the government will strengthen publicity and education on the constitution, the Basic Law, and the national security law.