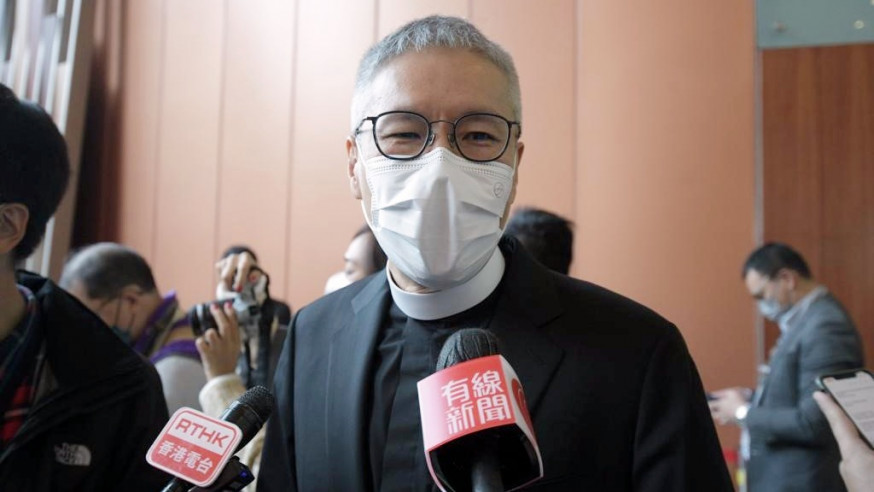 Reverend Peter Koon sworn in as lawmaker, to quit admin duties
Reverend Peter Koon Ho-ming said he will soon quit administrative duties in Hong Kong Sheng Kung Hui, after he was sworn in as a lawmaker on Monday.
Koon is the provincial secretary general of the Anglican church. He is also the chairman of SKH St Christopher's Home and honorary secretary of the executive committee of HKSKH Welfare Council.

Speaking to reporters after the oath taking ceremony, Koon said new lawmakers are "common people" and "newcomers" who are willing to serve the people of Hong Kong.

His announcement comes weeks after he received over 1,000 votes and was elected to the 90-member legislature.

He is Hong Kong's first religious leader to join the legislature via the election committee constituency in December's "patriots only" election following the 2021 electoral system overhaul.

Joining the election as a pro-establishment candidate would not "politicise" the religious sector, he said last November.

Koon is known for providing support to murder suspect Chan Tong-kai by serving as a bridge between the youngster and the media. He also persuaded Chan to surrender himself, and blamed Taiwanese authorities for not allowing Chan a visa to goto Taiwan.

Also speaking after they were sworn in as lawmakers, Democratic Alliance for the Betterment and Progress of Hong Kong chairwoman Starry Lee Wai-king thanked Beijing for the electoral overhaul, and said that the new legislature would bring stability to Hong Kong.

Alice Mak Mei-kuen of the Hong Kong Federation of Trade Unions also thanked the central government as well as citizens for their support.