Latest ban as city braces for a fifth wave of infections leads to frantic scramble among travellers to cancel and rebook flights, hotel rooms.
Hong Kong's two-week flight ban has dashed the hopes of those planning family reunions as well as disrupted plans for incoming domestic helpers, with the Philippines, Britain and the United States among eight countries hit with tightened rules aimed at containing a Covid-19 surge.

Chief Executive Carrie Lam Cheng Yuet-ngor announced on Wednesday the ban on passenger flights from Australia, Britain, Canada, France, India, Pakistan, the Philippines, and the United States for 14 days until January 21, starting from Saturday. Travellers who were recently in those countries or had transited through them will be barred from returning to the city for two weeks.

Lam said the tougher rules were necessary with Hong Kong on the verge of a wider coronavirus outbreak following the community detection of Omicron cases.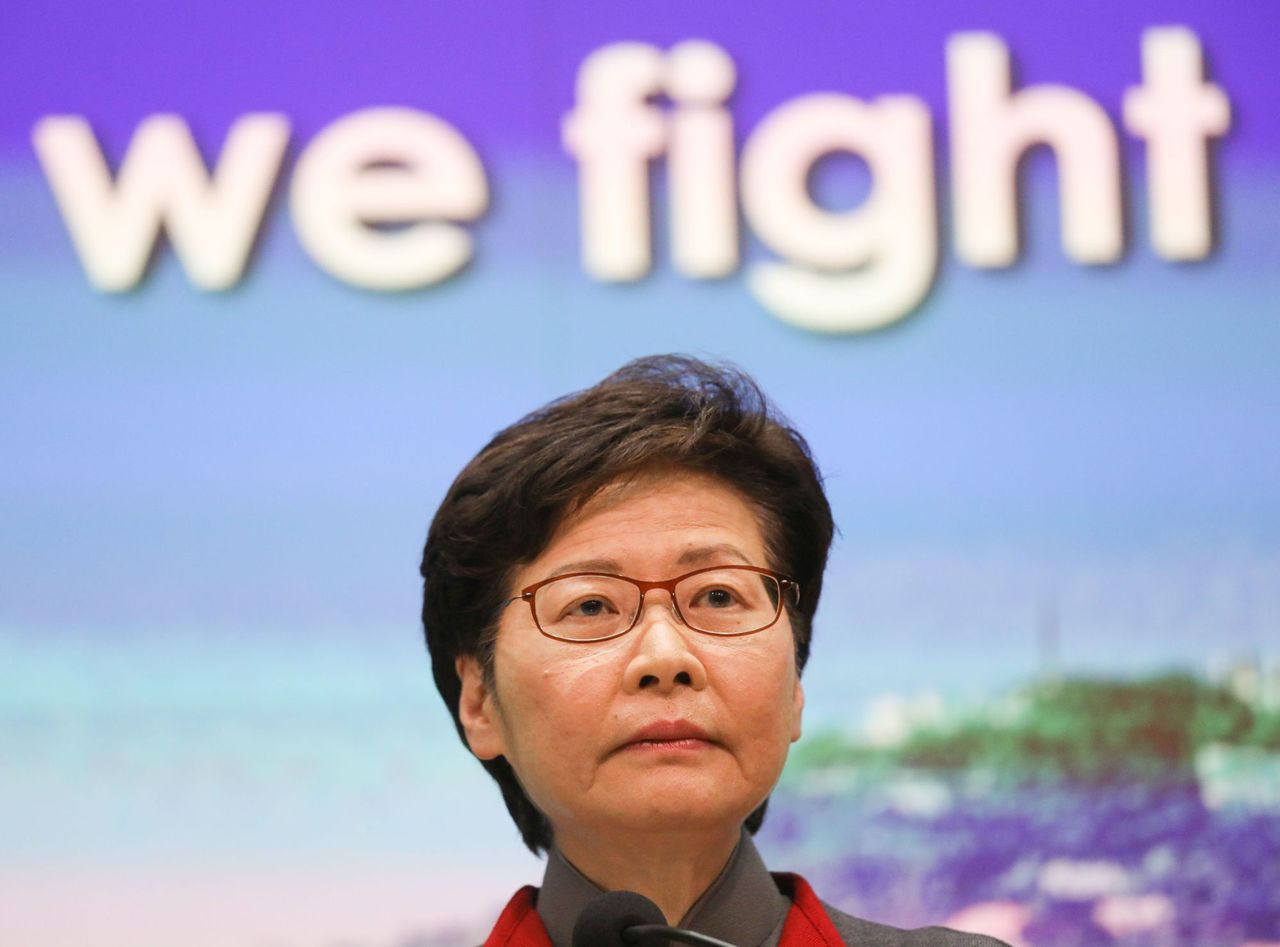 City leader Carrie Lam announced the new measures on Wednesday.

Government pandemic advisers also warned earlier on Wednesday that a fifth wave of infections had started, calling on authorities to immediately tighten social-distancing rules to cut off up to 10 invisible transmission chains in the community.

A popular Facebook group for travellers to Hong Kong was flooded with messages following Lam's announcement, as people scrambled to clarify the rules and rebook tickets.

Some residents were looking to do a "wash out", which means staying for 21 days in a country that has not been banned, before returning to Hong Kong. Some complained they had already changed their flights and hotel bookings numerous times, as airlines have cancelled or suspended routes to Hong Kong in recent weeks.

Many speculated that the flight suspension of the eight countries would be extended beyond the current two weeks, pointing to previous examples last year.

A 33-year-old investment banker, who asked to remain anonymous, had travelled to Britain on December 18 to visit his parents who live there, rather than asking them to come back to their hometown and face quarantine for 21 days. His wife and baby daughter had already flown out in August.

The family had planned to fly back together in January, typically a busy time of the year for his industry. His flight was cancelled and rebooked for January 15, before the suspension was announced.

He said while his US firm in Hong Kong was understanding, the situation was not ideal as he was now considering spending 21 days in a third country to return.

"I do think things will only get worse and not better in Hong Kong. So my inclination is that the flight ban will be extended, which makes it very difficult, then what do I do?" he lamented.

The banker said he knew "a lot" of people from the finance sector who had moved back to their home countries permanently or earlier than they had originally planned, with others considering leaving the city. Hong Kong has stood firm on its zero-Covid stance, aligned with mainland China.

"They can't handle the uncertainty. A lot of them just need to see their family," he said.

The flight ban has also added to the distress of domestic helpers from the Philippines and their Hong Kong employers, exacerbating an existing shortfall.

Hongkonger Sarah Fung and her domestic helper, who preferred to remain anonymous, were among those caught out by the rule changes. Fung's 38-year-old helper had to visit the Philippines for a family emergency.

Fung had already been struggling with flight cancellations and had tried to re-route her helper, who has worked for the family for seven years, chalking up a fare of HK$8,000 from Cebu to Hong Kong, as well as booking a non-refundable hotel room. This was before the government announced the flight ban.

While Fung said she hoped to push back bookings till after the ban, she had been fraught with uncertainty. "Will she get on that flight? I don't know," she added.

Fung said she had spent tens of thousands of dollars on flights and hotel booking so far. She works in the media industry, and is married with two daughters, aged seven and two. Both Fung and her husband work full time.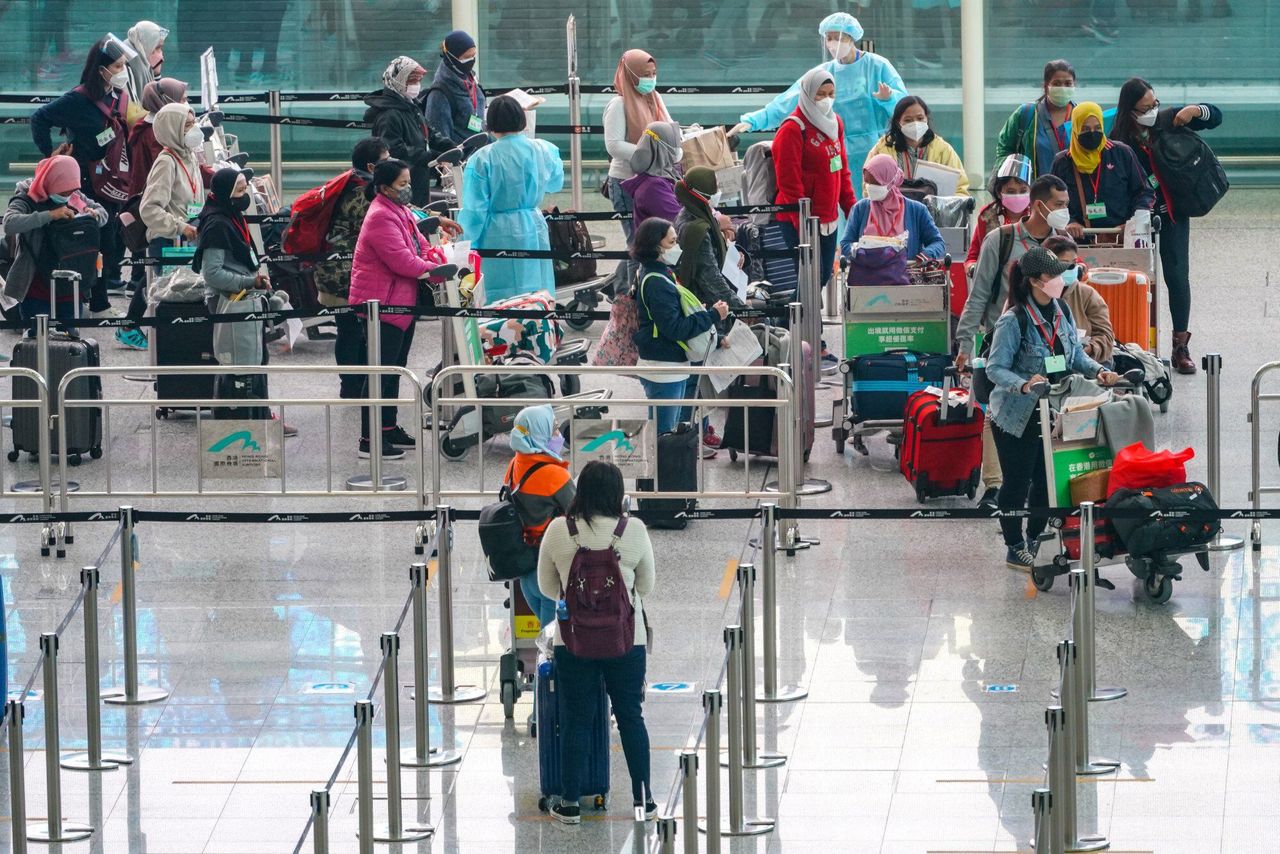 Domestic helpers at Hong Kong's airport.

Filipino domestic helper Shiela Tebia-Bonifacio, chairwoman of Gabriela Hong Kong, an organisation that supports her community in the city, said such workers from her country needed jobs desperately, amid the high unemployment rate back home. She pointed out that Hong Kong's strict quarantine measures and limited hotel spaces put many in a long wait, which had now been extended by the new flight ban.

Acknowledging the severe pandemic situation in the Philippines and the government's slow response, Tebia-Bonifacio said the travel ban did not come as a surprise, but questioned why helpers had to suffer.

She said the affected workers might face risks of losing their jobs before arriving as employers might terminate their contracts in search of other helpers already in the city.

Tebia-Bonifacio, who has worked in the city for 15 years, warned that although Hong Kong remained attractive to helpers from the Philippines for its proximity and good salaries, the flight ban, if it stayed in place longer, could prompt them to turn to other destinations which were more open.

Mike Cheung, president of the Hong Kong-based Overseas Employment Centre, said his agency still had more than 300 helpers from the Philippines waiting to come to the city, and the new flight ban had prolonged the process.

He said he had already received several calls for help from such workers who have had to cancel and reschedule flights. Employers who were expecting their new helpers also sought help, and some who could wait no more might have to turn to helpers already in Hong Kong, according to him.

"The problem is that we have no idea if this flight ban will drag on after two weeks," Cheung said. "If it is longer than that, it will affect the city's supply of helpers when the supply-demand imbalance is already severe."