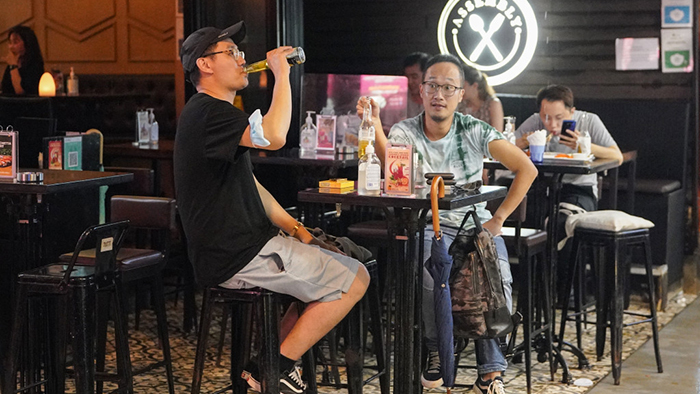 Returning live shows in bars brings no expected rebound in income
The first day to bring back live performances in bars and nightclubs failed to show signs of the industry recovering, veterans said.
Hong Kong relaxed curbs on allowing live performances in bars and nightclubs today but the performers need to receive nucleic acid tests within seven days and do rapid tests before their show, according to health authorities last week.

The headcount of group gatherings was also raised from four to 12 under the new measures.

However, the city's night didn't see the atmosphere to be stimulated in bars, said industry veterans.

"We are only allowed to serve until 2am according to the disease-prevention regulations," said an employee of a bar in Lan Kwai Fong. "It is not a perfect time for our customers," he said, pointing out many bars which provide football match live shows to guests were affected significantly by the restriction.

A bar owner claimed his business income would not see a revival in a short-term period as only a few tourists come to Hong Kong due to the entry limitations.

He added he would invite some music bands to perform in his bar from Saturday, but doubting the effect it will bring to the business.

Chin Chun-wing, the chairman of the Hong Kong Bar and Club Association, welcomed the new measures to expect a business boost of 20 percent to 30 percent with the return of live performances and the upcoming peak season for Halloween and the FIFA World Cup.

However, he agreed that the dine-in time restriction would deter the business growth and urged for the complete lifting of service hours in bars granted by the government.

In his Policy Address delivered yesterday, Chief Executive John Lee Ka-chiu claimed Hong Kong would roll out "a series of precise and risk-based anti-epidemic measures in phases" and "gradually relax control measures".