Authorities had earlier said secondary students could resume face-to-face lessons on February 1, and primary and kindergarten children on February 15.
More than 15,000 Hong Kong students living in mainland China will only return to schools in the city starting in mid-February, two weeks later than scheduled, education authorities have said.

The Education Bureau on Friday announced that cross-border secondary school students could resume face-to-face learning within the second week of February, while those attending primary schools and kindergartens were expected to resume classes by the end of next month.
Authorities had earlier said pupils could expect to resume face-to-face lessons next month, with secondary students starting on February 1 and primary and kindergarten children on February 15.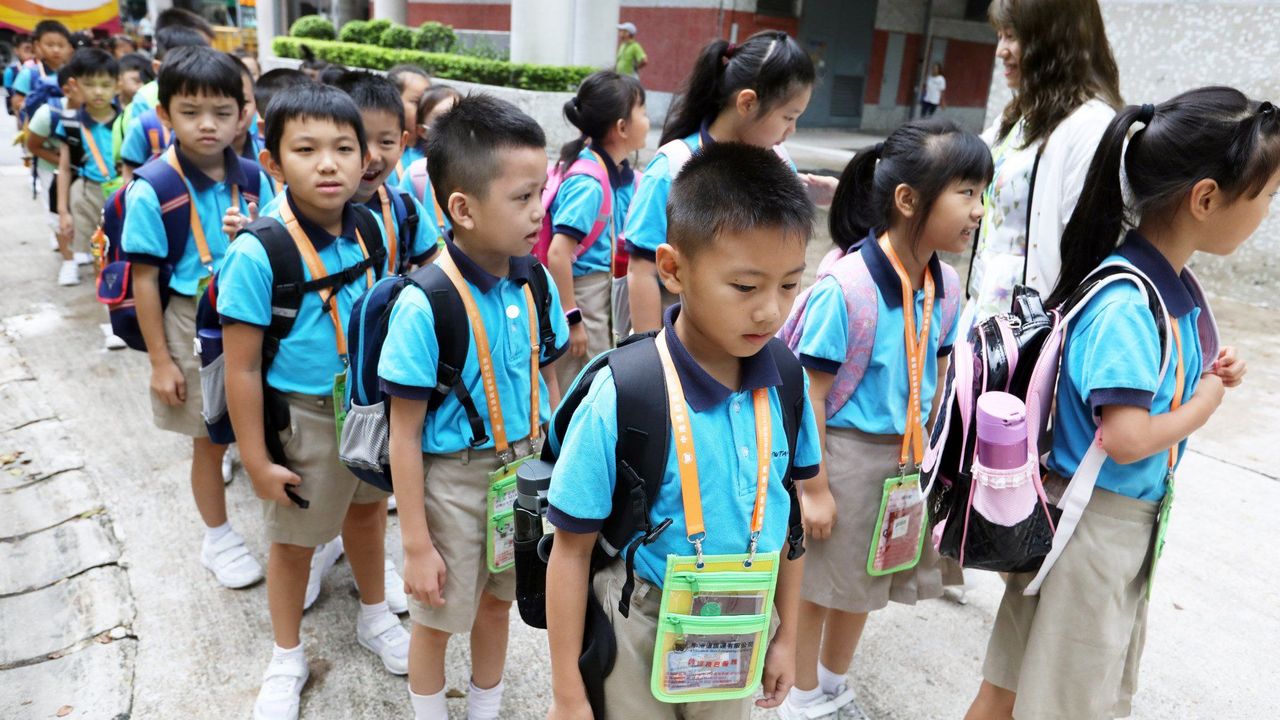 Primary school pupils can resume face-to-face lessons at the end of February.
On Friday, the bureau explained that the change had been made in view of "developments in the future customs clearance arrangements" between Hong Kong and the mainland, as well as preparations for cross-boundary student clearance and transport, such as school buses.
"The Hong Kong government has been in close contact with the relevant departments on the mainland to strive for better conditions and supporting facilities for resumption of classes and customs clearance for cross-border students," the bureau said.
Currently, there are almost 21,000 cross-border students, comprising 7,000 secondary, 13,000 primary and 900 kindergarten students.
Only a quarter stayed in Hong Kong during the pandemic, with most students remaining with their families on the mainland and attending classes online since 2020.
They are mostly from Shenzhen, in neighbouring Guangdong province, and attend schools mainly in North district, Tai Po and Yuen Long in the New Territories.
A 2021 survey by the Hong Kong Federation of Education Workers involving 330 primary and secondary schools found that on average 15 per cent of cross-border students had opted out during the pandemic, with some schools losing as many as 100 pupils.
Secretary for Education Christine Choi Yuk-lin had said she was "optimistic" students would only need to present negative results from rapid antigen tests to cross the border, although details were yet to be finalised.
She added that the government was seeking to exempt students' parents and caregivers from the daily quota of cross-border travellers.
Iris Liu Kam-fung, programme director at NGO International Social Service Hong Kong Branch, said the postponement was disappointing, adding that the affected parties were suffering from the government's "haphazard" changes to policies.
"It is unfair the students and their families have to suffer the consequences. Some still don't have school uniforms," she said. "The government doesn't seem to understand that when it rolls out a policy, many downstream parties need a lot of accommodations.
"The delay itself was still not a decision. The government has yet to release a concrete timetable and requirements for students' entry to Hong Kong."
A survey done by the NGO earlier this month found that over 70 per cent of the cross-border students polled needed to renew their travel documents.
Liu added that Form Three students and those who will take their university entrance exams this year were the most battered by the "opaque arrangements".
"Form Three students have not been to their schools since they started receiving lower secondary education," she explained. "For those who will sit their public exams, now is the golden time."