As pandemic restrictions ease in Hong Kong, industry observers expect an integrated business model to emerge, where retailers operate both online and bricks-and-mortar stores, to attract consumers.
Hong Kong's e-commerce market, which is set to receive a boost from the government's consumption voucher scheme, is expected to grow some 13 per cent this year even after pandemic restrictions ease as consumers get hooked on to the convenience of online shopping.

While e-commerce's upward trajectory continues unabated, industry observers see a future that integrates aspects of both online and offline for retailing in the city.

Online sales volume in Hong Kong are projected to reach US$7.9 billion this year, from US$7 billion last year, according to market research firm Euromonitor International. The outlook is in line with forecasts for Asia-Pacific, which is expected to grow 14 per cent to US$1.7 trillion.

"The pandemic was a catalyst that triggered merchants to consider if their physical store was the only means to conduct business," said Nick Chiu, deputy general manager for Hong Kong at e-commerce platform Shopline. "This is an opportunity that facilitates how we embrace omni-channel selling. That's in line with consumer behaviour as they are more reliant on their mobile devices."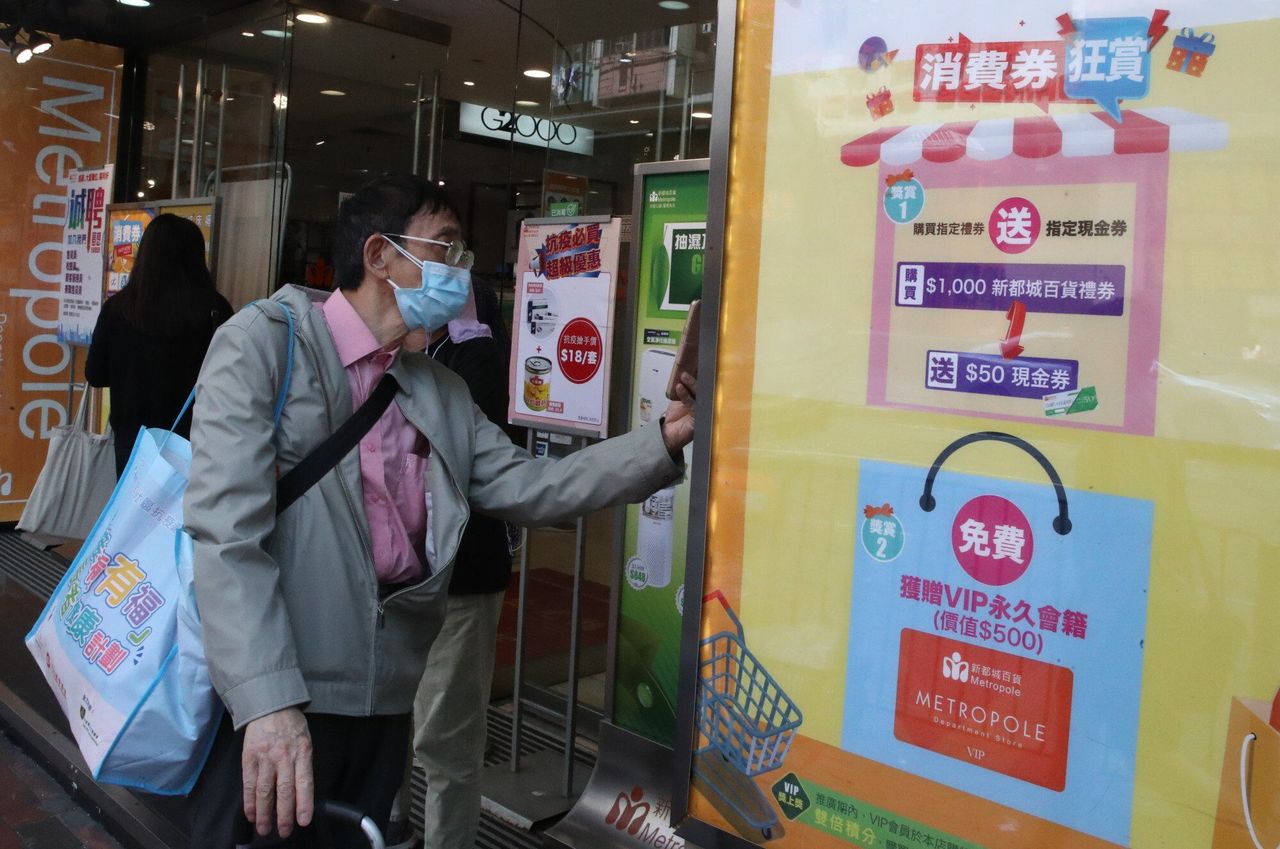 A promotion poster of the Hong Kong government's Consumption Voucher Scheme is displayed at a shopping mall in North Point.

Online and offline retail spending likely received a boost last month after more than 6.3 million eligible Hong Kong residents received e-vouchers worth HK$5,000 (US$638) each, with another HK$5,000 to be distributed in August.

Last September, online sales soared 30.5 per cent year on year to HK$2.3 billion, accounting for 8 per cent of the total retail revenue, boosted by rising consumer confidence from the digital voucher scheme.

While Chiu did not provide the latest figures, he said Shopline recorded a 40 to 70 per cent year-on-year sales increase after the disbursement of the consumption voucher last year. Overall sales volume on the platform jumped 41 per cent last year.

The top three product categories with the highest revenue on Shopline last year were consumer goods, apparel and food and beverages, with sales of food and services, such as tuition courses, showing the highest growth at 122 per cent and 103 per cent, respectively.

"For Hong Kong, the growth of its e-commerce market is without question rising from the local consumer market's needs under the pandemic, changing consumer preference and the improving e-commerce environment and infrastructure," said Yew Hong Koh, consulting partner at Deloitte China.

"The question is not so much of whether we should invest more or less in e-commerce, as the trend points towards more on how to fuse the online and offline channels in a seamless manner."

Tech-savvy young consumers prefer online shopping because of its convenience, array of choices and larger discounts compared with physical stores.

"For cosmetics, I could get up to a 50 per cent discount if I shop on Instagram," 21-year-old Cheryl Lam said. "After trying on products in a store, I could look online among retailers for the cheapest option."

Stephanie Kwong, a 21-year-old student, says she too prefers online shopping for exclusive discounts and to avoid the hassle of carrying goods around.

"The determining factor for me is whether the product could be found in shops in Hong Kong," said Kwong, who spent her consumption vouchers online on clothes from a Singaporean brand.

Both Lam and Kwong say online shopping will continue to dominate their consumption even as restrictions ease, but said brick and mortar shops remain irreplaceable for fresh food and urgent shopping needs.

"The consumption voucher does boost the spending in a short term, but growth needs to be sustained by consumer confidence and improved [online shopping] experiences," Deloitte's Koh said.