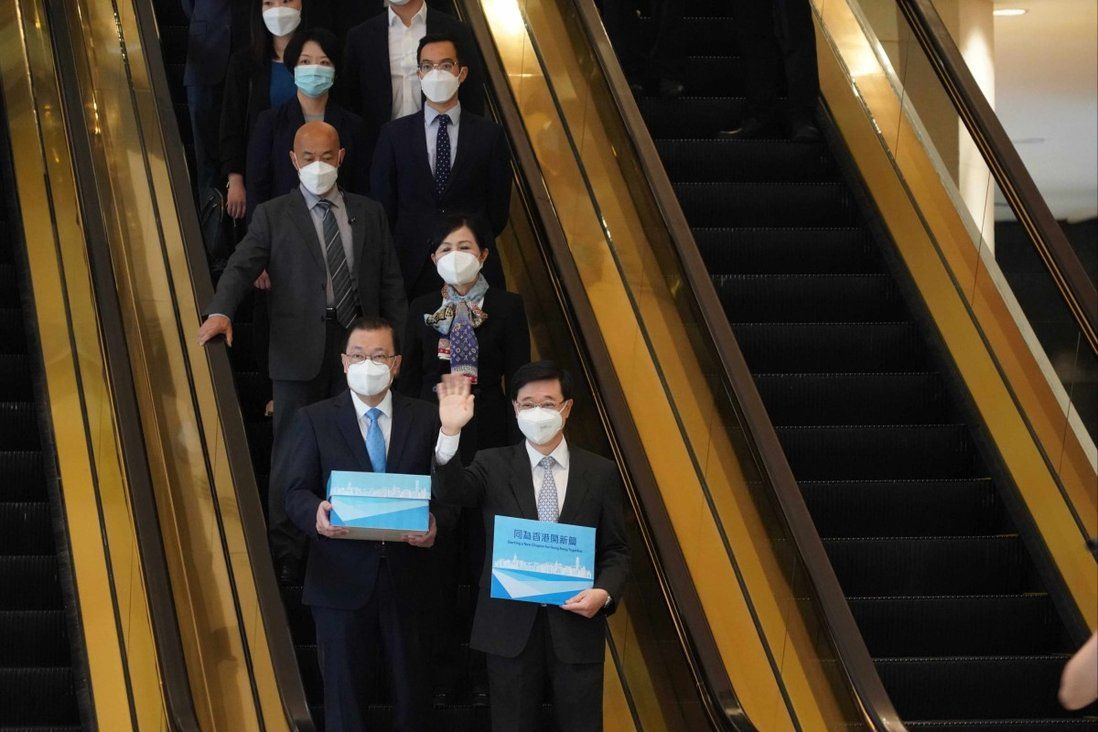 'Result-oriented' John Lee must start now to address city's problems
Beijing has anointed John Lee as its chosen candidate, and all political and popular opposition has been swept aside. If he is serious about being result-oriented, he must leverage the united front behind his campaign so his team can hit the ground running once he takes office.
The parade lap of the chief executive race went by just like that, and now here we are at the starting line. The tyres are warm, but there's just one engine revving.

For months, others were doing their formation laps. The more they worked the track, the more challenging it was for people to take them seriously. Among them were businessman Titus Wu Sai-chuen and film producer martial artist Checkley Sin Kwok-lam, but there was just not enough traction without a serious contender.

Five years ago, when Hong Kong was in search of a new chief executive, then financial secretary John Tsang Chun-wah tendered his resignation. He waited for more than a month for it to be approved so he could formally begin his leadership run.

That signal from Beijing made it hard for him to secure nominations from the pro-establishment camp. Three-quarters of his nominations came from the pro

-democracy camp. He was treated as a sell-out, tarred as the pan-democrat candidate and lost.

It took John Lee Ka-chiu mere days to hand in his resignation. He populated an election campaign office with political heavyweights from every major pro-establishment faction, met Election Committee members, secured 786 nominations – more than half of the Election Committee's membership – when all he needed were 188, with no fewer than 15 nominations from the five Election Committee sectors. After turning in his nominations, he became the sole official candidate.

Lee was not kidding when he described his leadership style as "result-oriented". All but three of the 90 Legislative Council members nominated him, so he has secured an openly supportive legislature even before he has come up with an election manifesto.

That is a manifestation of some serious political power. When one is the sole candidate deemed pleasing to Beijing's eye, one is bestowed with great political efficiency and efficacy.

What remains between now and the May 8 election are really just the formalities. They are just checking boxes such as coming up with election platforms and meeting with the other half of his electors.

What Lee and his team need to do now is begin work on the really tough stuff – the problems with which previous administrations have struggled. We have been trying to tackle the housing problem for decades. The central government had laid out in no uncertain terms that cage homes and subdivided flats have to go, so let's begin by studying the feasibility of refurbishing quarantine facilities into temporary housing.

As we struggle to get out of the fifth wave of the pandemic, we have no stomach for fancy slogans and political drama. The current administration has said that the 470,000 applications for the temporary unemployment relief scheme, a one-off relief grant of HK$10,000 (US$1,280), were "far beyond" its expectation of 300,000 applicants.

Lee and his administration cannot afford to be that far off the mark, to underestimate the suffering of Hongkongers and be surprised by it all. The result of policymaking processes that are out of touch with the reality on the ground is certain failure.

Last month, University of Hong Kong researchers sounded the alarm that the city's suicide index had hit a "crisis level". In mid-March, there were 4.03 suicides each day. The mental load of prolonged anxiety and isolation can be unbearable, and that is without taking into account the pressures of depleting family savings and rising daily living costs.

The story of the now-famous 11-year-old boy Angus busking in Causeway Bay to pay for his classical guitar lessons after his mother lost her job during the pandemic and how that story has touched so many people in this city should speak loudly to Lee.

So if Lee is serious about being result-oriented, he should be leveraging the solidarity of the pro-establishment camp and the united front behind his campaign so his team can hit the ground running once he takes office.

There is no time to lose. Now that all the political hurdles and opposition have been removed, it's time to get started.