With a vaccine passport scheme in place, many of the existing restrictions restaurants are forced to abide by will no longer be necessary, representatives argue.
Hong Kong's battered catering industry has urged the government to lift all social-distancing restrictions on restaurants if it rolls out a controversial Covid-19 vaccine passport plan.

Ray Chui Man-wai, chairman of catering industry body the Institute of Dining Art, said it was time to wipe out the current vaccine bubble scheme for restaurants if the government pressed ahead with the plan, including removing existing limits on the number of people per table, operating capacity and opening hours.

"If the government rolls out the vaccine passport scheme, it means patrons will be fully protected by vaccination and use of the 'Leave Home Safe' contact-tracing app," Chui said on Tuesday.

"There will be no need to impose all these operational restrictions on restaurants. They should all be removed and the historical mission of the vaccine bubble scheme should be over."

The Post on Monday reported that authorities would require two-thirds of diners in a restaurant to have received at least one Covid-19 vaccine shot from January at the earliest amid fears over the Omicron variant currently circling the globe. Entertainment venues such as karaoke bars, game centres, beauty parlours, gyms and clubhouses were also expected to be included.

Staff would need to be fully vaccinated. Exemptions would only be given to patrons aged 12 or below, or those with medical proof they were unfit for vaccination.

The change would effectively extend the measures currently in force for 15 per cent of restaurants – those operating under the so-called Type D mode, in which a maximum of 12 diners per table is allowed, with at least two-thirds of them having received at least one vaccine dose – to all 16,000 licensed eateries and bars.

The catering industry estimated takings could fall by at least 20 per cent if the vaccine passport plan went ahead.

Under the existing vaccine bubble scheme, restaurants are classed as Type A, B, C or D, meaning they can relax various social-distancing measures, including operating capacity and opening hours, depending on whether staff and customers are vaccinated and use the "Leave Home Safe" app.

The government said on Tuesday that the current social-distancing arrangements would be extended for at least another two weeks, to December 22.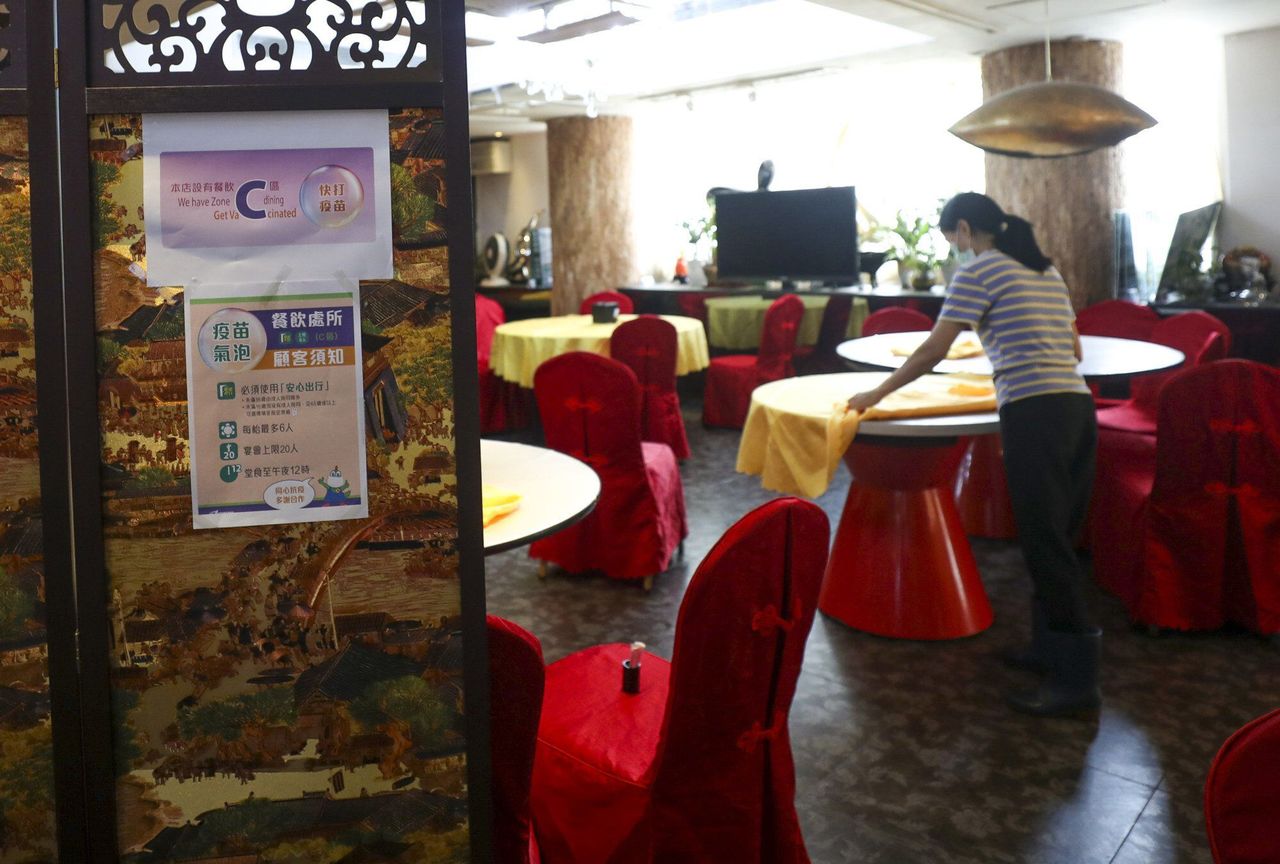 Restaurants are currently subject to varying levels of restrictions depending on which 'type' they fall into.

Some 4.79 million people, or 71.1 per cent of the eligible population, have received at least one dose of a Covid-19 vaccine. But the one-dose vaccination rate among the elderly remains low, at just 46.4 per cent for people in their 70s, and 18.9 per cent for those aged 80 or older.

Chui is running for the catering functional constituency's seat in the Legislative Council election on December 19, and is up against incumbent Tommy Cheung Yu-yan, who also sits on the Hong Kong leader's cabinet.

He urged the authorities to incorporate people's vaccine records into the "Leave Home Safe" app to make it easier for diners, especially the elderly, if the vaccine passport scheme went ahead.

"The catering sector will definitely take a beating of at least 20 per cent if a vaccine passport is implemented, as some people may refrain from dining out if they can't come together with their unvaccinated elderly family members," he said.

Gordon Lam Sui-wa, convenor of the Hong Kong Small and Medium Restaurant Federation, agreed, and said the government should also remove the social-distancing rule that limited public gatherings to a maximum of four people.

"It the vaccine passport is in place, it should be relatively safe from Covid-19 infections," said Lam, who runs four restaurants.

Hong Kong Federation of Restaurants and Related Trades president Simon Wong Ka-wo suggested the government wait until the vaccination rate hit the 80 per cent mark before making the move.

"It is understandable that the government needs to strike a balance between business and pandemic prevention," he said.

"But I think it is more ideal to wait until the city's overall inoculation rate reaches 80 per cent because at that time people will be more receptive to the vaccine passport and there will be less resistance."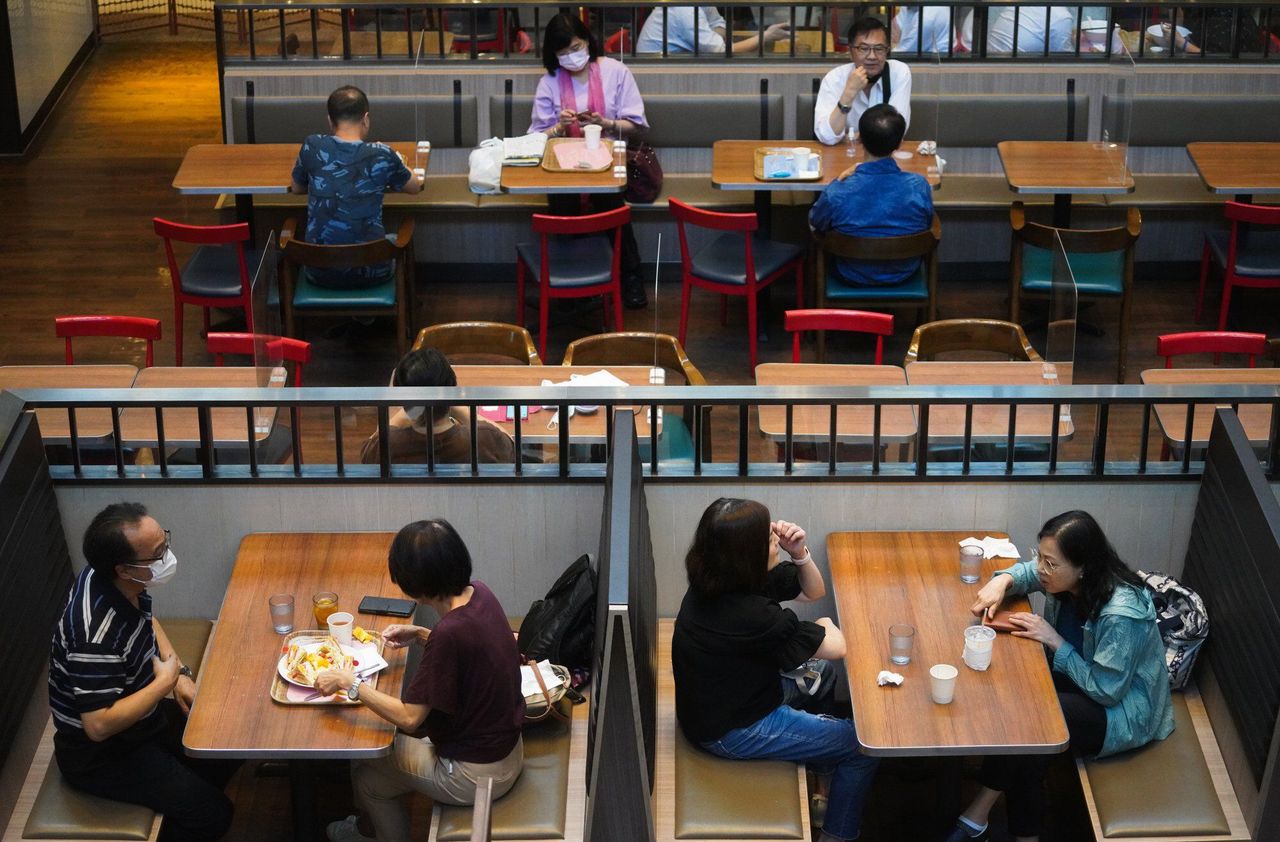 Limits on capacity and the number of diners per table are among the restrictions the catering industry wants to see lifted in the event of a vaccine passport arrangement.

While agreeing that the government should fully lift the restrictions on restaurants' opening hours, Wong said the limits on the capacity or the number of patrons per table should be gradually relaxed according to the pandemic situation.

David Leung Chi-wai, chairman of Seafood Delight Group – which runs 12 Chinese restaurants in housing estates – said a passport scheme would hit its business hard as many of its diners were elderly.

"To offset our loss, the government should lift all the business restrictions on restaurants including the number of banquets allowed to be held in eateries," he said. "If our restaurants are allowed to run as many banquets as possible, then this may offset our drop in daily business."

Government pandemic adviser Professor David Hui Shu-cheong said a vaccine passport was necessary for Hong Kong to reopen its borders with mainland China and the rest of the world.

"Once Hong Kong has reopened its borders with mainland China, chances are high the virus will spread to the community, so vaccination can help reduce the risk of large outbreaks," he warned.

"That's why people need to get vaccinated to gain better protection against Covid-19."