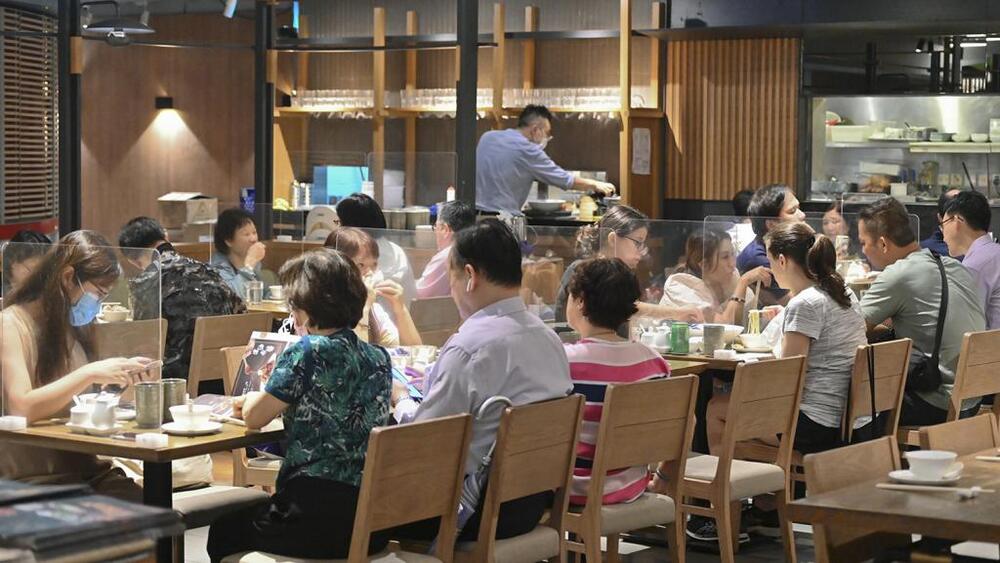 Restaurants see business boost under stimulus of consumption vouchers: survey
Hong Kong restaurants saw increases in business along with consumption vouchers being disbursed, as the catering industry expressed confidence in the future, a survey says.
Food delivery platform Deliveroo released the "Restaurant Confidence Index" result for the second quarter of 2022 on Tuesday.

The survey conducted between June 29 and July 10 found that the satisfaction rate of restaurants increased from 5.3/10 in the first quarter to 6.4/10, the highest in the past two years and a half.

Despite the rise in satisfaction, restaurants' confidence in the future of the industry hiked to 39 percent from 34 percent in the previous survey. Meanwhile, 36 percent of the restaurants surveyed were optimistic about the overall economic environment, higher than 32 percent in the previous quarter.

According to the survey, 65 percent of the restaurants believed that the consumption voucher had slightly or significantly increased revenue in the second quarter.

Twenty-three percent of restaurants said they have prepared related marketing and promotional activities, while nearly half (48 percent) of restaurant owners were considering launching corresponding promotions in the third quarter to complement the second phase of the voucher program.

Separately, the survey suggested that extending dine-in hours and relaxing social distancing rules helped restaurants increase revenue in the second quarter of 2022 and that restaurants are preparing to expand their dine-in business in the third quarter.

More than 45 percent of restaurants reported an increase in revenue in the second quarter, while 16 percent said their revenue remained unchanged.

At the same time, 55 percent of restaurants reported a significant or slight increase in dine-in revenue compared to the first quarter of 2022, while 19 percent said their dine-in revenue remained unchanged.

As dine-in business steadily recovers, nearly half (48 percent) of the surveyed restaurants said they hired additional staff in the second quarter.

Fifty-five percent planned to raise salaries in the third quarter to retain staff, with nearly one in five (18 percent) expecting a five to ten percent increase and the majority (47 percent) expecting a two to five percent increase.

In addition, 42 percent of the restaurants said they were to hire more staff, while more than a quarter (26 percent) will open a new branch in the third quarter.

Most restaurants reported that operating costs were their most significant source of stress during the second quarter, including the price of ingredients and rent. The two were ranked as the biggest expense by 39 percent of the restaurants each, while labor costs ranked second, with 23 percent noting salaries as their biggest expense.

Andrew Hui Chee-yin, general manager of Deliveroo Hong Kong, said he was glad to see the confidence in the local restaurant industry.

He said as Hong Kong embarked on the road to recovery, it was expected that the social distance rules would be further relaxed in the coming months.