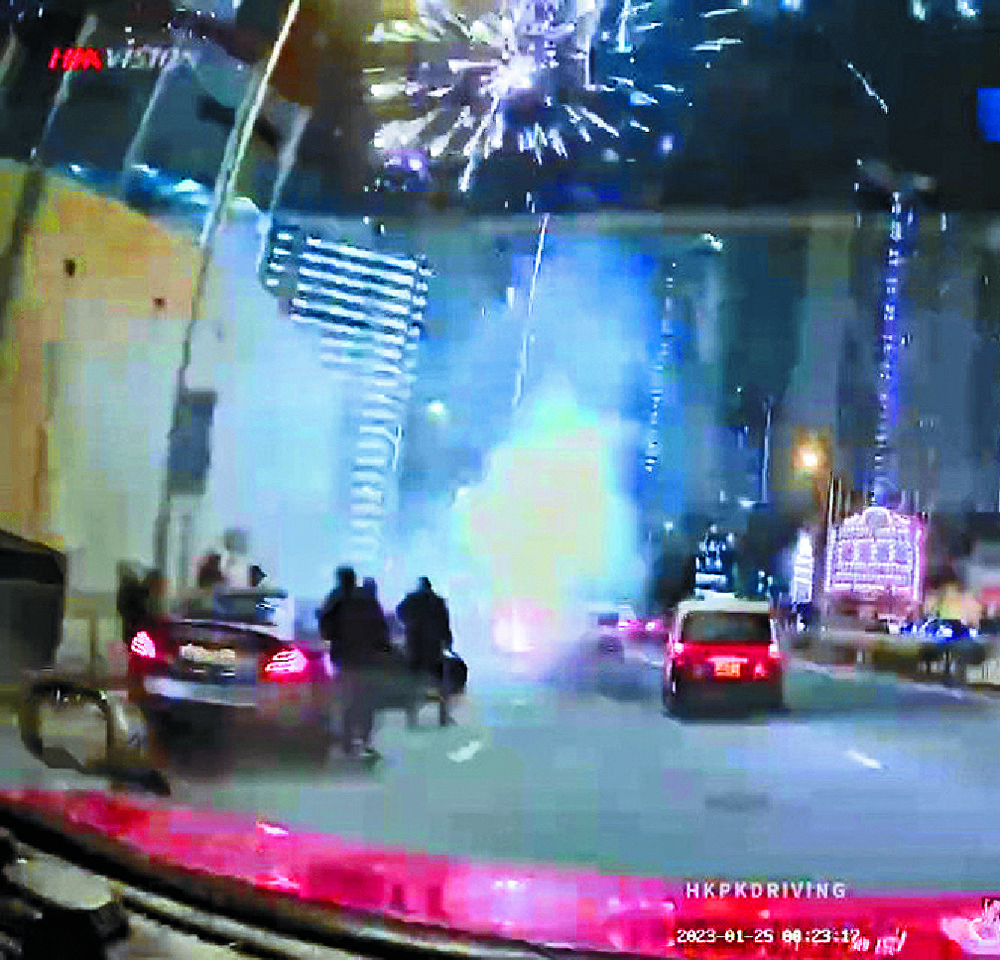 Residents blast illegal fireworks
Parts of Hong Kong were lit up sporadically with illegal fireworks over the Lunar New Year holiday - with one setting off on a roadside in Kwun Tong in the early hours of Wednesday, shocking drivers and pedestrians as sparks brushed against passing vehicles.
A 24-second dashcam clip shows a taxi driver cruising along Po Lam Road in the direction of Kwun Tong at 12.23am Wednesday. When the taxi arrived opposite Po Tat Shopping Centre, a number of fireworks lit up the sky, still clearly visible in the distance and accompanied by loud bangs - audible even from kilometers away.

Several private cars were parked behind the boxes of fireworks with some people taking photos. Some pedestrians watched the display on the opposite side of the road.

Vehicles driving near the fireworks had to slow down to avoid coming into contact with the sparks.

Police said they received reports at about 12.30am but officers only found some empty boxes on the roadside with no suspicious individuals in sight.

At 8.30pm the same day, residents passing by the Tsuen Wan Tai Ho Road saw fireworks lighting up the sky for about two minutes. They were seen covering their ears from the noise.

Police had earlier received relevant reports at 8pm of fireworks being set off near Muk Min Ha Garden but no fireworks or suspicious people were found.

Another short firework display was staged four hours later, just after midnight, at Tuen Mun near Sam Shing Estate, with the noise awakening residents.

A resident who was awoken by the bangs said displays of fireworks near residential areas were dangerous, and added that it was "[especially a disturbance to] set off fireworks the night before returning to work."

Residents in Tsuen Wan also reported sightings of fireworks downtown.

Meanwhile, over the Lunar New Year holiday, police arrested two men aged 28 and 29 on Tuesday for illegally setting off fireworks in Tsz Wan Shan.

The duo had already set off a pack of fireworks when police reached the scene, with another pack yet to be ignited.

Police also seized some Viagra pills and a 30-centimeter-long knife found in their car. They are being detained for investigation.