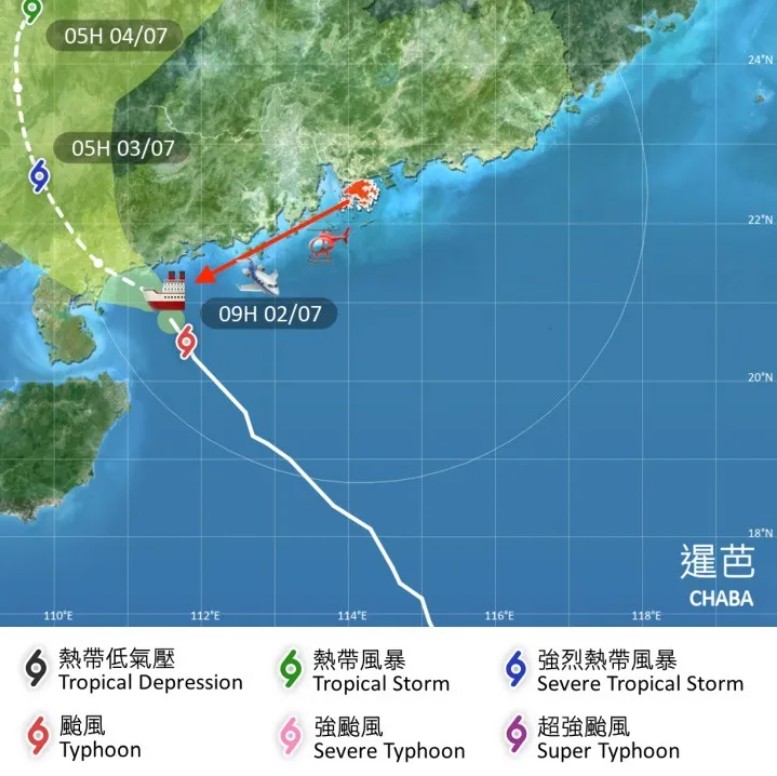 Rescue ongoing to search for 30 crewmen who abandoned snapped cargo ship
About 30 crewmen abandoned a cargo ship as it was snapped into two halves about 300 kilometers southeast of Hong Kong, near the center of Typhoon Chaba on Saturday morning.
As of 2pm, three crewmen have been rescued by officers.

The incident was reported by the Maritime Rescue Co-ordination Centre around 7.25am today.

Officers from the Government Flying Service – in one fixed-wing aircraft and two helicopters – were soon mobilized to the scene to conduct the rescue mission.

A rescue vessel was also sent to the seas by the marine authority of Nanhai.

Yet, the rescue mission remains challenging due to the difficult weather at the seas.

The Observatory said as of 2pm, Typhoon Chaba was centered about 330 kilometers west-southwest of Hong Kong and is forecast to move northwest at about 16 km/h towards the coast of western Guangdong.

Shortly after 1.30pm, the observatory said it will consider downgrading the No. 8 Gale or Storm Signal to the No.3 Strong Wind Signal between 4pm and 8pm today.