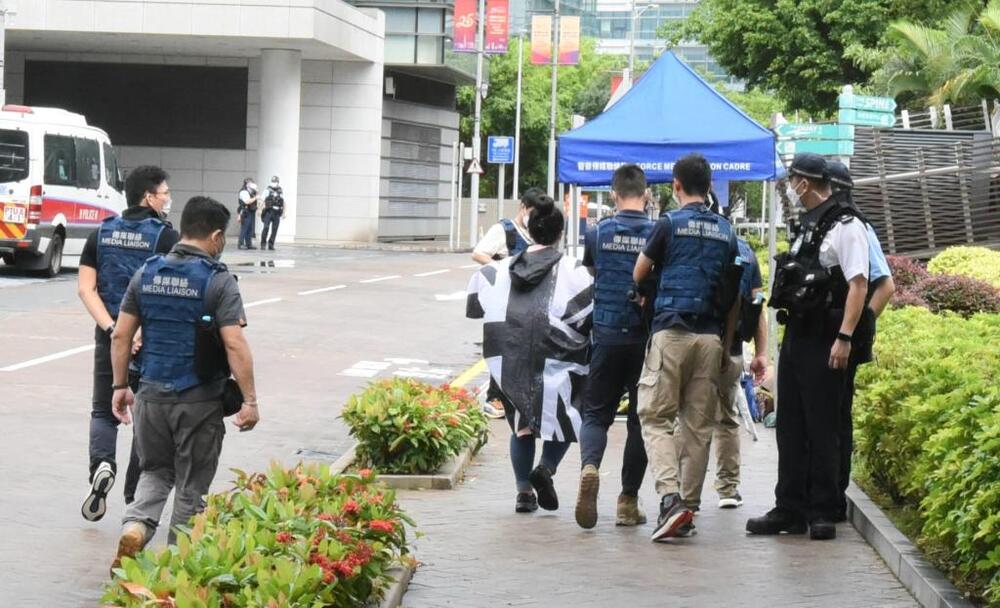 Reporters at West Kowloon station must use designated blue umbrellas
Media covering Chinese President Xi Jinping's visit at West Kowloon station have to use the blue umbrellas designated by police.
As the Standby Signal No. 1 was in force in the afternoon, the reporters waiting for Xi had to face unstable weather. All reporters at the station had to go through strict security checks and were not allowed to bring their umbrellas to the station. Instead, they were required to use blue umbrellas provided by the police.

The color was used by people in support of the government and the police during the 2019 unrest.

Meanwhile, some 40 primary school students from the HKFEW Wong Cho Bau School were arranged to welcome Xi at the station. The students in blue sports uniforms carried national flags, regional flags, or bouquets, while all girls wore blue ribbons on their heads.

In addition, Xi visited the Science Park in the afternoon. The police noticed a reporter in the press area wearing what appeared to be a black British flag print raincoat.

After a search of his belongings, the reporter was allowed to continue covering the event, and he also put his raincoat away.