RTHK journalist Bao Choy being prosecuted after accessing driver's information on Hong Kong government database for documentary on Yuen Long attack in 2019.
A journalist's search for a car owner's registration information in a public register should be considered legal and not regarded as making a false declaration, a Hong Kong court heard on Wednesday.

But prosecutors at West Kowloon Court said Bao Choy Yuk-ling, who co-produced an episode of the RTHK television show Hong Kong Connection about the Yuen Long attack in 2019, knowingly made false statements by arguing she only intended to use the information for reporting purposes, and not for anything transport related.

Choy, a veteran investigative reporter, has pleaded not guilty to two counts of making false declarations after citing "traffic and transport-related matters" as her purpose when searching car ownership details on a government database, officially known as a "certificate of particulars of motor vehicles", for the programme.

Her prosecution has been widely condemned by journalist groups, scholars and opposition politicians, who have accused police of using the law to suppress normal reporting activities and created a chilling effect on investigative journalism.

The ruling over the case has implications over the city's open records policy, affecting not only for journalists engaged in investigative reporting, but also businesses and civic groups which had been obtaining data from the government database.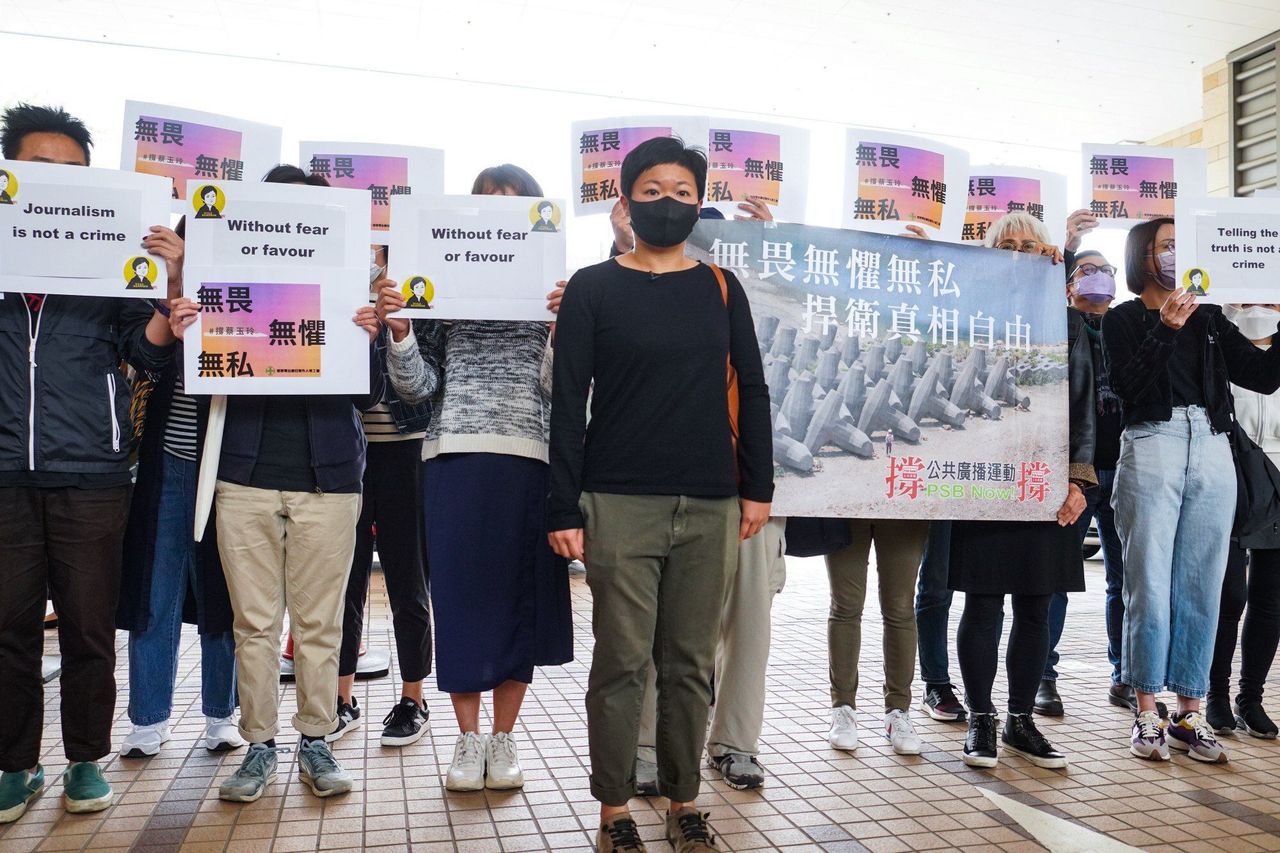 Bao Choy Yuk-ling arrives at West Kowloon Court on Wednesday.

During Wednesday's trial, Derek Lau Tak-wai, acting senior assistant director of public prosecutions, argued Choy had been dishonest over her reasons for searching the database as "she did not only want to identify the car owner, but also took a further step to do an interview [with the car owner]".

Lau said the commissioner for transport did not have the "absolute responsibility" to provide the vehicle registration information to every applicant unless they fit into the three purposes listed on the registrar, namely transport-related proceedings, the sale or purchase of a vehicle, or traffic and transport-related matters.

That was to protect the privacy of car owners and to prevent the abuse of sensitive personal information, including the names, addresses and ID card numbers of the car owners, he said.

But defence lawyer Derek Chan Ching-lung SC, said the journalist only intended to find out who owned a car that might have been involved in taking weapons to the attackers.

In what was widely seen as a turning point in the civil unrest, a group of white-clad men indiscriminately attacked passengers and protesters returning from a rally at Yuen Long railway station on July 21.

Chan showed the court the documentary, "7.21: Who owns the truth", and pointed out that footage showed someone in Yuen Long taking bamboo sticks from the vehicle Choy had searched for in the database.

"The footage has shown that the private car is suspected to be used for transporting the attackers and tools," he said. "Most importantly, the car was improperly used on the road at that time … this apparently is related to transport matters."

While the prosecution stated that setting a loose definition of the "traffic and transport-related matters" would be contrary to the original legislative intent, Chan argued that a wider definition should be adopted to ensure the public's right in obtaining information.

Chan said the government database was sometimes also used for security purposes, as well as inspection in bankruptcy and divorce proceedings.

"It is impossible to use such a narrow definition. Otherwise, we could not cover the needs in all these economic activities," Chan said.

He cited other lists and registers containing personal information that did not impose limits on journalists, such as Company Registry, List of Registered Pharmacists and Bar List.

"This is because it is clear that this data involves public interest, especially for journalism purposes," he said.

A previous version of the access form Choy used had allowed applicants to type in their purpose rather than select from set categories.

Principal Magistrate Ivy Chui Yee-mei ruled there was a prima facie case against Choy based on the evidence presented in court, and would hand down the judgment on April 22. Choy continued to have her bail granted with HK$1,000.

A guilty verdict could land her behind bars for up to six months and a HK$5,000 fine under the Road Traffic Ordinance.

A dozen members of the RTHK staff union gathered outside the court before the trial began, and held up signs that read: "Stand up for Bao Choy, stand up for journalists" and "Journalism is not a crime".