Restoring global travel is vital to Hong Kong's financial hub status, but cautious approach required, financial secretary says. City confirms three new imported Covid-19 cases on Sunday, all involving mutant strains.
Hong Kong is keen to reopen its borders not just with mainland China but also the world, although the process cannot be rushed during the Covid-19 pandemic, according to Financial Secretary Paul Chan Mo-po.

The city's pandemic-stricken economy has done so well through the first half of this year that Chan is looking at upgrading his forecast of 3.5 per cent to 5.5 per cent growth for the full year.

The rebound has stirred talk that Hong Kong should move to reopen its borders to the world, and not only with mainland China as Chief Executive Carrie Lam Cheng Yuet-ngor seems most focused on achieving.

In a wide-ranging interview with the Post on Wednesday, Chan acknowledged that reopening to countries was as important as doing so with the mainland, but said the process could not be rushed given the pandemic.

While restoring global travel was crucial to the city's position as an international financial centre and aviation hub, authorities must remain cautious, he warned.

"Reopening our border with the mainland is very important. We are working on it," Chan said. "At the same time, we are also working to restart … on a very cautious basis, travel between Hong Kong and the international community because it is important for us as an international city."

But moving ahead was no straightforward matter.

"To fight the pandemic, we have the public health consideration, economic consideration, the [need for] people to return to normal life. There is always a tug of war trying to balance these three," Chan said.

Hong Kong has remained in a near lockdown for about 17 months, with international travel at a standstill and tourism paralysed by the pandemic.

Lam has stuck with a "zero infections" target in Hong Kong's fight against Covid-19 and made clear her priority is to reopen borders with the mainland.

Hong Kong has confirmed 50 infections so far this month, 48 of which were classified as imported or related to imported cases. It has so far recorded 11,978 confirmed cases and 212 related deaths.

The three cases confirmed on Sunday were all imported and involved the L452R mutant strain, with the carriers not showing any symptoms.

A 31-year-old woman who visited Spain, Greece, Italy and Switzerland between July 2 and 20 was among the trio. Also infected were two male sea crew – a 38-year-old arriving from Tanzania and a 35-year-old from Russia.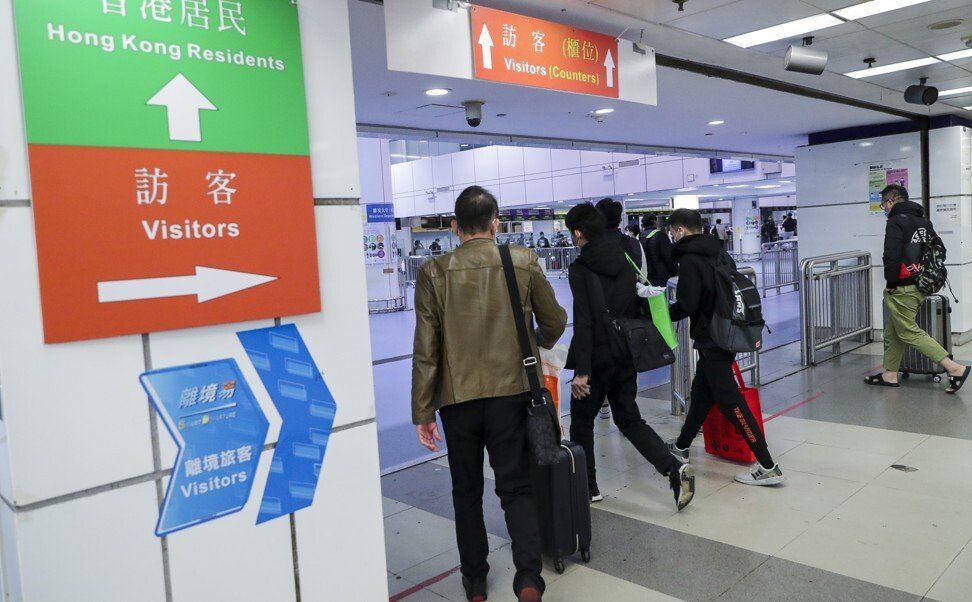 Travellers cross to Shenzhen at the Lo Wu control point on the Hong Kong side back in February last year.

Earlier last week, a plan to ease an entry ban on stranded students and workers from extremely high-risk areas such as Britain and the Philippines was abruptly put on hold, with the U-turn believed to be related to ongoing negotiations with mainland officials on cross-border travel.

Beijing does not want Hong Kong to become a weak link in its tight national defences against Covid-19, which could happen if each side maintains different restrictions on overseas arrivals.

For now, only three border crossings are open. Residents returning from some parts of the country via the Return2hk scheme are exempted from the city's 14-day compulsory quarantine, while those heading to the mainland are subject to quarantine requirements there.

Chan said it remained uncertain when curbs on cross-border travel would be eased.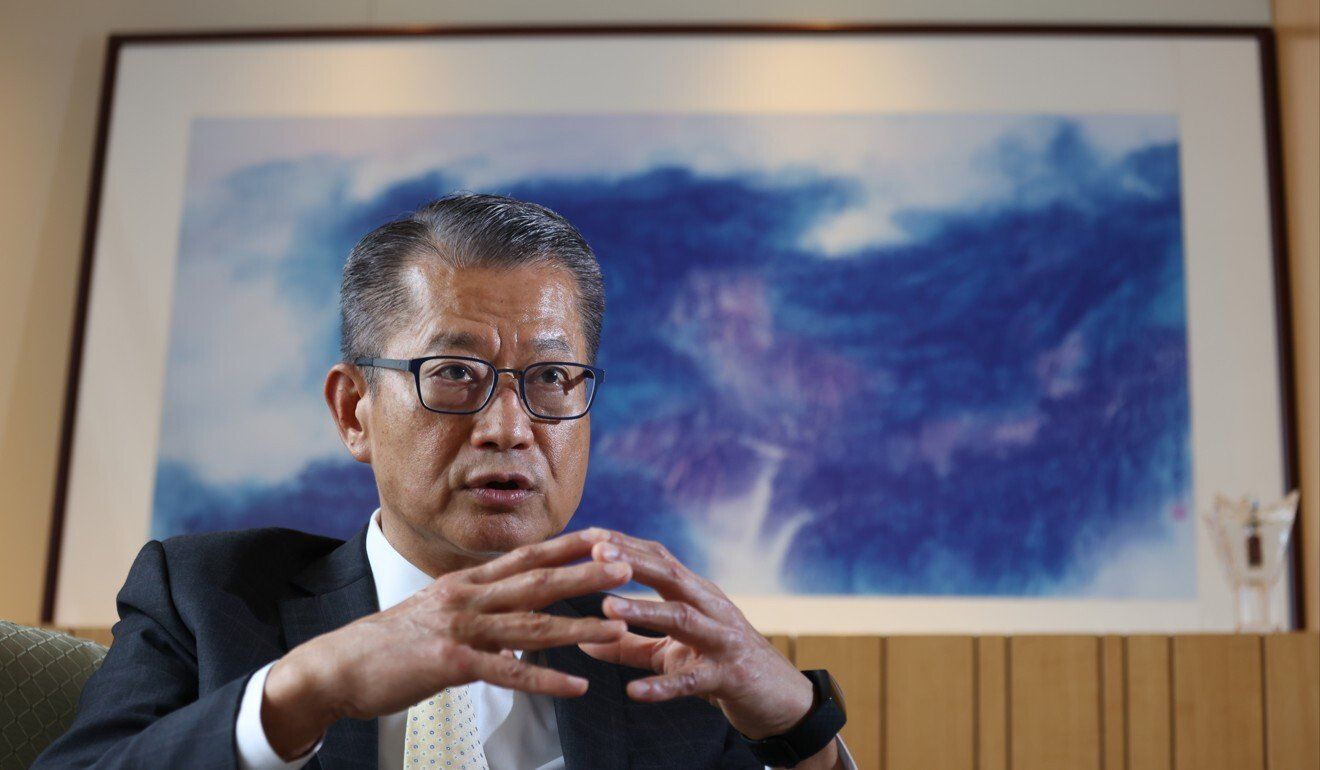 Financial Secretary Paul Chan.

Hong Kong's business sector has complained bitterly about its executives being unable to travel freely to run operations on the mainland, the city's largest trade partner and source of visitors.

He expressed sympathy, but said that for now, businesses must further tap technology to cope.

"Before the border can be reopened, businesses need to adopt more technology, act faster in terms of digitalisation and may have to rethink the way they conduct their business," Chan said.

"Even those with cross-border business may need to split their staff into teams for travel to the mainland. Unlike in the past when they made frequent short trips, they now may have to make longer trips, by rotation."

Chan said Hong Kong's economic prospects hinged on its pandemic-control status and how soon international and mainland travellers could return.

The economy had shown signs of recovery since the beginning of the year and the momentum had continued into the second quarter, which recorded strong growth, he said.

The minister hoped economic expansion would exceed the forecast of 3.5 per cent to 5.5 per cent he made in his budget address in February. Any decision to upgrade the forecast would be announced in the middle of next month, he said.

Hong Kong swung from its worst recession on record to its fastest economic growth in more than a decade in the January to March period, hitting 7.9 per cent compared with the first quarter of last year.

In the near term, gross domestic product would be boosted by the government's HK$5,000 (US$643) consumption voucher scheme.

A total of 7.2 million Hong Kong permanent residents and recent migrants from the mainland are eligible for these vouchers to spend in shopping centres and restaurants, among others. At least 88 per cent had registered for the programme and would receive their first batch of e-vouchers beginning at the start of next month.

"The consumption vouchers will give GDP growth an additional momentum," Chan said.

There have been other positive economic signs this year. Monthly exports have grown at a double-digit pace since December, while the unemployment rate eased to 5.5 per cent in the three months to June 30 – a level not seen for more than a year.

But Chan warned it was still too soon to celebrate, saying: "I see the unemployment rate coming down, but it is too early to be relieved because people in the hardest hit sectors are still finding it very difficult."

For example, he said, while restaurants have fared better this year, the retail and tourism related sectors were still struggling. "The improvement is not even," Chan said.

For the April to June quarter, the unemployment rate in the food and beverage industry eased 1.3 percentage points to 10 per cent, while in retail it improved by 1.4 points to 7.5 per cent, and in construction, by 1.4 percentage points to 8.9 per cent.

OCBC Wing Hang Bank economist Carie Li Ruofan said Hong Kong's overall economic recovery hinged on the restoration of cross-border travel.

"Tourism related industries like retail and aviation are still in deep water," she said, estimating GDP would grow between 5.5 per cent and 6 per cent this year.