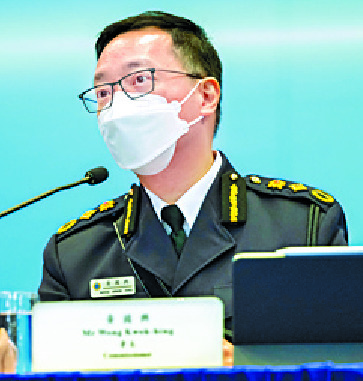 Rehab school to offer full-time courses for unrest offenders
Inmates, in particular youngsters, jailed during the social unrest, can take full-time courses in Correctional Services Department's new rehabilitation school this year at the earliest.
In a press briefing yesterday, the department said it registered 13,000 new inmates last year, 13 percent less than in 2021.

"There were 829 people who entered facilities run by Correctional Services Department for convicting crimes related to black-clad violence and national security," Commissioner of Correctional Services Wong Kwok-hing said.

But the average daily number of persons remanded, pending trial, last year had hit a decade high at 2,666 people, which is 15 percent more than the figure recorded in the previous year.

The department plans to hire some 80 officers this year, after it saw 740 vacancies by 2022 year-end - accounting for 11 percent of CSD's total establishment.

In view of the rising number of male adult inmates, the department plans to expand the Lai Chi Kok Reception Centre to make room for 410 inmates.

The plan has been approved by the Town Planning Board, with the application for funding yet to be submitted for approval.

The goal is to set up a Rehabilitation College to offer full-time continuing education programs for inmates, so that they can better equip themselves before reintegrating into the society.

It comes after CSD launched Project PATH in 2021, to assist young adults in custody, who have committed crimes due to radical thoughts, to rebuild positive values and face challenges ahead.

The project includes three rehabilitation pathways: understanding Chinese history and national education, psychological reconstruction and re-establishment of values, and future planning and rebuilding of family relationships.

However, Wong denies the program is "brainwashing," saying all participants joined the program voluntarily.

He said the program received positive feedback and believes it is effective in correcting the negative virtues of the inmates.

Apart from Project PATH, CSD has launched an educational program to assist young inmates to learn Chinese history and enhance their sense of national identity.

It plans to set up three parent-child centers this year, aiming to enhance the relationships between adult male inmates with their family, so as to strengthen their rehabilitation efforts.

The three centers will be located at Hei Ling Chau, Tong Fuk Correctional Institution on Lantau Island, and Stanley Prison.