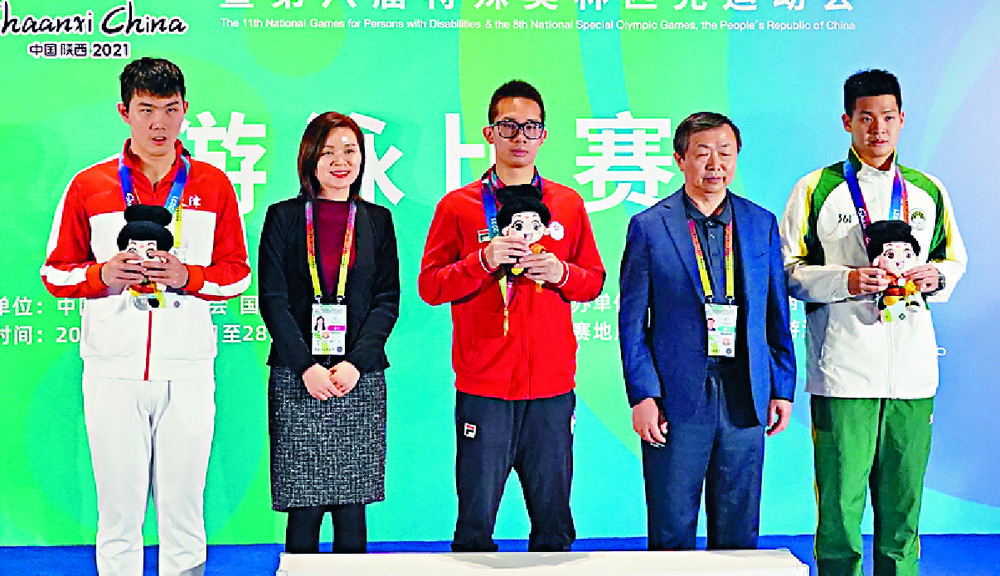 Record falls as HK's Wong strikes again
Hong Kong yesterday bagged one more gold and one silver in the swimming events in the 11th National Games for Persons With Disabilities and the eighth National Special Olympic Games held in Shaanxi, after swimmer Wong Hon-yin broke the national record again.
Organized at the Xi'an Olympic Sports Center, Wong snatched his second gold medal at the games after finishing the men's 100 meters backstroke S14 final at 1:09.31, his personal best time as well as a new national record.

Wong had already broken the event's national record once in the morning's preliminary race after finishing in 1:10.43.

He scooped his first gold medal in the men's S14 200m freestyle event on Saturday by breaking the national record twice in the event.

Swimming in lane four, Wong started the 200m event a bit slow as he was trailing the swimmer from Tianjin in lane five. But Wong finished strong and took the top spot after the last turn at 150m. He eventually touched home at 2:02.83, breaking the national record he set in Friday's preliminary at 2:04.00.

His fellow teammate, Cheong Sui-kei, came in second in yesterday's women's 100m backstroke S14 final at 1:20.80, bagging her second medal.

She previously set a new national record at 2:22.75 in the women's 200m freestyle S14 final on Saturday.

The Hong Kong male table tennis team, composed of Lee Ming-yip, Tong Chi-ming and Tong Chi-yung, for the TT7 class will compete in their final group stage match against Hubei today.

The team lost both matches against the Hainan and Jiangsu/Chongqing teams yesterday at 1-2 and 0-2 respectively, after winning the two matches against Sichuan and Inner Mongolia by 2-0 on Saturday.

For the team event of TT8 class, Chan Silu and Lam Ka-wai beat the Heilongjiang team in straight sets 2-0. The duo will face off against Anhui today at 9am.

For track events, Tse Choi-yuk entered the final at seventh place after finishing the women's 400 meters T20 preliminary at 1:07.60.

Chan Wing-sum finished seventh in yesterday's preliminary in men's 100 meters T36 at 14.17, a time that can qualify him for the final.

Twenty-three athletes from the Hong Kong team are competing in the games in Shaanxi, which runs from October 22 to 29.

Meanwhile, badminton player Lee Cheuk-yiu was eliminated at the semi-final stage at the Denmark Open as he was beaten 21-9, 21-11 by Tokyo Olympic men's singles champion Viktor Axelsen.