But one vendor at the annual Hong Kong Food Festival says the gloomy weather may have actually helped turnout.
Spitting rain and a cold weather warning kept some Hongkongers at home on Boxing Day, but the gloomy conditions were not enough to discourage shoppers from packing an annual food fair.

The Hong Kong Food Festival, now in its 19th year, has logged thousands of visitors a day at the Hong Kong Convention and Exhibition Centre in Wan Chai, with one participant saying the chilly weather that descended on the city on Sunday might have actually helped attendance.

"I think today will see the largest number of visitors, as it's Sunday and much colder," said Frandy Yim Yu-ko, business development director of Wing Cheung Global Food Limited, one of the festival's roughly 800 booths.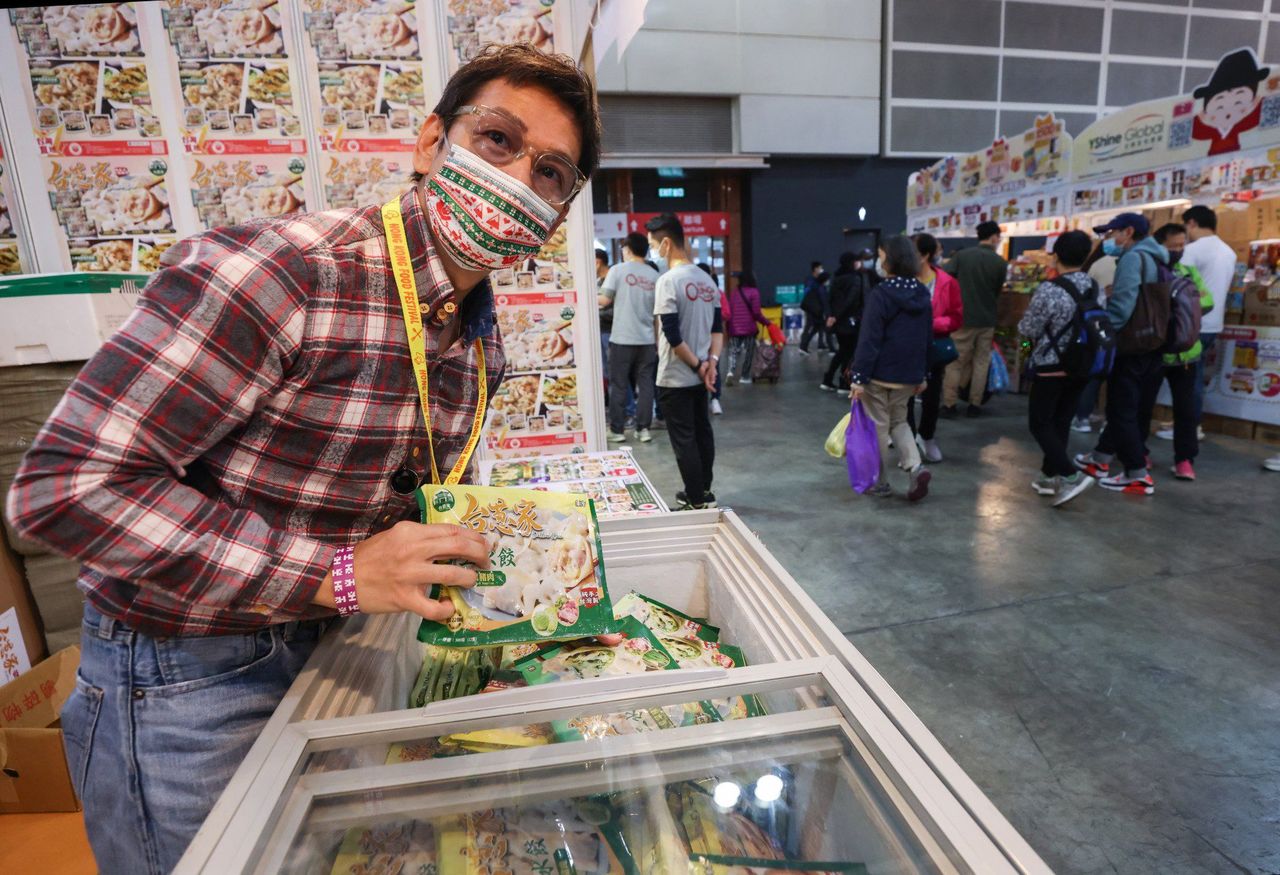 Vendor Frandy Yim said the nasty weather on Sunday may have actually helped turnout at the Hong Kong Food Festival.

But Yim said he expected the weather to hurt turnout at the Hong Kong Brands and Products Expo, an outdoor bazaar at Victoria Park in Causeway Bay.

"It's too chilly and windy for the elderly [to visit]," he said.

The Hong Kong Observatory issued a cold weather warning at 11am on Sunday, predicting chilly temperatures over the next two days due to the influence of an intense winter monsoon. The mercury was hovering around 12 degrees Celsius on Sunday, but was expected to plunge to just 9 degrees on Monday.

Food fair visitor Shirley Ng Chi-kwan, from Tuen Mun, said it was the crowds more than the weather that influenced her decision to skip the expo at Victoria Park.

But, she added: "We don't plan to spend too long here either."

Another shopper, Raymond Chau Kei-man, was making his second round at the food festival on Sunday.

"I came here [on Saturday] as well, but I wasn't able to finish the exhibition in one day, and it's hard to carry too much at once," he said, noting he was prepared to drop as much as HK$5,000 (US$641).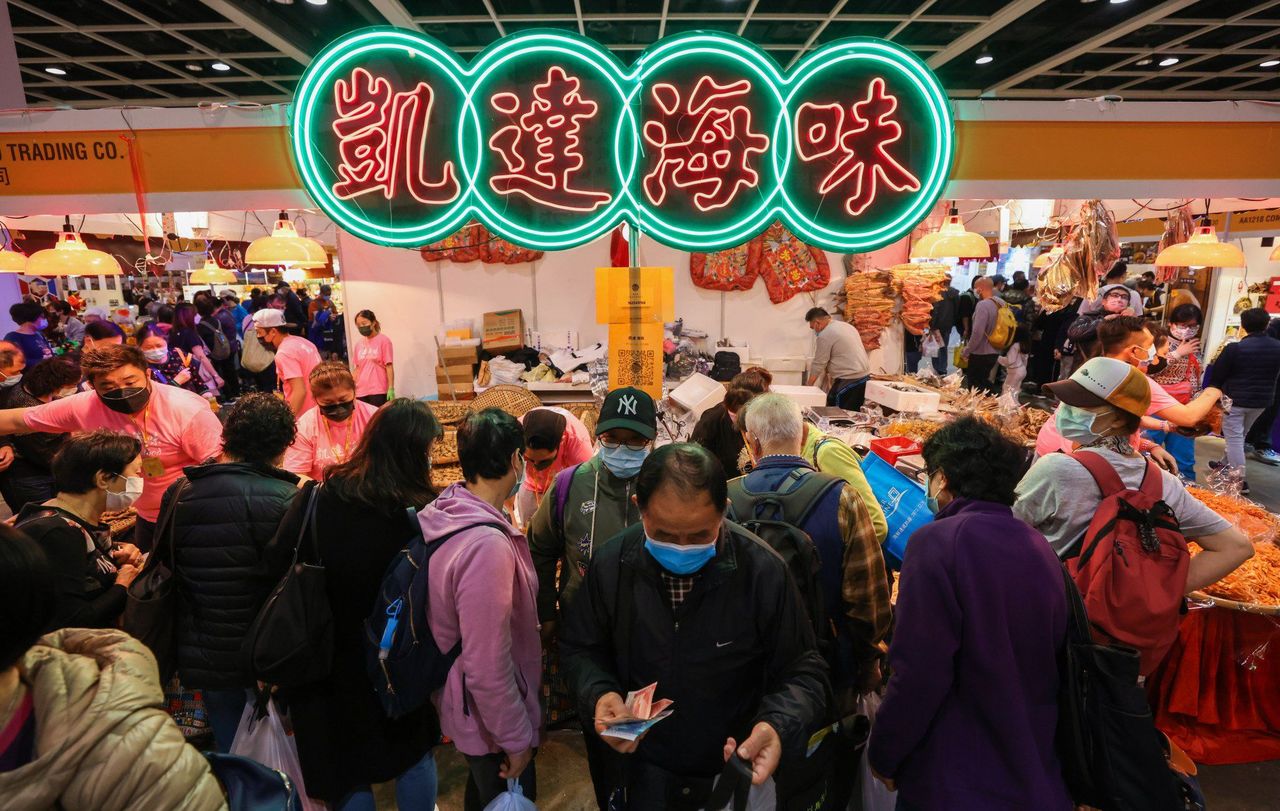 People flocked to the Hong Kong Food Festival at the convention centre in Wan Chai on Sunday.

But despite the crowds, some vendors noted that the impact of the coronavirus pandemic was still being felt.

Ben Wong Kar-wing, business development manager for Tri-Me Trading, said sales were "average", at about 70 per cent of pre-pandemic levels, but much better than last year, when the Covid-19 situation was far more severe.

Still, pandemic control rules forbid eating or drinking in the venue, which has put a damper on sales of Wong's British-made crisps.

"Sales are lower than what we expected because tasting is not allowed," he said. "Our brand is new to Hong Kong and unavailable anywhere else; many [shoppers] said they were unlikely to buy the product if they can't try it."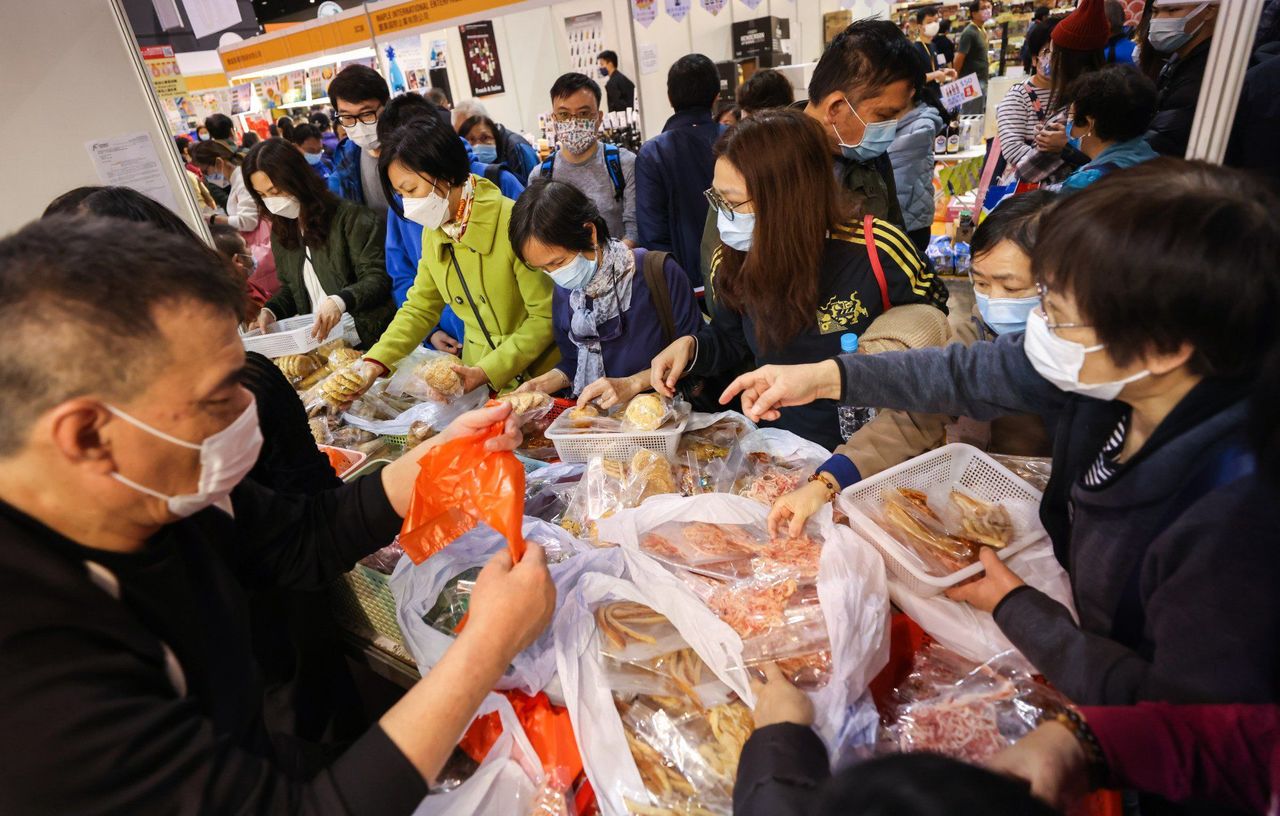 Some vendors said that rules strictly forbidding tasting products had put a damper on sales.

That assessment was shared by Chau Wing-yan, of Pui Heung Wonderland, a jerky brand returning to the fair for its seventh year.

"We thought that people would be spending more with their consumption vouchers, but that is not really the case," said Chau, referring to the HK$5,000 in electronic vouchers issued by the government earlier this year.

Noting that exhibition centre staff were fastidious about enforcing the no-tasting rule, she added: "It's hard to sell these kinds of [foods] when people can't try it."

The Hong Kong Food Festival is slated to run until Tuesday, while the Hong Kong Brands and Products Expo will wrap up on January 3.

Meanwhile, on the other side of Victoria Harbour, the massive crowds previously seen clamouring for a look at the 20-metre Christmas tree at the West Kowloon Cultural District shrunk considerably on Sunday.

"It's colder than we expected. We're just going to let the kids play for a while then we'll head indoors," said mother-of-two Lee Yuk-ting. "I don't want them to catch a cold, especially in [the pandemic]."

Catherine Cheung Tsz-tung had come to the area for a picnic, but was driven off by the weather.

"We wanted to come on Christmas Eve, but we saw our friends' photos of the crowds and decided to wait till after Christmas," she said as she packed up her things. "We're going somewhere else now; it's too cold."