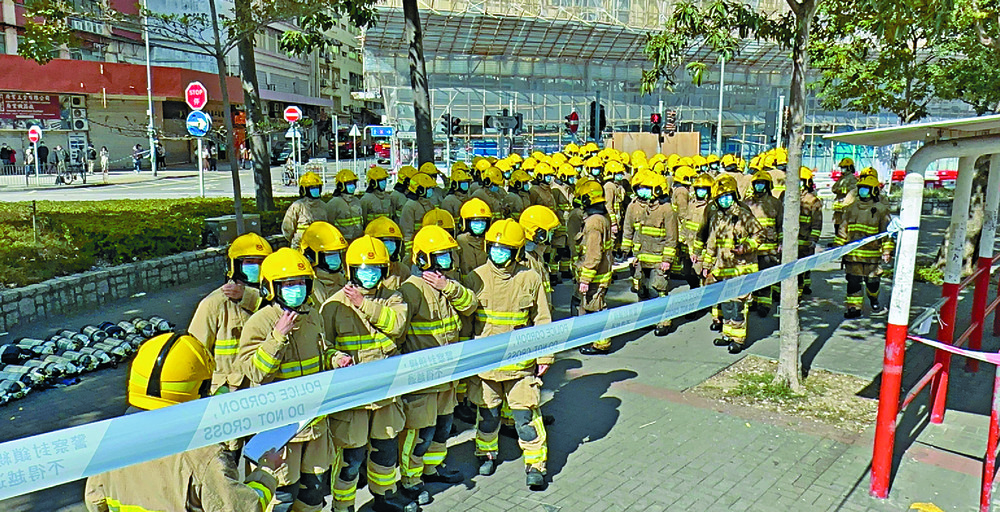 Rabbits rescued as 100 trainee firefighters comb inferno debris
More than 100 trainee firefighters have inspected the blaze at an industrial building in San Po Kong after a 15-hour fire that raged since early Saturday.
Firemen also rescued two rabbits from the burning building.

The fire started at 5.17am Saturday in a warehouse on the 9th floor of Wing Hin Factory Building on Choi Hung Road, where a large number of electronic parts were stored. Firefighters arrived at the scene five minutes later. The fire was upgraded to No 3 alarm at 8.53am.

Neighboring units were also slightly damaged, said Chan Fu-shan, the Kowloon Central division commander of the Fire Services Department.

Five water jets and five breathing apparatus teams were deployed to fight the blaze which was finally put out at 8.08pm Saturday.

About 30 people were evacuated and seven were assisted by officers. Among them, a 22-year-old tenant of the building surnamed Ng was taken to Queen Elizabeth Hospital, after he became unwell from smoke inhalation.

The building was undergoing renovation work with its exterior walls surrounded by scaffolding which increased the difficulty of putting out the fire from outside and dispersing all the smoke.

Chan has said the cause of the fire will be investigated.

Additionally, the Fire Services Installations Task Force found that the building's manual fire alarm system was not working, adding that according to the building's fire safety inspection certificate, the last inspection was conducted in November. And there was no automatic fire alarm system on the floor where the blaze started. The department will conduct an in-depth investigation into the fire safety condition of the premise.

The blaze raged for 15 hours, with explosions and backdrafts that threatened the safety of firefighters. Fire instructors called on over 100 trainees to the scene to learn from the disaster.

As firefighters cleared the water on the floors of the building, they managed to rescue two rabbits - one black and one white with black ears, both in the same cage - from the 12th floor.

Buildings Department officers inspected the building for a few hours and workers climbed up the scaffolding and removed some of the bamboo and protective netting. A tenant said all his books and equipment in his studio must have been damaged but he could not confirm the loss as the building was still locked down and tenants were not allowed to enter.

As of noon yesterday, all lanes of Ng Fong Street and Choi Yee Lane - which were closed due to the fire - have been re-opened to traffic. However, all lanes of Sze Mei Street bound for Luk Hop Street and Choi Hung Road were still closed. Nine bus routes have been diverted.