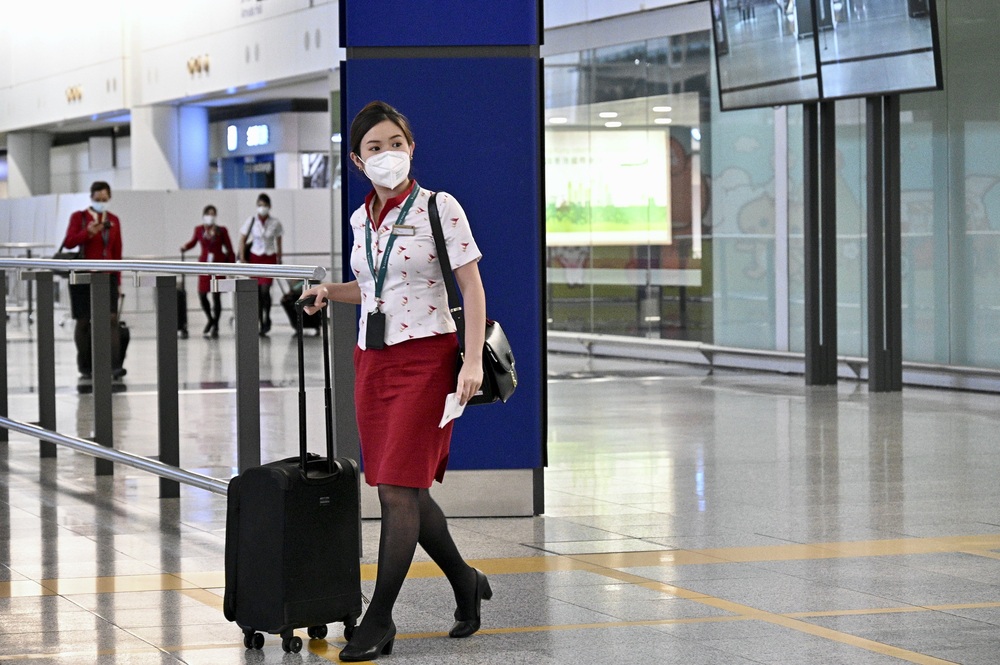 Quarantine requirement for returning air crew to be relaxed starting May 1
Air crew will see their quarantine requirement shortened to only three days or even canceled starting May, as a ban barring non-Hong Kong travelers from entering the city will also be lifted by then.
Starting May 1, all air crew deployed by local airlines for operating flights in and out of Hong Kong must have received the booster jab.

As for locally-based air crew, those who work on a passenger flight will see their quarantine shortened to three days, according to a government statement published on Friday night.

They could leave the quarantine hotel after their PCR test result returned negative on the third day.

Those who work on a cargo flight need not to undergo quarantine, for they have no contact with any passenger and are already subjected to stringent closed-loop management when they lay over in outports, according to the government.

Still, they need to tested negative during the "test and hold" procedure at the airport.

All of the locally-based air crew are subjected to medical surveillance until the 14th upon their arrival. During that period they must take a rapid antigen test everyday and keep a log of their activities until the seventh day upon arrival.

For air crew who are spending a short layover in Hong Kong and are not entering the local community, they will be subject to a stringent closed-loop arrangement during their stay in Hong Kong.

These air crew must take a pre-departure RAT and test negative before traveling to Hong Kong, use a dedicated channel at the airport and use point-to-point transport between the airport and the airport hotel.

"In cases of non-compliance, the designation status of relevant air crew members will be revoked," it also read.

"The adjustments will provide Hong Kong's aviation, trade and logistics industries, particularly air cargo operations between Hong Kong and the rest of the world, the much needed survival space," a government spokesman said.

He added that the government attaches great importance to the international aviation hub status of the city.