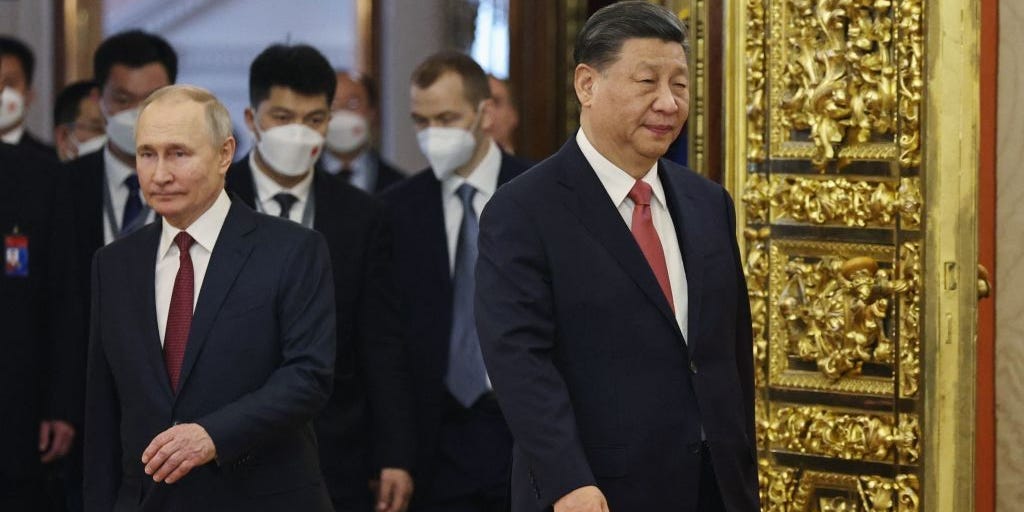 Putin hits back at claims by 'jealous people' that Russia is becoming dependent on China, days after meeting with Xi Jinping
"Many have desired turning China against the Soviet Union and Russia, and vice versa," Putin said in televised remarks on Sunday.
Russian President Vladimir Putin rejected suggestions that Moscow is becoming overly dependent on China on Sunday, just a few days after meeting with China's President Xi Jinping.

"We are not creating any military alliance with China," Putin said in televised remarks, "Yes, we have cooperation in the sphere of military-technical interaction. We are not hiding this," according to Reuters.

Putin also said on Russian state television that views of those criticizing the economic ties between the two countries come from "jealous people."

He added that "many have desired turning China against the Soviet Union and Russia, and vice versa," saying that Russia valued its "mutual relationship" with China.

Not long before Putin's full-scale invasion of Ukraine, China and Russia signed a strategic "no limits" partnership that has since deepened.

On the one-year anniversary of Russia's invasion of Ukraine, China introduced a peace plan for dealing with the war. Beijing has claimed to be a neutral party in the conflict, although critics believe this a way of endorsing Moscow, Insider previously reported.

Earlier this week, President Xi met with Putin for the first time since the beginning of Russia's invasion, where China secured oil trade agreements and opportunities for Chinese businesses in the country.

The interaction showed China's apparent dominant position in the alliance.

The current Sino-Russian relationship is complex — as experts previously told Insider that China faces a "strategic dilemma."

While the country benefits from trade with the Russian regime, China's association with Putin — who has recently been accused of committing war crimes by the International Criminal Court — does damage to its reputation with other Western countries.

US officials said last month that Beijing is considering sending artillery and ammunition, although China denies this claim, per Reuters.