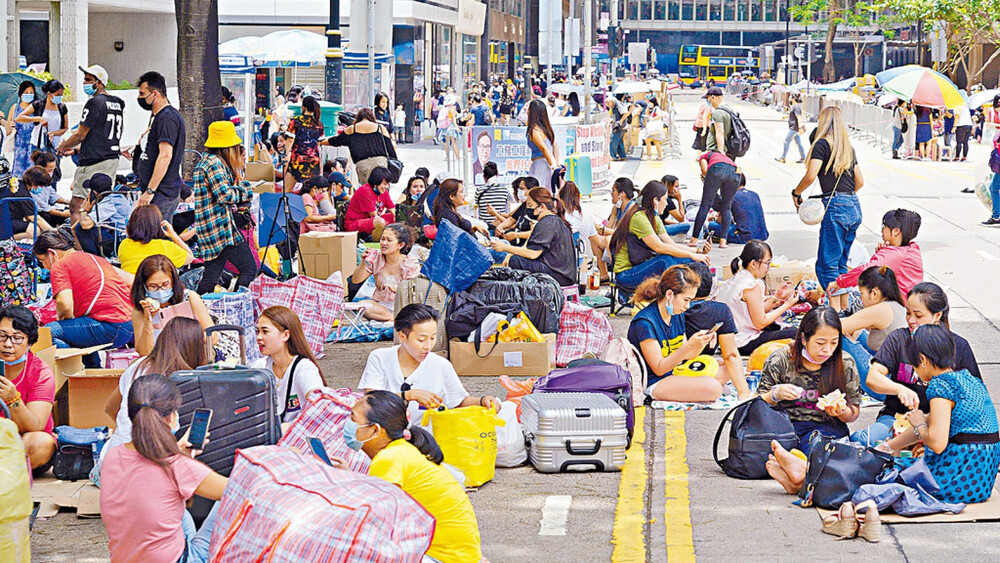 Public consultation to regulate job-hopping of foreign domestic helpers proposed by govt
The Labor Department is planning to hold a public consultation next Tuesday to revise the code on foreign domestic helpers' employment to address the problem of their job-hopping - terminating contracts in advance to find another employer.
The department earlier announced that it was stepping up to amend the Code of Practice for Employment Agencies to require the employment agencies for domestic helps to explain clearly the current policy, which provides that domestic helpers are not generally allowed to change their employers during their employment contract period except they were hardly treated or other special reason, for preventing domestic helpers from leaving their jobs.

Besides, the department requested the code to point out that a domestic helper must leave Hong Kong and re-apply for a new work visa if they want to change a new employer; and the domestic helper's visa application may be rejected if there is evidence showing them "hopping jobs casually" and their further visa application will also be impacted.

The eight-week-stand public consultation for the proposal of revising the code will begin on March 21.

"It is not common for foreign domestic helpers to change jobs, in fact," commented Thomas Chan Tung-fung, chairman of the Hong Kong Union of Employment Agencies, on a radio program on Thursday in response to the government's proposal.

"Many domestic helpers were not leaving their jobs for their own reasons," Chan said, "the government should make clear the real reasons for helpers to cease contracts, and [seeking amendment of the law to regulate helpers] is making things too simple."

He added some domestic helpers may deliberately perform poorly in the hope of being fired and getting opportunities to "jump ship" or go back to their own countries.

"I suggest that the government should set up a panel which comprises domestic helper unions, employment agencies, employer representatives, the consulates of the countries the helpers come from, and the Immigration Department," he said, "to analyze every helpers' job-hopping phenomenon 'case by case.'"

Under the current Hong Kong laws on domestic helper employment, an employment contract between an employer and a helper is effective for two years, and a helper must leave Hong Kong within 14 days if the contract expires.