Computer technician was arrested outside government offices in Sham Shui Po after radicals set fire to gate.
A computer technician who was among a group of protesters that set fire to the gate of a government office during a demonstration in 2019 has been jailed for more than three years for rioting.

Cheng Chi-chung pleaded guilty earlier this month in District Court over his role in the unlawful protest outside Cheung Sha Wan Government Offices in Sham Shui Po on the evening of October 27.

Protesters had responded to online calls earlier that day to assemble in a park in the shopping district of Tsim Sha Tsui to express their discontent with police's handling of the protests that year. The gathering descended into chaos, which later spilled over into various districts in Kowloon.

The court previously heard that the 33-year-old defendant was spotted among a group of 70 protesters outside the government premises at around 7pm.

He was said to have worn an all-black outfit and covered his face with a mask, defying a ban on facial coverings at public gatherings.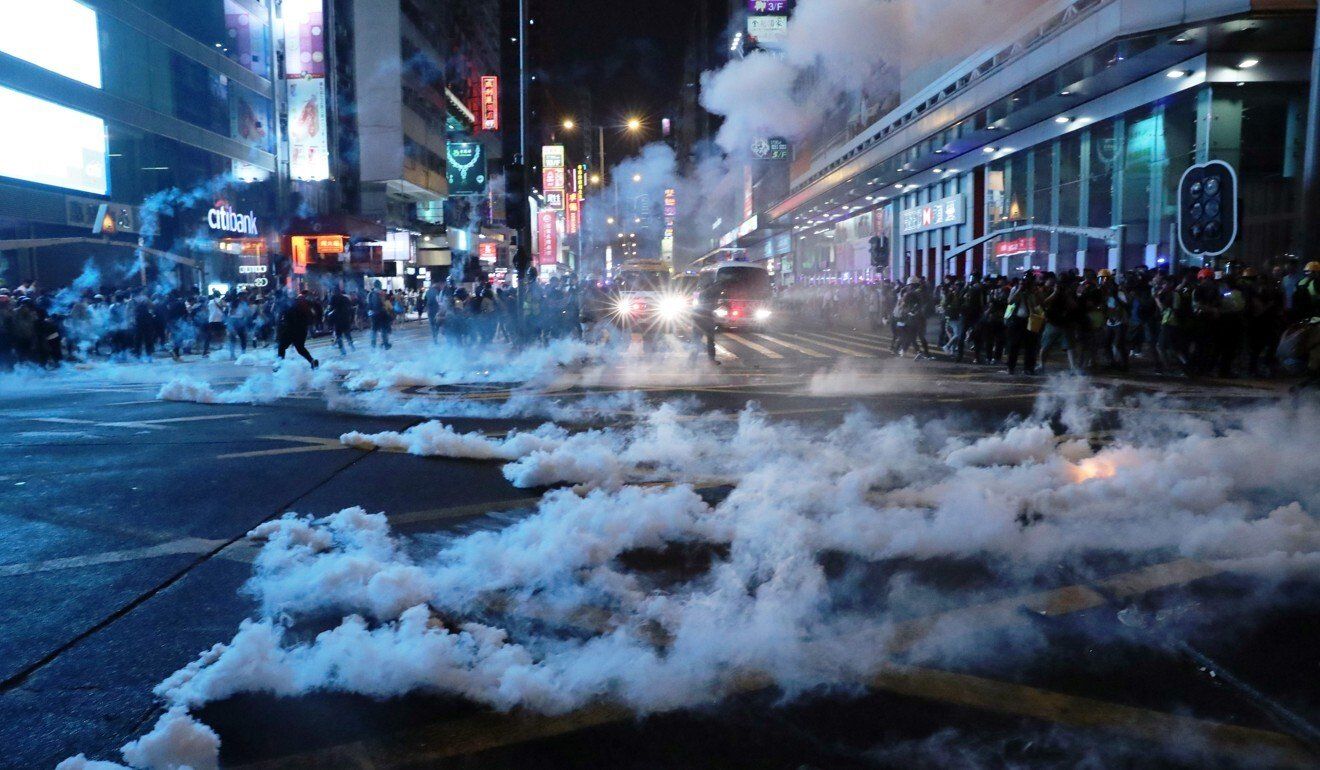 Police and protesters clashed in various districts in Kowloon on the evening of October 27, 2019.

Cheng was then seen reaching for his backpack, which was later found to have contained flammable liquid, but it remained unclear what he had done next as the view of police was blocked by a shield of umbrellas.

A minute later, the front gate of the government building was set ablaze, and Cheng was seen holding a bottle of petrol. Officers then rushed out from the building's car park and dispersed the crowd, arresting Cheng in the process.

Prosecutors agreed to drop charges of wearing a facial covering during an unlawful assembly, and possessing articles with intent to damage property, provided Cheng admitted rioting.

A probation officer's report said Cheng had received inspiration from the Occupy movement in 2014 and jailed activist Edward Leung Tin-kei, a former spokesman of localist group Hong Kong Indigenous.

Leung is serving a six-year jail sentence for rioting during the overnight violence in Mong Kok in early 2016.

Defence counsel Kevin Tang Tsz-kai said in mitigation that his client deeply regretted his actions, adding he had merely responded to online calls to stage a protest on the day concerned.

But Judge Stanley Chan Kwong-chi found the defendant's equipment, including a helmet, respirator, a 30cm screwdriver and an iron rod, showed a level of premeditation.

Although Cheng said in his letter to the court that he had reflected on his behaviour, the judge felt the accused lacked remorse, saying the probation officer's report offered no mention of Cheng's repentance.

"This case is nothing but another tragedy where the accused was aroused, incited and instilled with a view that it was all the fault of politics," Chan said. "The accused was very responsive and, to a certain extent, played a leading role in the protest. I do not regard his offence as an act committed out of momentary impulse."

Chan set a starting point of 5½ years in jail and reduced it to 40 months in light of Cheng's guilty plea and strong family support.

Rioting is punishable by seven years behind bars when the case is tried in District Court.