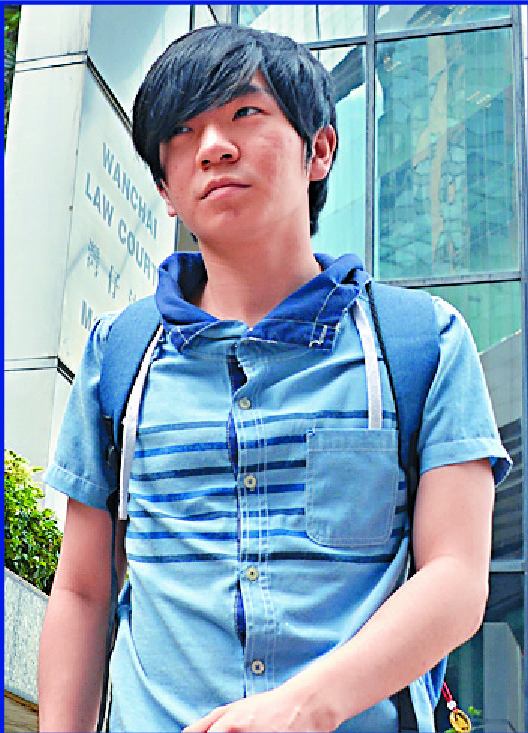 Protester gets four years for rioting
A 31-year-old customer service officer was yesterday jailed for four years for rioting in Mong Kok nearly two years ago, while three other defendants were acquitted.
The District Court heard that Lin Yun-faat was one of more than 100 protesters blocking streets and hurling objects - including petrol bombs and bricks - at police on Jordan Road in the early hours on November 18, 2019.

Judge Josiah Lam Wai-kuen sentenced Lin after convicting him of rioting and violating the mask ban.

Lin committed the offense only eight months after completing a three-year jail term in March 2019 for taking part in another riot in Mong Kok in 2016.

Lam said Lin chose to join the rioting crowds even though he knew they were throwing bricks and petrol bombs at the police.

"It takes seconds for a normal person to tell whether protesters were rioting. If Lin did not want to engage in a riot, he would walk away from the crowds," Lam said.

"But he chose to attach himself to the rioting crowds and he surely wanted to be a part of them. He deliberately equipped himself with a helmet, a face mask and a pair of gloves to join the protest knowing there would be violent activities."

Lam also said that taking part in a protest was the only reason that Lin, who lives in Fan Ling, would appear in Yau Ma Tei with protective gear. Although there was no evidence to show Lin was the leader of the riot, Lam said he could not hand down a lenient sentence because Lin's behavior encouraged other rioters.

He jailed Lin for four years for rioting and six months for violating the mask ban. But the two sentences will run concurrently.

Lin's three codefendants - student Loo Jun-kun, 23, land surveyor Wong San-man, 28, and electrician Cheng Shun-tat, 40 - were acquitted of rioting.

The prosecutors said all four defendants, who were arrested near a Yoshinoya restaurant in Yau Ma Tei, were protesters fleeing to the side street from Nathan Road.

But Lam said surveillance camera footage showed that Loo and Wong entered the side street from another alley instead of Nathan Road, and there was insufficient evidence to prove they took part in the riot.

But Loo was fined HK$2,000 for not being able to present an ID card when he was stopped by officers.

Lam also accepted Cheng's testimony that he was drunk and was heading to a massage parlor that night.

Cheng called a male police officer "Madam" and ran when he saw others were running, which was possible behavior under the influence of alcohol, Lam said. He added that Cheng did not wear a mask, a helmet or gloves and acquitted him of rioting.

In a separate case, Tai Po district councillor Herman Yiu Kwan-ho, 23, and photographer Choy Kin-yue, 36, have been sentenced to three months in jail for taking part in an illegal assembly on March 8 last year to mourn Hong Kong University of Science and Technology student Chow Tsz-lok.

They were arrested after confronting a plainclothes officer, who refused to answer their questions and left the scene, at Tai Po Mega Mall.