The after-school programme uses videos, activities and games to teach children how to understand other people's emotions and manage their own.
Hongkonger Tiffany Lee was surprised when her 10-year-old son recently told her not to pack any snacks in his school bag, saying he wanted to focus on chatting with his friends during recess.

Prior to that, Lee's son – who was diagnosed with autism four years ago, and lacks certain social and communication skills – would usually just play alone.

"He was relatively passive and reluctant to play with other children. He would just play on the slide by himself," she said. "He did not know how to join the other students, even though he wanted to."

The disorder had also put a strain on his life at a local primary school. Lee recalled her son's teacher saying he would simply "walk back and forth in the corridor" during recess.

But in 2017, Lee's son was recommended by his school to join the JC A-Connect, a programme by Jockey Club Autism Support Network in which social workers from eight NGOs organise after-school training sessions for autistic students at 510 mainstream schools.

During the sessions, Lee's son watched videos, played games and had discussions in classes of four to six pupils, learning to control his emotions and improve his social and communication skills.

His instructor, Caritas Hong Kong social worker Meidy Chak Mei-yee, said short clips from cartoons and films taught students how to read others' facial expressions and body language.

"For example, they would watch the movie Inside Out to learn about different kinds of emotions," she said. "The students can look at the expressions on the characters' faces and figure out what they feel towards the incidents in the story."

She explained that children with autism also generally had more trouble grasping abstract ideas.

"Through visualising abstract ideas with visual clues, stories and short videos, it is easier for them to learn," she said.

Education Secretary Kevin Yeung and Jockey Club executive director for charities and community Leong Cheung attend a JC A-Connect event at Tai Kwun on Wednesday.

When Lee's son first started the programme, he was more self-centred, Chak recalled.

"He was not aware of the people around him. Even in a group, he would look around, but not at his group mates. He was not conscious of others' emotions," she added.

"Autistic children mostly think from their own perspectives. They may not know that it is important to be considerate towards others' feelings."

Games tailored to the pupils' needs played a crucial role in his improvement.

"In one of the games, I would not speak," Chak said. "When I made eye contact with some students, they would need to do some tasks. It can train them to pay attention to people's eyes."

Chak added that the pupils would also work in a team and learned to take others' opinions into account. In one exercise, they were asked to build a tower out of newspaper together, and to share ideas and discuss the best way to finish the task.

The training sessions also had a reward system involving red and black beads meant to help the children visualise the concept of good and bad impressions.

Lee noted her son's improvement during his time in the sessions. In addition to forming a social circle, he also made headway in managing his emotions as he became more willing to express his feelings.

There are 11,870 students diagnosed with autism spectrum disorders in Hong Kong's mainstream public schools this year, according to the Education Bureau, more than twice as many as there were in the 2014-15 academic year. Some 1.7 per cent of students in mainstream schools are autistic, and the Autism Children Foundation puts the number of registered autistic children in Hong Kong at 25,000.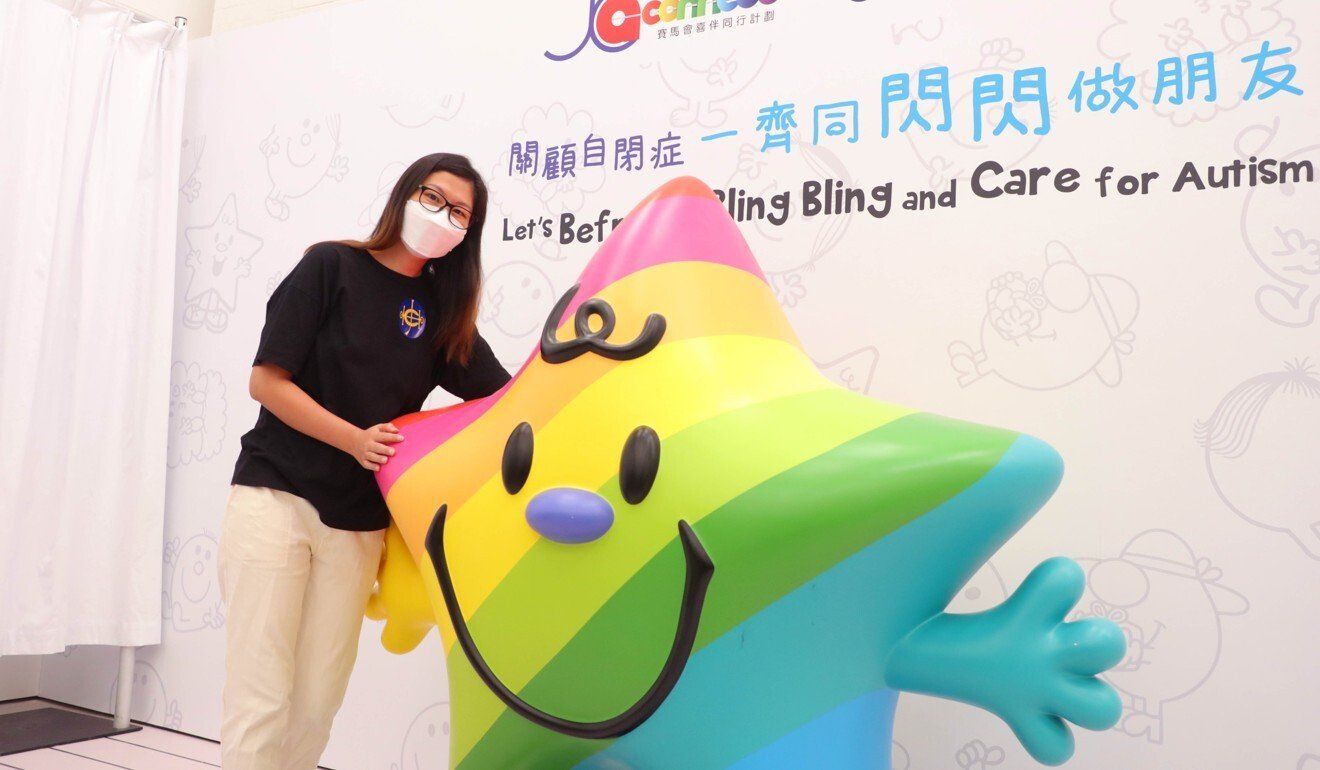 Tiffany Lee poses with JC A-Connect promotional ambassador Bling Bling, by the creators of the beloved characters Mr Men and Little Miss.

Hong Kong uses a dual-track system for offering special education. Based on an evaluation and recommendations by specialists, students with more severe disabilities are referred by the Education Bureau to special schools. Those with less substantial special needs, such as children with autism and other developmental problems, enrol in mainstream schools, which are required to provide them an equal education.

Starting in the coming school year, the Education Bureau will introduce the JC A-Connect programme in all public primary and secondary schools in Hong Kong, expecting it to benefit 60 per cent of students with autism spectrum disorders.

Besides school-based support, the Hong Kong Jockey Club Charities Trust-funded programme also offers help to parents through 18 community centres across the city, and educates the general public about autism spectrum disorders.

It has also collaborated with the creators behind the beloved children's characters Mr Men and Little Miss to publish an educational storybook, Same Among the Differences, featuring Bling Bling, an autistic character and the programme's promotional ambassador.

The programme is holding a five-day exhibition featuring Bling Bling and paintings by autistic people that started on August 12 at Tai Kwun in Central.

Thanking JC A-Connect, Lee added that her younger son, who was autistic too, had also become a member of the network and built up his self-esteem.

Her older son, she added, used to be preoccupied only with winning when playing games with his brother, but he had now learned how to better deal with losing. "Now, apart from not crying, he will even comfort his little brother and tell him to enjoy the process instead of the result," she said.