The event, which is expected to generate more than HK$1 billion in revenue, is being run by Chinese Manufacturers' Association in Victoria Park until January 3.
The Hong Kong Brands and Products Expo made a comeback on Saturday after being postponed due to the coronavirus pandemic last year, attracting thousands of consumers hunting for bargains who nevertheless had to use the government's Covid-19 risk-exposure app to enter.

The 55th edition of the expo organised by the Chinese Manufacturers' Association of Hong Kong, one of the city's largest business groups, is being held at Victoria Park in Causeway Bay and will run until January 3. The online component of the event will extend until January 10.

Association chairman Allen Shi Lop-tak said being able to hold the fair again showed the resilience of Hong Kong businesses.

"This event is not just about the manufacturing or commercial sector alone. It's an event for Hongkongers as well," he said.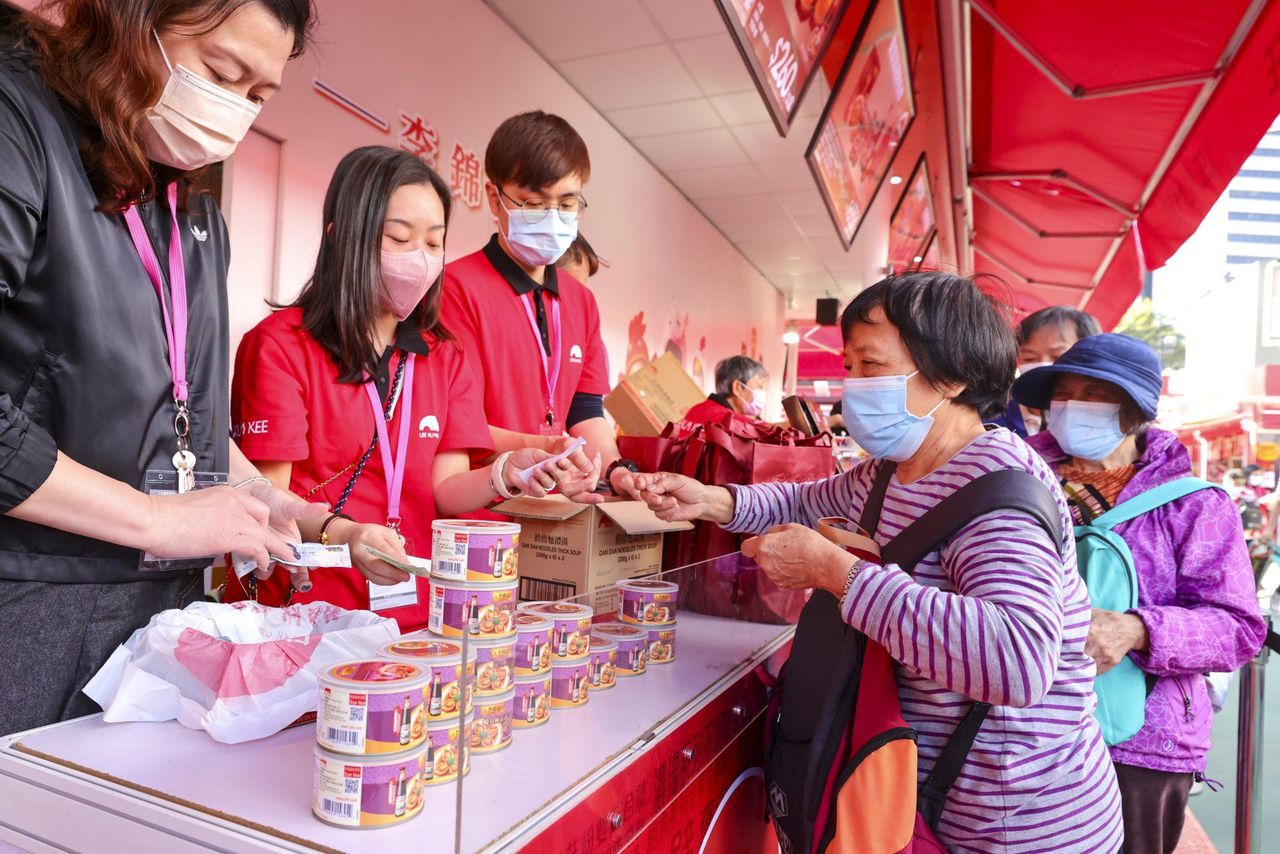 Visitors line up for deals at the Hong Kong Brands and Products Expo on Saturday.

Shi said the annual fair echoed the "Lion Rock" spirit, a term that dates from the 1970s and refers to the "can-do" attitude of Hong Kong people

"It shows that Hongkongers can rise up against adversities and rebuild," he said, noting the association was able to hold the large-scale event again with some social-distancing measures in place.

Shi said he expected the fair would generate over HK$1 billion (US$128.2 million) in revenue over its three-week run.

Chief Executive Carrie Lam Cheng Yuet-ngor officiated the launch along with top mainland Chinese diplomats in the city, including foreign ministry commissioner Liu Guangyuan and central government liaison office deputy director Tan Tieniu.

Lam spent about HK$2,000 (US$256) buying shrimp roe noodles, soy sauce and lap cheong, a Chinese air-dried sausage.

More than 830 booths have been set up at the outdoor fair this year, selling food, home appliances and health products at significant discounts.

"Just in time for the shopping season, visitors are sure to find everything they need and want here at a mighty fine discount," Shi said.

Some of the best deals include HK$2 for 1kg of white rice and HK$5 for a can of abalone.

People must use the government's "Leave Home Safe" app to enter the venue, while taste testing has also been banned throughout the expo and capacity limited to 50 per cent of the usual number.

Visitors are required to keep their masks on at all times while staff must undergo Covid-19 screening every two weeks.

Tickets cost HK$8 but entry is free for children under one metre (three foot, three inches), people aged 65 or above and those with disabilities. Residents who are fully vaccinated can also enter free of charge after 6pm.