Traditional race dynamics upended by lack of opposition candidates, redrawn constituencies and residents taking advantage of free public transport.
Gou gap, or emergency appeal in English, surprisingly emerged as the most frequently heard phrase in Hong Kong's legislative race on Sunday as several pro-establishment candidates found themselves fighting an uphill battle for support even after Beijing overhauled the electoral system in their favour.

All the candidates belonging to the city's biggest pro-establishment party and several Beijing-friendly veterans, including Regina Ip Lau Suk-yee, seeking seats in the 10 geographical constituencies made last-ditch appeals to voters.

They attributed their lack of confidence to the lacklustre turnout rate and public perception that their seats were already secured in the election that the mainstream opposition parties sat out for the first time.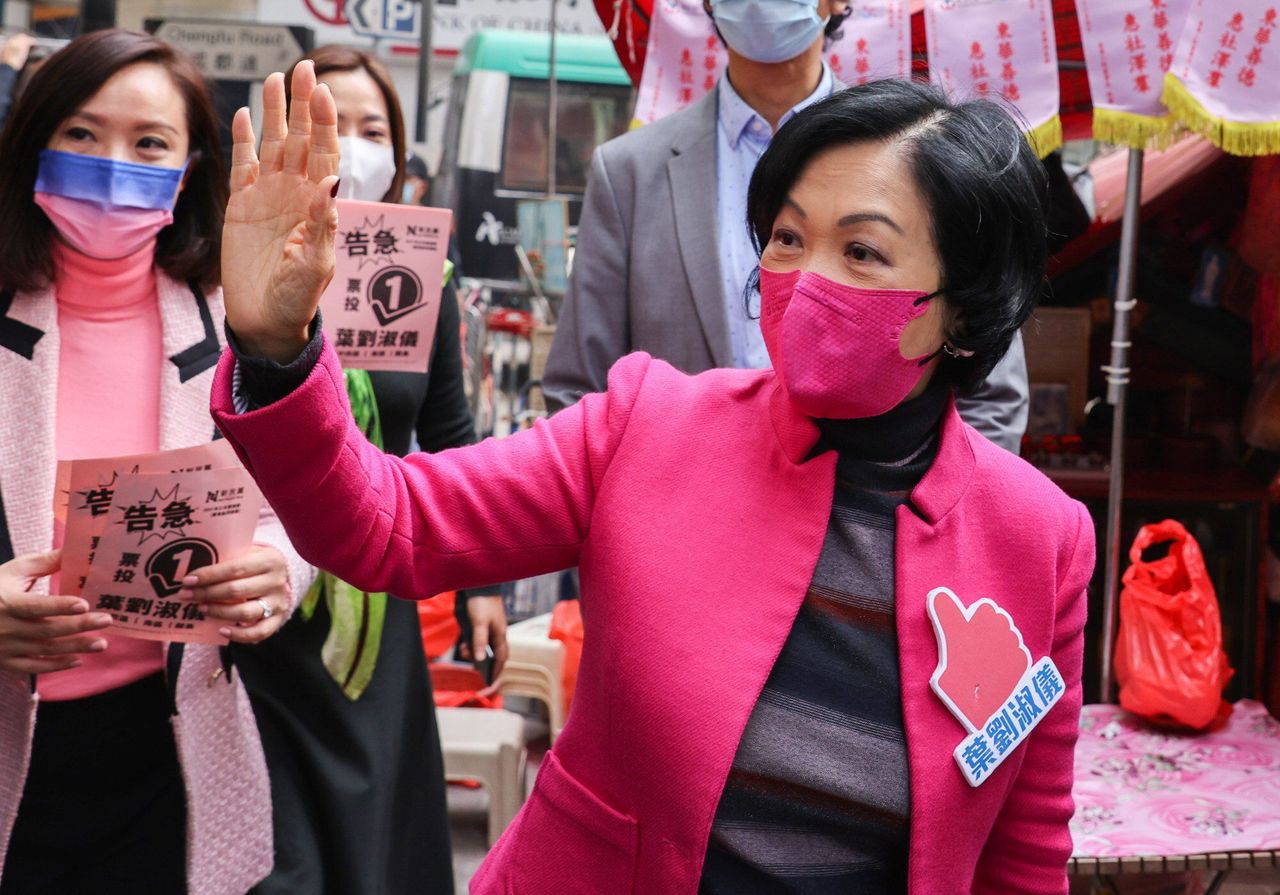 Candidate Regina Ip of the New People's Party calls for votes in Aberdeen.

Starry Lee Wai-king, chairwoman of the Democratic Alliance for the Betterment and Progress of Hong Kong (DAB), joined her other nine colleagues seeking geographical constituencies seats in the Legislative Council election in issuing an emergency appeal.

Saying the overall performance of her party was very "dire", Lee blamed the lukewarm election atmosphere which she argued could have been "more intense". But she insisted the competition was "still very keen" despite the overhaul.

"New voters can only cast one vote, while only two candidates will be returned in each constituency," she said, referring to the new mechanism of first two past the post, which replaced the proportional representation system that could have allowed for more seats up for grabs in a broader swathe of one constituency.

Under Beijing's shake-up of the electoral system to ensure only "patriots" held political power, the number of directly elected seats was cut from 35 to 20 in the expanded 90-member legislature.

All hopefuls were also required to secure at least 10 nominations from the powerful Election Committee stacked with Beijing loyalists and go through a vetting procedure headed by government officials. The requirement was described by some opposition activists as "insulting" and the bloc decided to sit out the poll. Only a dozen centrist or moderate hopefuls eventually threw their hats into the ring.

Repeating her emergency appeal in Sai Wan on Sunday evening in hope of boosting turnout, New People's Party veteran Ip said her situation was "extremely dire".

Ip, who was seeking re-election via Hong Kong Island West running against the DAB's Chan Hok-fung and independent Fong Lung-fei, said the unprecedented measure of offering free rides for Hongkongers on election day actually encouraged people to travel to other places for fun instead of voting.

"All the public transport systems are full," she said. "Naturally, I hope to be able to return with high votes but currently it's very dicey."

But Ip, also an executive councillor who secured the most votes, 60,760, in her constituency of Hong Kong Island five years ago, denied that making the desperate appeal would affect her image.

"Instead I'm worried that my supporters may not vote, as many internet users suggested that I will definitely win or have enough votes," she said, adding she had lost a significant number of voters living in the middle-class area in Island East following the redrawing of geographical constituency boundaries.

"The most important thing is to get back to Legco, have a seat and have a voice," she said.

In Hong Kong Island East, all three pro-establishment candidates – Stanley Ng Chau-pei of the Federation of Trade Unions, the DAB's Edward Leung Hei and Marcus Liu Tin-shing of the New People's Party – made their emergency appeals early in the day.

But their rival, Jason Poon Chuk-hung, who ran as an independent and campaigned on his reputation as the whistle-blower who exposed shoddy construction work that plagued the city's railway in 2018, remained confident in his chances.

"I hope the turnout will be higher later today and I'll get more votes," he said.

"Some residents told me that they felt repulsed by the emergency appeals made by other candidates. I think I better not make them in such a robotic and soulless way."

Moderate candidate Jason Poon was out in Kornhill seeking support.

Veteran democrat Frederick Fung Kin-kee, running via Kowloon West, also questioned the need for pro-establishment candidates to make the appeals, accusing them of "playing for drama" as they received what he called the "iron votes".

In a heated exchange involving candidates running in New Territories North, Gary Zhang Xinyu, of the New Prospect for Hong Kong party founded by mostly mainland-born Hongkongers, and pro-establishment lawyer Wilson Shum Ho-kit, tried to outshout each other with loudspeakers at a busy junction in Tin Shui Wai.

Shum and DAB incumbent lawmaker Edward Lau Kwok-fan were said to have their bids hanging in the balance as Zhang was said to have received the backing of Beijing's liaison office, a claim he did not deny on Sunday.

Ivan Choy Chi-keung, a political scientist at Chinese University, said the emergency calls issued by some incumbent pro-establishment lawmakers in the first few hours of voting showed their lack of confidence.

"After serving as lawmakers for so many years, they need to reflect on themselves as their opponents are little known," he said.

"Starry Lee would become a laughing stock if she is defeated by rivals like Mandy Tam Heung-man," Choy added, referring to the moderate candidate whom Lee ran against in the Kowloon Central constituency alongside another pro-establishment candidate Yang Wing-kit.


He said the pro-establishment camp had been overly aggressive in some constituencies, such as Hong Kong Island East, where they fielded three candidates when only two seats up for grabs.

Lau Siu-kai, vice-president of Beijing's semi-official think tank, the Chinese Association of Hong Kong and Macau Studies, said the pro-establishment bloc might fear that some of their supporters would vote for the so-called centrist or moderate candidates in a bid to make the new legislature "more balanced" or "diverse".

But Lau said he was not too worried about the bloc's chances, suggesting the appeals could be only part of their strategies.

"It depends on how you see it. Such emergency calls can also present a picture that there is a very keen competition in this election," Lau said, adding a low turnout would in theory be in favour of the pro-establishment bloc given supporters of the pan-democratic camp were avoiding the poll.