Federation of Hong Kong and Kowloon Labour Unions denies idea was prompted by remarks from Xia Baolong, Beijing's point man for city's affairs.
A pro-Beijing labour union in Hong Kong has said it may withdraw an application to hold a rally later this month or downsize the event, hours after a top Beijing official told residents that protests were not the only way of pursuing social change.

Federation of Hong Kong and Kowloon Labour Unions chairman Lam Chun-sing on Saturday denied the idea was influenced by earlier remarks from Xia Baolong, director of the State Council's Hong Kong and Macau Affairs Office.

Lam, who also serves as a lawmaker, said participants were instead put off by the long approval process for holding a rally, as well as the potentially high-profile nature of the event.

"Over the past one to two weeks, we have had some participants saying they would not participate as they did not know if [the protest] will be approved [by police] or not," he added.

The proposed rally involving 100 to 200 people was intended to go ahead on April 29 and would feature a short procession through Prince Edward in Kowloon, before union members submitted a letter to government headquarters on Hong Kong Island.

"They are worried that police will be highly concerned about the event and that the whole society will be very concerned about the event … they are still workers, how would their companies react? How would their colleagues react?"

The union chair said they were already making the "mental preparations" to withdraw their application to march if they failed to secure police approval in the next couple of days.

Withdrawing or downsizing the event to a level that did not require police approval could be easier options for the organisation since some participants had already pulled out, he added.

Earlier on Saturday, Xia, who is currently in Hong Kong for a six-day fact-finding visit, told a seminar marking National Security Education Day that protests were not the only way to convey residents' "interests and demands".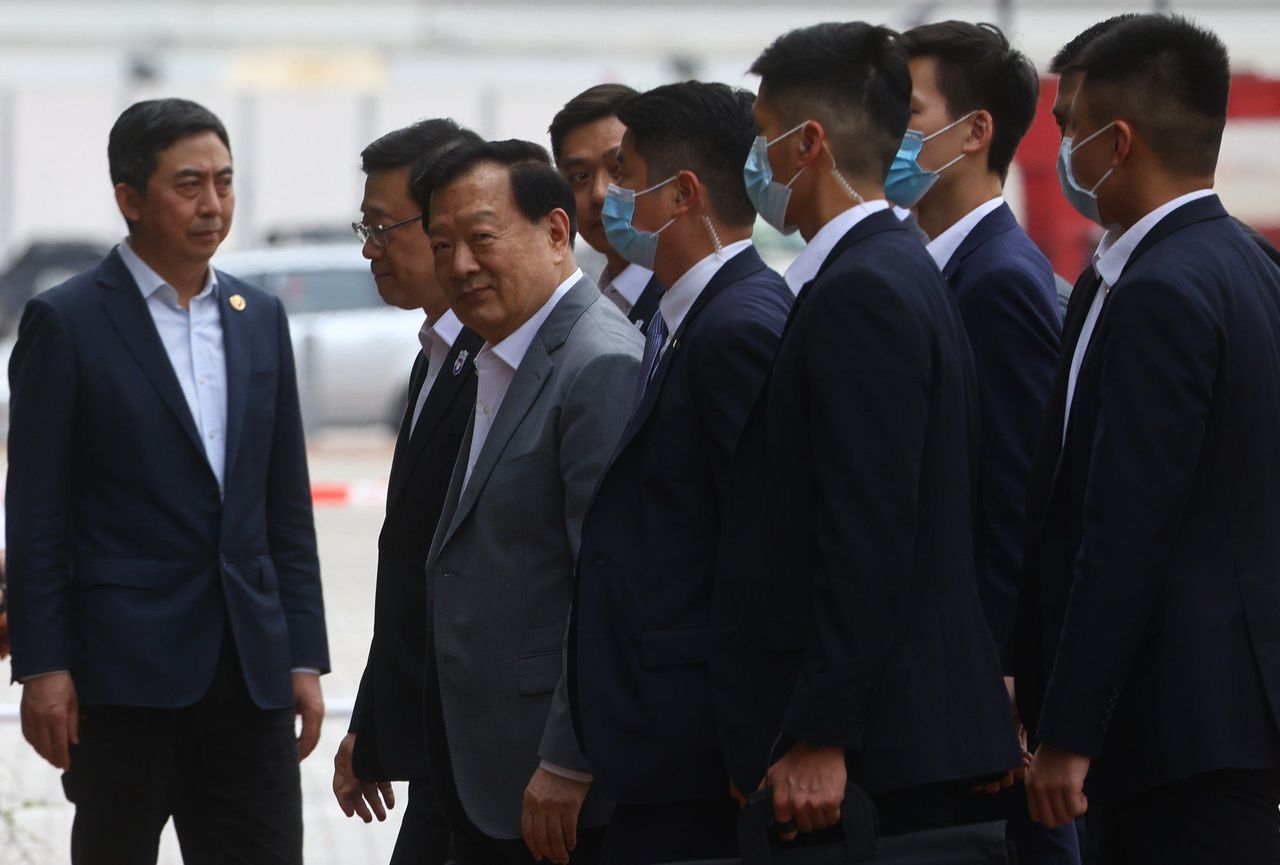 Xia Baolong (centre left), director of the Hong Kong and Macau Affairs Office, tours Hong Kong as part of a fact-finding mission on Saturday.

The top official overseeing Hong Kong affairs said that, while there were examples of such collective actions being used to promote environmental protections and voicing livelihood concerns, some had been hijacked by those with ulterior motives.

Sharing Xia's concerns, Lam said it was a pity protests had become a cause of concern since those before the 2019 anti-government demonstrations "were mostly used to express demands or other labour issues".

"It was also really easy for us to organise one to celebrate Labour Day on May 1 back then. We did not have to work that day and we asked our members to bring their children along as well," he said.

"It is a shame that protests being hijacked and turning violent in 2019 has led to the act of protests being vilified and placed on a blacklist. It is like, if you organised a protest, it must be to cause trouble or to cause violence."

Last month, Hong Kong marked its first authorised demonstration after three years of coronavirus restriction, with some 80 Tseung Kwan O homeowners marching against a reclamation plan in the area.

But the group were asked by police to wear numbered lanyards and had their banners and leaflets checked by officers beforehand – a series of new requirements that some legal experts have described as disproportionate.

Police have approved mostly charity and religious events over the past two weeks, which included walkathons and several activities marking the Easter holiday, with different requirements.

The force also approved two fundraising events for Sunday.

Joe Wong Nai-yuen, a former chairman of the now defunct Confederation of Trade Unions, said Xia's words had not affected their intention to proceed with their application for a 500-strong protest on Labour Day.

Wong and ex-committee member Denny To Chun-ho earlier applied to hold the rally on Hong Kong Island, with the duo submitting the application in a personal capacity.

Responding to Xia's remarks, Wong agreed protests were not the only method to express demands, but argued it was "one of the most important".

"Actually any public activity has the chance to be hijacked, you cannot throw out the baby with the bathwater," he said.

"I believe the police have sufficient resources to maintain public order and safety, there is no need to sacrifice civil rights protected by the Basic Law."