They say no need for home affairs minister Caspar Tsui to resign for attending event, where social-distancing rules might have been broken.
Hong Kong's pro-establishment politicians have closed ranks in defending top officials caught in the scandal over a birthday banquet where they were exposed to at least two coronavirus patients, arguing there is no need for the most high-profile partygoer home affairs minister Caspar Tsui Ying-wai to resign.

Instead, they directed their wrath at Cathay Pacific crews who triggered the current wave of Omicron infections by flouting home isolation rules and transport minister Frank Chan Fan whom they accused of failing to plug the loopholes in containing the virus, especially the surge of the variant.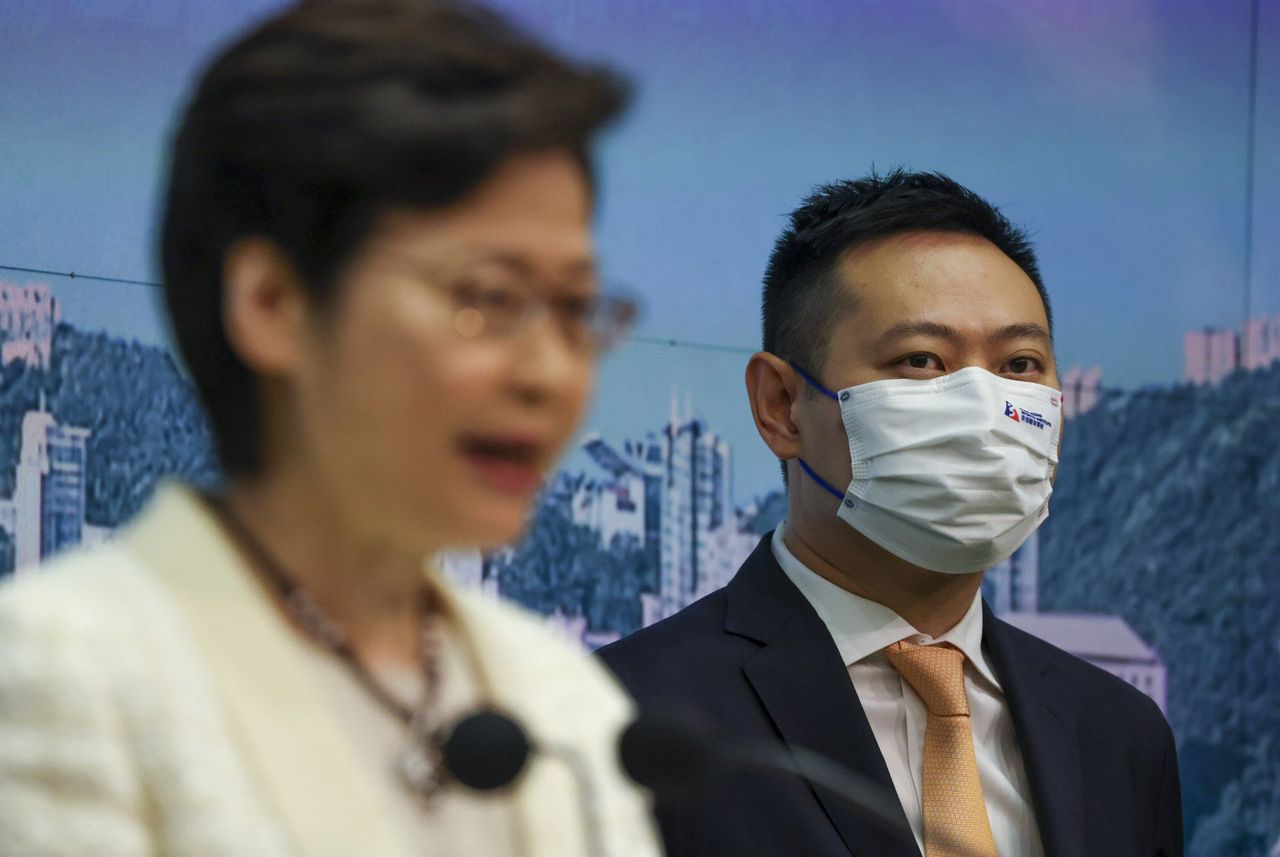 Chief Executive Carrie Lam with home affairs minister Caspar Tsui.

Those interviewed were also divided on whether the scandal – which could potentially erupt into what social media users were dubbing the "Witman Hung cluster" – would affect Chief Executive Carrie Lam Cheng Yuet-ngor's political future.

But academics and opposition Democratic Party chairman Lo Kin-hei criticised the pro-establishment camp for trying to deflect the blame onto others.

The government has been rocked by the event, hosted by Witman Hung, principal liaison officer for Hong Kong at the Shenzhen Qianhai Authority and one of the city's deputies to the national legislature, to celebrate his 53rd birthday.

An event that lasted six hours from 6pm to midnight, it was attended by a who's who of the establishment, including top officials and lawmakers.


Lam announced on Friday night she had ordered an investigation into the conduct of 13 senior officials who attended the party and was suspending them from their duties during their 21-day quarantine for which they would also have to use their own leave.

Bernard Chan, convenor of Lam's de facto cabinet, the Executive Council, told the Post on Friday that the timing of the incident was unfortunate as members of the public were upset by the disruptions to their daily life caused by the imposition of a 6pm curfew on dine-in services starting from Friday and the closure of many amenities such as gyms and clubs.

Tsui, who attended the birthday party that exposed him and other guests to one confirmed Covid-19 case, was sent on Thursday to quarantine at Penny's Bay in an embarrassing first for a principal official. By Friday, all 170 guests at the party were ordered into quarantine after another guest became a suspected Covid-19 case, sending thousands others to go for testing.

The home affairs chief was singled out by Lam for censure on Thursday at a press conference explaining how the government was trying to investigate the scandal.

On Friday, Chan said: "But I don't think Caspar Tsui should be replaced as there is less than six months to go before the tenure of the current government expires.

"Whether Tsui should stay is up to the chief executive's judgment. But his political future has been seriously affected because of the saga."

Tam Yiu-chung, Hong Kong's sole delegate to the National People's Congress Standing Committee, the nation's top legislative body, said he saw no problem with the private party which was held at a Spanish restaurant Reserva Iberica on Monday.

"And on Tuesday, Chief Executive Carrie Lam Cheng Yuet-ngor said there were no plans yet to further tighten social-distancing rules or suspend school operations," said Tam, who was not invited to join the event.

The pro-Beijing heavyweight and former chairman of the Democratic Alliance for the Betterment and Progress of Hong Kong said Tsui, also a member of the same party, had admitted making a mistake and it was up to the chief executive to decide whether he should stay.

A mainland China expert familiar with Hong Kong affairs, who spoke on condition of anonymity, said the incident had undermined Hongkongers' confidence in governance and the administration's commitment to containing the coronavirus pandemic.

"If Tsui was a mainland cadre, he would have been sacked for what he had done," the mainland expert said.

Since 2012, Chinese President Xi Jinping has led a series of anti-corruption inquiries and specifically addressed the "eight rules" on official behaviour, which call for greater austerity.

These include reducing inappropriate use of public money – such as unnecessary travel, improper allocation and use of official housing and vehicles, and lavish banquets.

The mainland expert said the question was whether the party was seen as a lavish or excessive event and crossed the line in the public's acceptance of such conduct.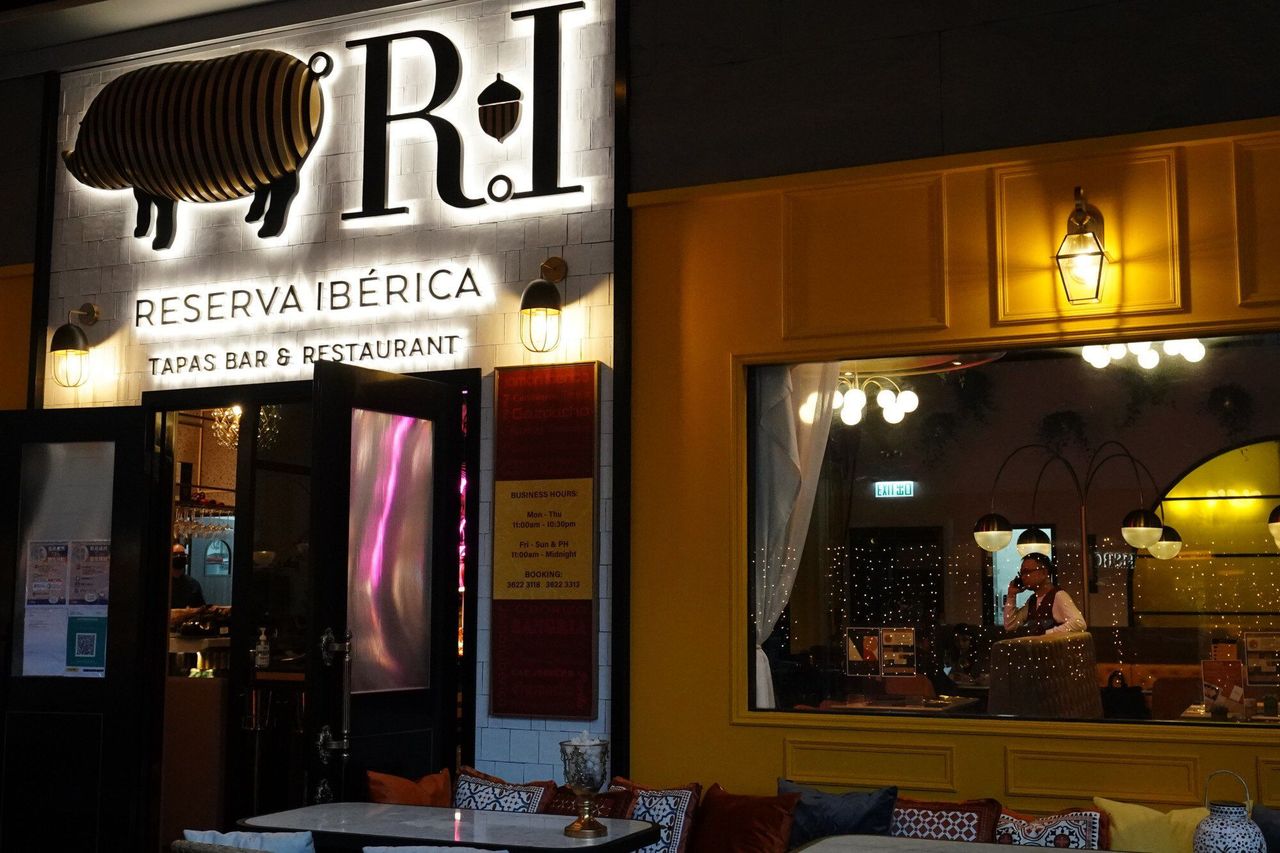 The Reserva Iberica restaurant in Wan Chai where the party was held.

On how Tsui might escape the axe, the expert added: "Hong Kong's approach in containing the pandemic is different from that of the mainland and not as strict."

Tsui was ordered into quarantine at the government facility at Penny's Bay. A source familiar with the situation said Tsui would not be joining the chief executive and other ministers via online webcast for a top-level "morning prayer" meeting during his quarantine.

"No such facility is available for such an arrangement," the source said.

Tam insisted the source of the current troubles was Cathay Pacific crews who triggered the current Omicron outbreak by flouting home isolation rules.

He also said Secretary for Transport and Housing Frank Chan Fan should be held responsible for the escalation of the outbreak for having failed to plug the loopholes that allowed local aircrew to not only self-isolate at home but venture into the community for two hours a day.

Health experts had called on the government to minimise contact between aircrew and the community at all costs, pushing for cockpit staff on cargo flights to undergo mandatory Covid-19 quarantine before returning to their families, while those eligible for home isolation should be prevented from going out to buy essentials.

Several lawmakers who spoke to the Post declined to discuss whether they were in the wrong for having attended the event, and instead blamed the government and Cathay for allowing Omicron into the city.

Junius Ho Kwan-yiu, a legislator from the Election Committee constituency who attended the party, argued the real problem lay in the government's failure to plug a loophole that had recently enabled four flight crew members from Cathay Pacific to flout quarantine rules and spread the virus to the community.

He said the government's policy was based merely on an honour system, which essentially allowed flight crews to ignore quarantine as they pleased.

"We are the victims of the policy," Ho said, hitting back at Lam's recent move to reprimand her officials who attended the party for being insensitive.

Two days after the party, Ho met Xia Baolong, who chairs Beijing's cabinet-level Hong Kong and Macau Office, in Shenzhen.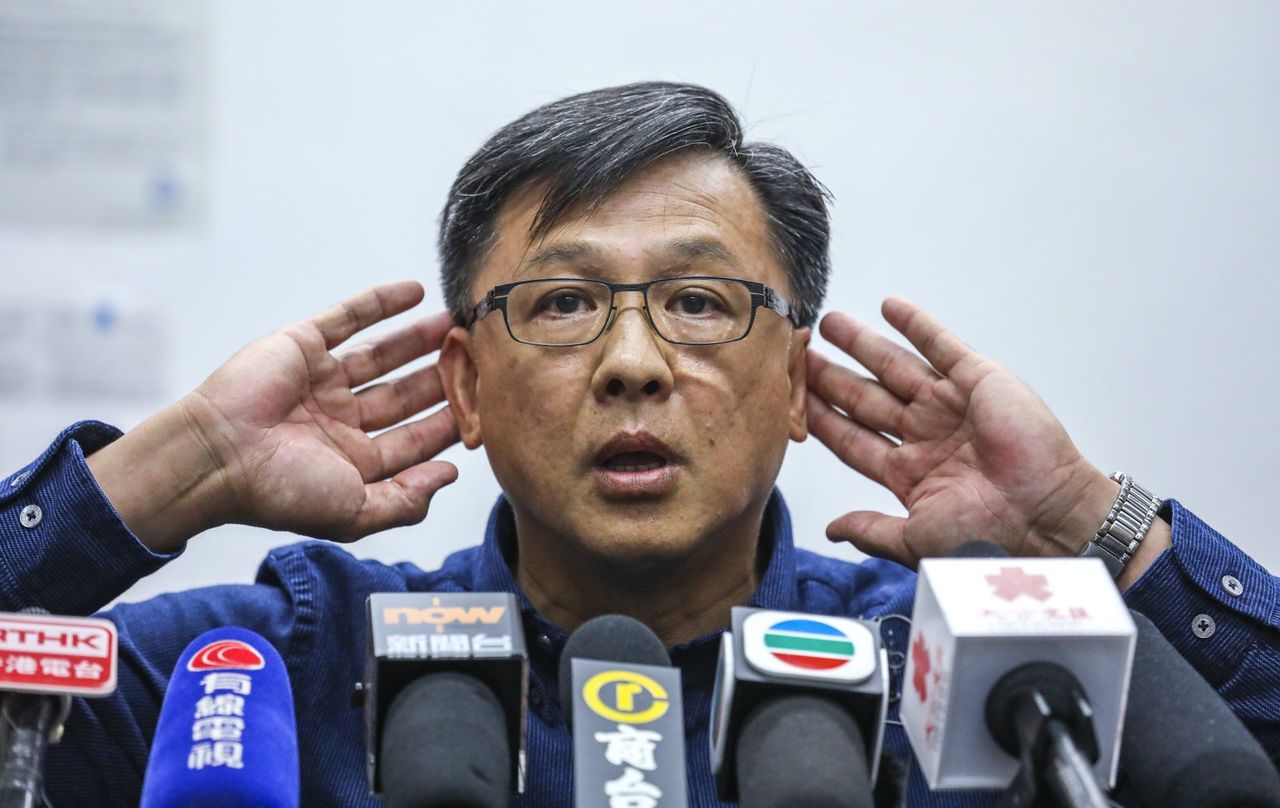 Pro-establishment lawmaker Junius Ho.

When asked whether he risked bringing the virus to the meeting with the state leader, Ho shrugged off the question as a "non-starter". He insisted no one could have predicted the risk of such exposure.

Kwok Wai-keung, a lawmaker from the pro-Beijing Federation of Trade Unions, said the focal point should be whether Cathay Pacific had a responsibility for causing the public to foot its bill over its mismanagement.

"I wonder if society should be spending time chasing this party while ignoring the whole anti-epidemic loophole," he said.

Kenneth Fok Kai-kong, from the sports, performing arts, culture and publication sector, refused to be drawn into discussing how he could be held accountable for the saga, saying only that he had kept his mask on and that he would offer his apology.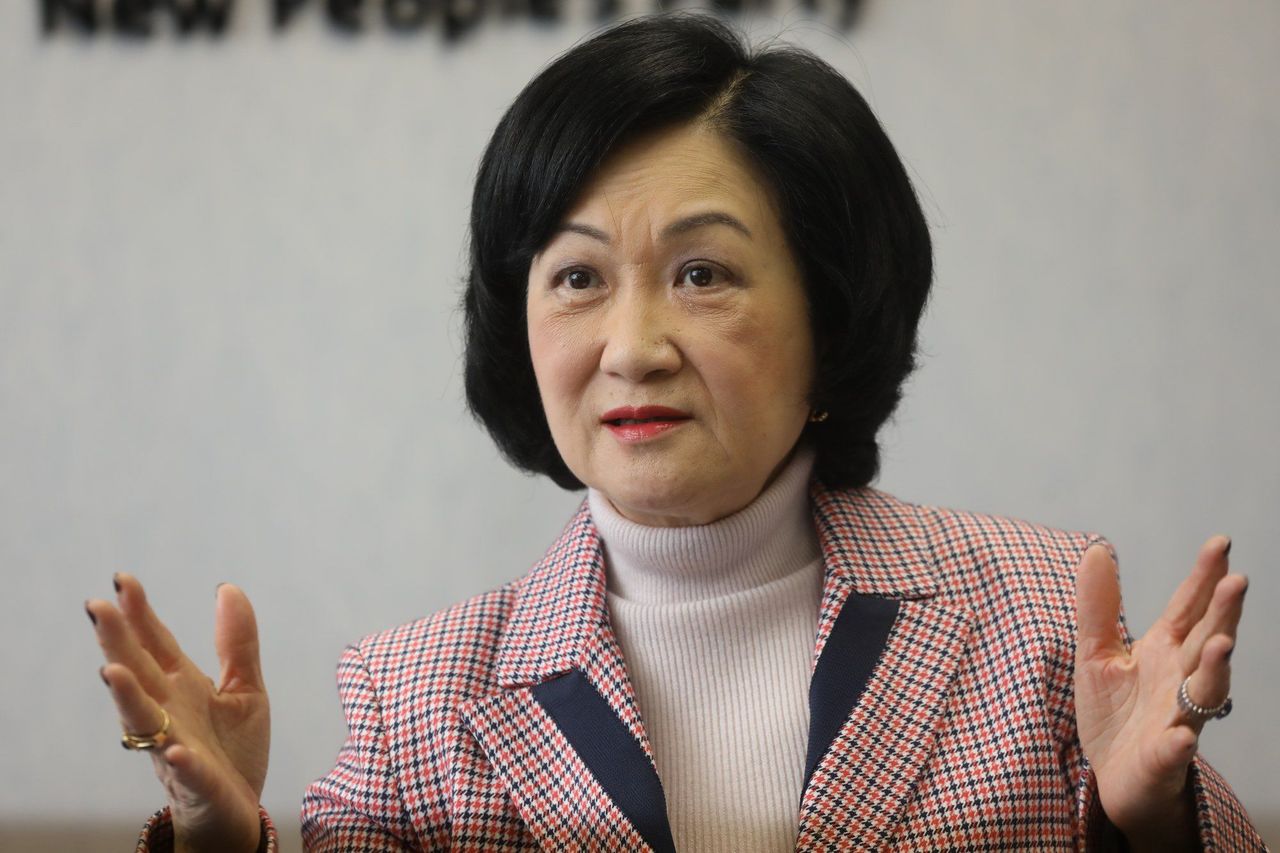 Executive councillor Regina Ip.

Executive councillor Regina Ip Lau Suk-yee said she was undecided as to whether Tsui's action warranted his immediate resignation as only six months remained in the current term of the government.

"It is very difficult to find a replacement at this point in time. It's up to the chief executive to decide whether to sack him," she said.

But Ip warned that it would be very difficult for Tsui to stay on as he would face intense grilling by lawmakers.

"This behaviour was highly negligent and his political career would be affected," she said.

Ip also called Tsui's behaviour "unwise" as he had ignored the government's advice to steer clear of mass gatherings, saying officials should avoid social gatherings and exposing themselves to infection risks.

Executive Council member Ip Kwok-him said the senior officials involved in the party were lacking political sensitivity, but there was no need for them to step down now.

The Democratic Party's Lo accused the pro-establishment camp of being irresponsible.

"They have gone a little overboard if they are still blaming others at this juncture," said the head of Hong Kong's biggest opposition party.

Ray Yep Kin-man, a political scientist at City University, said the pro-establishment's efforts to divert attention to Cathay Pacific crew would further anger members of the public who had been unhappy with top officials and pro-establishment lawmakers' decision to attend the party.

"The incident has dealt another blow to the credibility of Carrie Lam's administration," he said.

Andy Ho On-tat, who served as former chief executive Donald Tsang Yam-kuen's information coordinator from 2006 to 2012, said officials who attended the party should tender their resignations to the chief executive for bringing the government into disrepute.

"They are accountable to the chief executive. From the perspective of political ethics, they should tender their resignations and let the chief executive decide how to handle," Ho said.

Others cited how in July 2003, Antony Leung Kam-chung resigned as financial secretary amid widespread criticism of his integrity after he bought a car before he significantly increased the vehicle registration tax in his budget.

Tung praised Leung's offer to resign as an "honourable act" and asked him to reconsider his decision.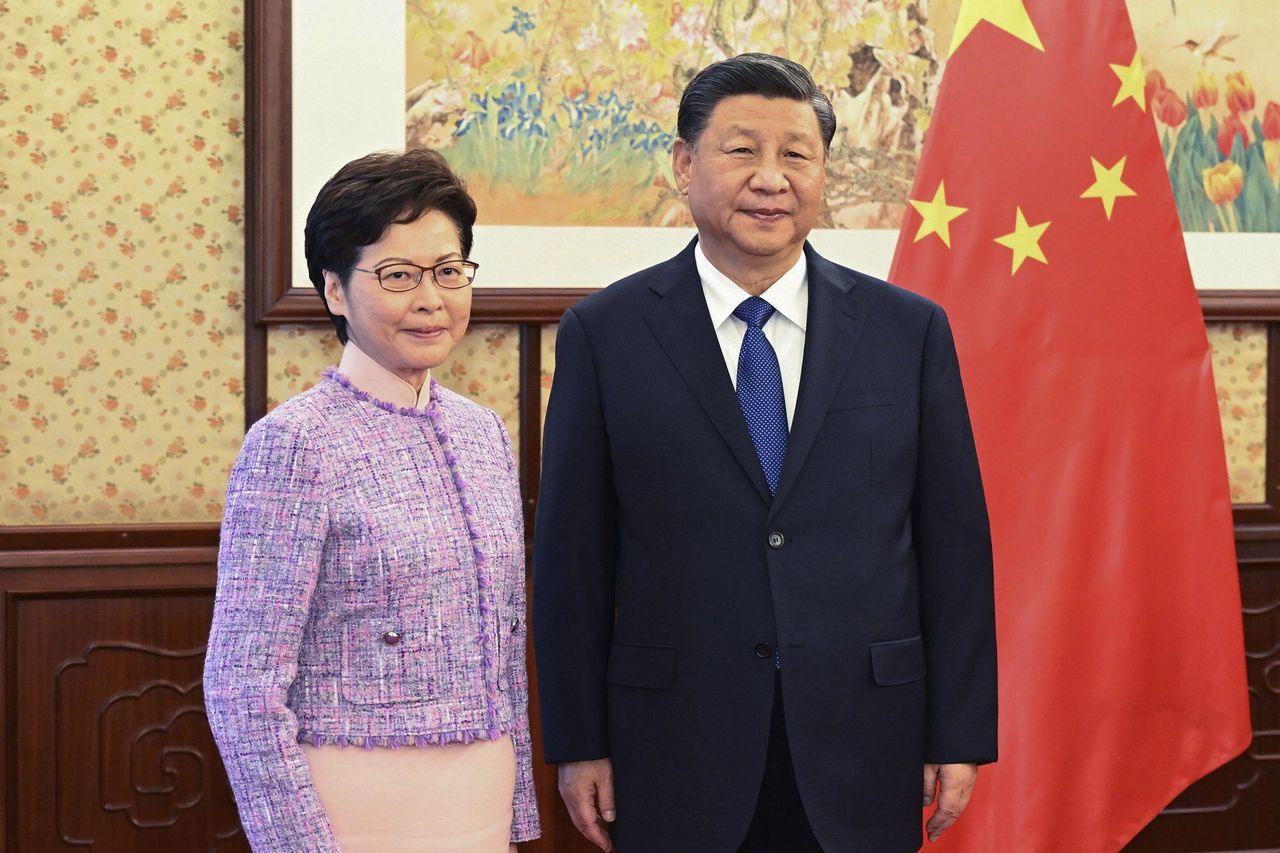 Chief Executive Carrie Lam with Chinese President Xi Jinping in Beijing in December 2021.

Bernard Chan said he believed that the incident would not affect the central government's trust in Lam's governing ability during her tenure.

He said he had no clue on whether the incident would affect her prospects in seeking a second term as there was no indication that she wanted to serve for another five years.

Lawmaker Michael Tien Puk-sun said Lam needed to be held accountable for the fiasco if some officials were eventually found to have flouted the rules to contain Covid-19 during the party, such as by taking off their masks or failing to use the "Leave Home Safe" app.

A source close to the government believed that Beijing officials were unhappy with behaviour of the senior Hong Kong officials involved but had yet to come to a conclusion on its next steps.