Hong Kong's private sector has what it takes to break new ground and put the city on the map, provided the government understands how to pitch these breakthroughs and take a wider view of showcasing the city's innovation and technology.
Now that green tech and green finance have entered the government policy lexicon and money is being thrown around to make Hong Kong a hub, we would do better if we are clear about what needs to be recalibrated.

What is technology, and what constitutes green tech? Technology is the application of scientific knowledge to solve problems in industry. Green tech is technology that solves environmental problems, such as by reducing or eliminating pollutant emissions and waste, using resources efficiently, conserving biodiversity, and fighting climate change.

Hong Kong has pockets of excellence in green tech that attract commercial attention. This is a step beyond start-ups. While the government is keen to support new firms, it must also keep an eye on those that have moved beyond that stage because they need specific attention.

For example, the Hong Kong Research Institute for Textiles and Apparel (HKRITA) aims to be the leading centre of excellence in R&D and technology transfer in the global fashion and textile industry. Public funding is justified because Hong Kong's fashion industry is a large and important part of the global supply chain, and its future depends on adopting green methods.

The institute is all about green tech. It has invented many technologies, including upcycling waste textiles into new yarn, that the industry has embraced. A production line has been built in Tai Po, which is a successful example of small-scale re-industrialisation that is right for Hong Kong. Work on a bigger scale can be done on the mainland and elsewhere.

The HKRITA has created a material that absorbs carbon dioxide. It has also developed a method to capture microplastics in materials and clothing that end up being consumed by sea life and damaging biodiversity when they get washed into the sea.

A major part of its green tech relates to chemistry, chemical engineering and material science. Continuing its success requires a pipeline of talent from our universities.

Another example is Ecoinno, based at the Hong Kong Science and Technology Park. With its subsidiaries on the mainland and in Japan, it has developed a biodegradable, plant-based material with high heat tolerance that can replace single-use plastics. It has the capacity to replace disposable lunchboxes, tableware, coffee capsules and medical and pharmaceutical containers, as well as industrial packaging.

The tech is green biotechnology, bioengineering and material science. Ecoinno has now set up production on the mainland, which also needs a continuing infusion of talent.

A third example is the non-profit organisation Clean Waterways Initiative, which collects litter in Hong Kong's coastal waters. Its 100 per cent solar-powered, rubbish-collecting vessels are designed and fitted out in Hong Kong. The solar-powered boat designs are done by On Board Marine, a company based in Aberdeen that designs and fits out electronics for ships.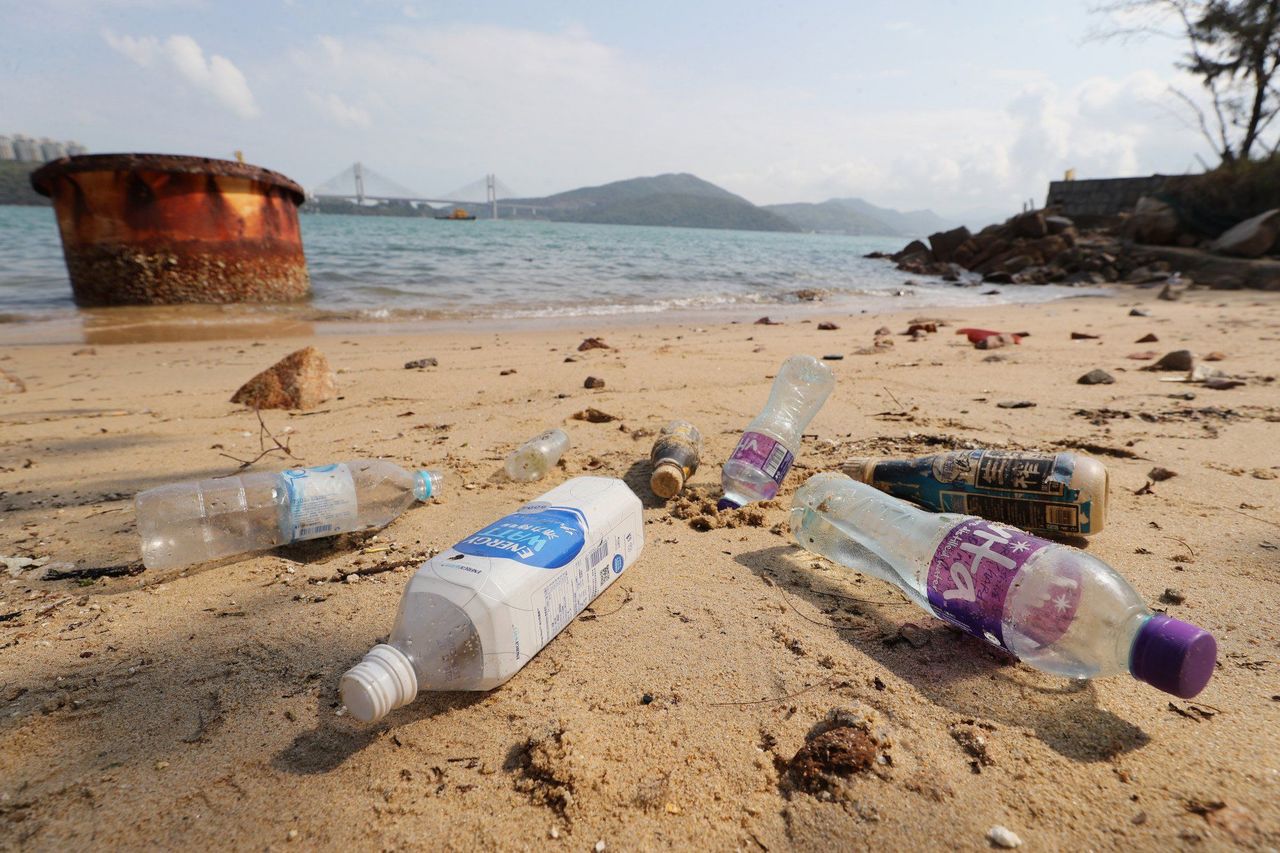 Plastic bottles on a beach in Sham Tseng.

There is a small, brisk industry in Hong Kong that few people focus on. This industry has a deep understanding of marine electrical work, and the future of the yachting industry is being green.

The idea of putting solar panels on a boat might not be considered hi-tech, but the total service involving design and fitting out can be innovative when seen against the fact that Hong Kong has an industry related to yachting, which is also applicable to small crafts.

The commonality among the above examples is that they are all known to different parts of the government but perhaps not yet seen in the wider context of Hong Kong's green tech potential. The HKRITA and Ecoinno are material science innovators. They receive public funding, but they are no longer start-ups. They have struggled and grown. What should be next for them?

While it is a community effort, the Clean Waterways Initiative is known to the Marine Department and Environmental Protection Department because the boats are performing a public function. There has yet to be recognition that there is innovative potential within the private sector that could be more widely used and promoted.

How might the HKRITA, Ecoinno and even fitting out harbour craft fit into the context of green finance? Green finance is about increasing financial flows from the public and private sector so green businesses can flourish. The flows can be in the form of credit and loans from banks, as well as funding from investors and insurance.

For example, is it worth thinking about when and how inventions could be packaged and listed, or which departments could work out a policy for Hong Kong? The government has an interest in rebranding Hong Kong. A case can be made for officials to take a wider view of showcasing the city's innovation and technology on the mainland and overseas through understanding how to pitch these technologies.

The emphasis should be on the HKRITA and Ecoinno's new material technologies, such as how they can be applied in a circular economy – a policy to remake manufacturing by eliminating waste. The foundation of green products is material science. The driving force is industrial application. The method is via technology that enable industries to provide green solutions.

Perhaps a good first step is to include all three examples – and discover others like them – in the GreenTech Week proposed in this year's budget and articulate a new narrative for Hong Kong's green tech prowess combined with green finance ideas.
AI Disclaimer
: An advanced artificial intelligence (AI) system generated the content of this page on its own. This innovative technology conducts extensive research from a variety of reliable sources, performs rigorous fact-checking and verification, cleans up and balances biased or manipulated content, and presents a minimal factual summary that is just enough yet essential for you to function as an informed and educated citizen. Please keep in mind, however, that this system is an evolving technology, and as a result, the article may contain accidental inaccuracies or errors. We urge you to help us improve our site by reporting any inaccuracies you find using the "
Contact Us
" link at the bottom of this page. Your helpful feedback helps us improve our system and deliver more precise content. When you find an article of interest here, please look for the full and extensive coverage of this topic in traditional news sources, as they are written by professional journalists that we try to support, not replace. We appreciate your understanding and assistance.